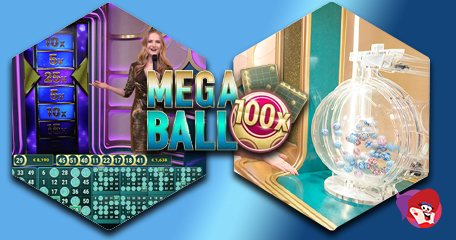 A dazzling new gameshow has been developed by Evolution Gaming – the people who brought us Monopoly Live and Dream Catcher (among many other live casino variants), only this time, they've taken inspiration from bingo and the lottery, so you can guarantee it's going to be packed with major excitement.
Mega Ball is a unique, entertaining and fast-paced gameshow being hosted around the clock by a live dealer. Featuring two Mega Ball bonus rounds, players have the chance to win even more money with added multipliers.
Just like online bingo, the it's all about getting as many lines on your card as possible – you know the score; the more you have, the more you win. A total of 51 coloured bingo balls are housed within a case similar to that of The National Lottery and as each game gets underway, those bright balls bounce around before being sucked into the reveal zone.
Eyes Down for a Full Card
Available exclusively from Evolution Gaming, the new live casino game is set within a vibrant studio setting with all camera angles paying close attention to the ball machine. Despite its appearance, this is a game that is super simple to play. All you need to do is set the value of your tickets and purchase (up to 200) per game.
Sit back and watch as the balls are summoned into a winning position. If you have this number on your ticket, it will automatically mark itself. Remember – the key to huge wins is to mark as many of those numbers as you possibly can.
Boost Balls
The Mega Ball feature houses even more balls and this time, 20 are called into action. As the balls are released, these once again mark off your tickets automatically (should you have them), and tickets with the most numbers will start to rearrange on your screen to allow you to keep track of how close you are to winning. The whole game screams 'BINGO' – and I love it!
The numbers you need to win will be highlighted above the tickets with your possible winnings, adding to the thrills and excitement. As soon as the last ball is drawn, a bonus multiplier of between 5x and 100x is generated via the studio computer. As the studio lights change, a sense of anticipation rises.
If the Mega Ball drawn completes a line, your winnings will be multiplied accordingly, with a chance of winning up to 1,000,000x your stake! There is also a small chance that the rare 2nd Mega Ball could spring into action, allowing the fun and the winnings to continue, however, as the name suggests it's extremely rare.
Source: "Mega Ball". Evolution Gaming. April 10, 2020.

Bingo Society News
Back to articles
Your feedback
Please enter your comment.
Your comment is added.
Bubles12
04/14/20, 12:04:34 PM
I'm a huge fan of Dream Catcher and the Monopoly game, but this new one seems a little more 'random' if you get my drift. I've often played where the wheel has continued spinning, which was a little alarming, here, there is no human element involved, which is perfect.