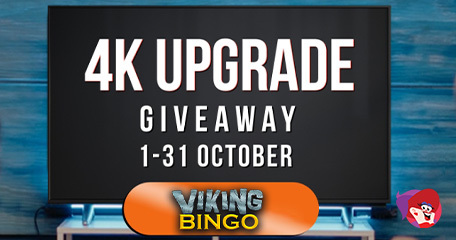 It Only Takes One Entry Ticket To Win!
FOMO is the fear of missing out and I'll admit, I don't like to miss out on promotions especially when they're as good as the ones at Viking Bingo. Big cash, physical goods and an unlimited supply of bonus spins are always available, however, with November just around the corner, a new set of offers will be revealed and our chance to win some great prizes will come to a close.
Eye-watering prize pools in the bingo rooms will continue with real cash paying games commencing every couple of minutes. You have the must drop and got to drop jackpot specials…
…as well as bingo games where everyone is guaranteed a win. Tickets start from 1p and there's serious prizes to be won. The Halloween party bingo game promises to be spooktacular! Tickets to this one are on sale right up until kick off!
A Look At What's Ending This Month
We're into the final week of wicked spins offers at Viking Bingo which means only one more chance to get guaranteed bonus spins! On Halloween, a deposit of £10 with code: HALLOWEEN will trigger at least, yes, at least 50 casino spins on the new remastered version of Fluffy Favourites. Once that code is used, open the doors to the spooky house to reveal your prize. Will it be 50 or 500 bonus spins? There's only one way to find out!
Scratch for cash will end abruptly at midnight on the 31st and the £1K cash prize along with it. To get in on the draw, wager £10 on scratchcards before that date and you could be receiving that notification of a wager-free cash win by November 7th. Every £10 wagered generates an entry into the draw. Oh, and there's no limit to the number of entries you can have, just remember to keep it fun and safe and play responsibly.
A 4K television with a massive 85" screen, a soundbar system and a mini fridge to store all your snacks (while binge-watching the latest series on Netflix), make for a prize package worth £3K! And someone will win it! To get an entry into this cracking draw, all you need to do is wager £10 on the Gold hit: O'Reilly's Riches by midnight on the 31st.
Top tip: if you do happen to be chosen as the lucky £3K TV entertainment pack winner, why not opt for the money instead? The £3,000 will be credited as a wager-free cash sum and is withdrawable instantly. A quick internet search shows you can have the same prizes shown and still have £1,200 spare to do what you want with! What would you choose?
Bingo Promotions & Bonuses
Back to articles
Your feedback
Please enter your comment.
Your comment is added.
lollipops321 10/26/22, 06:10:39 AM
Does anyone hear of winners? I'd really love to see a list of who wins and on what site and whether they chose cash or the goods. It's little details like this that count.