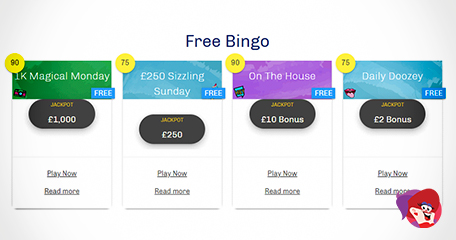 Too much month at the end of your money? Trust me, you're not alone! Playing to win doesn't necessarily have to cost you a fortune, it doesn't even require a deposit at most online bingo sites, but unless you know where to look, you could be missing out on some freebie fun! Sure, you can punch 'free bingo games' into your search engine, but the results fail to mention one major important rule – the cost!
Free bingo games are not necessarily free…you'll soon understand. Did you know the majority of games labelled as 'free' come with clauses such as a deposit is required? These types of offers can be extremely confusing, especially when it comes to winning big cash, but by the time you reach the bottom of this page, not only will you understand the difference between no deposit free and deposit free, but the best place to play too!
Deposit vs No Deposit
Just about every bingo site out there offers free bingo rooms of some sort, and what they don't tell you on the registration page is you must have either made a deposit or have a certain level of loyalty before being granted access. To make it even more complicated, there are free games where a deposit must have been made within a set time before being able to claim free tickets. To help you better understand, here are some examples:
Bingo Games
General Bingo News
Back to articles
Your feedback
Please enter your comment.
Your comment is added.
lollipops321 08/30/21, 11:08:48 AM
Great tips! Some rooms at prize land only require the one deposit. Most jackpot rooms need a frequent (weekly almost) deposit, but others do not.