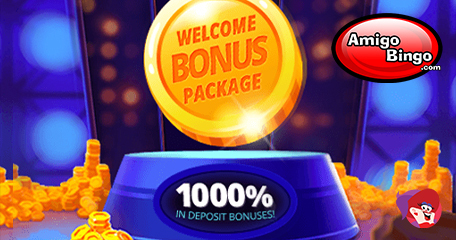 Amigo Bingo Slots Paying $15M Every Month!
If you're searching for a fun, friendly online bingo site with the chance to make new friends, take part in chat games and fun prize draws and the chance to win mega cash – look no further than Amigo Bingo, one the most exciting US bingo sites to date! Every month a new series of promotions are unveiled, each with the chance to win big cash, plus you can claim no deposit spins, enrol in slots and bingo tourneys plus by doing so your name will go into the weekly and monthly draws for even greater prizes – what's not to love?
For those of our readers who have been checking in regularly, the bad news is the "win a trip to Las Vegas" draw has come to an end, but the good news is the winner is yet to be announced! If you entered the draw you could be receiving an email or telephone call any day now so don't forget to keep checking your emails and keep that phone off silent!
Bounty Hunting in Pirate Promotions
Did you know August is pirate month? Nah, me neither but I did wonder why all of a sudden I was seeing lots of different pirate themed promotions. Amigo Bingo is going all out this month in celebration of the swashbuckling theme with cash-packed promotions, prize draws, freebies and much more! But you can't win unless you're in!
Our reader exclusive grants all new sign-ups a $50 trail bonus plus 50 bonus spins! That's right LBB'ers, you get extra just by popping code: LBB50 on the registration form. Love what you see? You'll also benefit from a massive 1000% welcome package with 600% on your first deposit and 400% on your second! From there you'll receive a great re-load bonuses every time you credit your account.
Pirate Treasures: Amigo bingo is celebrating Arrr-gust with $5,000 in guaranteed cash every day, jackpots of up to $10,000 every hour, extra weekly prizes plus 4x $1,000 cash draws. There's plenty of buried treasure here, you just need to know where (and when) to find it! Taking part couldn't be easier and you'll have plenty of time to dig in. Deposit and play any bingo on any gold coins/chest games to get yourself in the rankings. There will be two draws based on leader-board rankings and two draws for all participating players to make it fairer.
Each contest game win gets you 1 point into the weekly ranking.
Every $10 wagered on contest games will get you 2 extra points into the weekly ranking.
Each deposit made within the weekly contest gets you 3 extra points into the weekly ranking.
Every week five players will walk away with $250, $175, $100, $75 and $50 in bingo bonuses. Plus, that $1K in cash will be awarded as $500, $350 and $150 in cash to three randomly chosen players every week!
Fifteen Million Slots Tournament: Amigo Bingo slots are paying out over $15 million a month – every month, and it could be your time to win some of this cash. Last month they had over 1000 jackpots winners scooping $1,000+, more than 425 jackpot winners of $2,000+, and 250 jackpots winners of $3,000 or more. To be in with a shot of winning those jackpots all you need to do is play your favourite casino games! Remember, you also have a chance of winning with every spin of those reels too!
In similar style to that of the previous promotion, you deposit and play and earn points based on what you do. There will be weekly draws to win cash and bonuses this time, plus a weekly draw for wager-free cash too! How to collect points:
Get 5 points for every deposit you make during each weekly tournament.
Get 3 points for every $30 wagered on Mobilots.
Get 1 point for every $50 wagered on Parlay Slots and Casino Games.
August 1st to 7th and August 15th to 21st awards prizes based on top 5 ranking while August 8th to 14th and August 22nd to 31staward prizes based on a random draw. Prizes are $300 in cash plus 200% extra bonus, $200 in cash plus 150% bonus, $100 cash and 100% bonus, $100 bonus plus 100% extra bonus and finally $50 bonus plus 100% extra bonus. at the end of every week one lucky participant is drawn at random to win $1,000 in cash!
I Scream You Scream Bingo Tournament: Win a share of $100K by taking part in fun bingo games. Match the patterns to the ice-cream flavours to win a share of that prize. Each game offers triple the fun, triple the chances to win and a cool offer where you buy 30 cards and you get 5 cards free. That's 5 free extra chances to win playing these specific games.
No Deposit Bonus Spins: Log in every Sunday and Wednesday to receive 25 bonus spins on the machine of the day. You can bet your bottom dollar it's a pirate-themed release!
Circus Bingo Tournaments: Another fun tournament where you gather points based on what you do, only this time there's $150K up for grabs with jumping jackpots, speed bingo games, guaranteed payouts and progressive jackpots. Contests begin every new week with card prices ranging from 25c to $1. All promotional bingo games with a buy 30 get 5 free cards deal. Four draws, two awarding prizes to the top 5 players on the leader-board and two awarding prizes at random make this promotion fun and fair.
Each contest game win gets you 1 point into the weekly contest.
Every $10 wagered on contest games gets you 2 points into the weekly contest.
Each deposit made within the weekly contest gets you 3 points into the ranking.
At the end of every week three players will be chosen at random to win a share of $1K in real money prizes. First prize is $500, second prize if $350 and third prize is for $150. Oh, one other thing…
…there are extra weekly prizes too! Which one would you chose?
Double the daily bonus on your next deposit regardless of the amount deposited. (Up to 350% extra).
Receive back in bonuses the total amount deposited over the week. For example, if you deposited $500, you will receive a $500 bonus.
Five lottery tickets to win up to $500 extra.
Two team bingo tournament entry tickets for the weekend.
$50 bingo bonus to play your favourite games – no deposit required.
Bingo Promotions & Bonuses
Back to articles
Your feedback
Please enter your comment.
Your comment is added.
TinTinn
08/08/22, 11:08:04 AM
So many great promotions here and there are more than those listed here. The free bingo room is a laugh a minute. You can chat to hosts and people without even making a deposit.