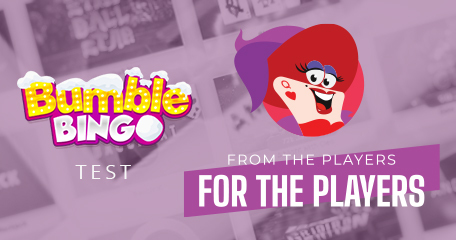 Bumble Bingo, a Dragonfish-powered outfit, buzzed onto the online bingo scene in 2016. Like a bee to honey, players flocked to the website in search of great value gameplay, exciting promotions and superb rewards and what they found was (and still is) tasteful. The welcome page is bright and blossoming with all the latest offers and games, but we wanted to witness real money play first-hand, so we sent in one of our expert reviewers to check it out!
Just like a honeycomb, the outside is pleasant and inviting, but unless you look on the inside, you won't know what to expect! Our tester made a deposit, played some games and made a withdrawal, but was it all plain sailing? Let's just say support had to be contacted more than once and when it came to the cashier, three unsuspecting things happened. You can read all about that right here in our From the Players For the Players Bumble Bingo report.
Tester of the day: TiredMumof4Dogs
Registration date: Already Registered
KYC Verification: Not required on this occasion (existing player)
Deposit date, amount and payment method: 17th November, £150 via PayPal
Withdrawal request date: November 17th, withdrawal request of £75.37p via PayPal
Withdrawal received date: On 19th November, the withdrawal of £75.37p was processed via PayPal
Registration
Wednesday 17th November, TiredMumof4Dogs logged into her Bumble Bingo account. As a registered player, no registration was required during this session. She logged in to access the main lobby.
Despite registering some months previously, our reviewer was eligible for the Welcome Offer as a first-time depositor, but opted to decline it to avoid wagering requirements.
Initial Deposit
Soon after logging in, our tester of the day headed to the cashier. Using the Google Chrome browser, she attempted to make a deposit via PayPal. Logging into the e-wallet via the browser, she wasn't prompted to review her deposit, instead she was instantly returned to the cashier. A second attempt was made to make at a PayPal deposit. After logging in, and this time verifying her mobile phone number to satisfy PSD2 Strong Customer Authentication regulation practices, her 2nd deposit attempt was also unsuccessful.

Third time's the charm, however, after returning from PayPal, the Bumble Bingo website was now blank with the word "Bad" in the top left-hand corner. This was cashier problem #1.

After a quick refresh, the cashier reflected the deposit of £150 PLUS the bonuses she had opted out of.

To opt-out of a bonus, not only do you need to tick a box, but you then need to review that you have chosen to exclude yourself from any bonuses by clicking another box that appears via a pop-up message, a process that takes a good 20-30 seconds….

And the pop-up…

Cashier issue number #2. Our tester's balance should've only included the £150 cash deposit, but she was granted a £20 bingo bonus and 20 spins despite declining the welcome offer. So, before she could settle in for a few rounds of bingo and games using real money, she found herself having to head to support to see about removing the bonuses.
The first step before you are put into the queue to speak to a help team member is to supply your email address and details of why you are requesting support. This is where you also add the bingo site you are playing at.

Once her request was answered, she was asked to confirm her details. The help team member failed to reply, even when prompted by our reviewer. She waited roughly 5-minutes before closing chat and re-loading live support in an attempt to resolve her issue once again.

The second agent did respond and eventually removed the welcome bonus. No explanation as to why it was added in the first place though. All-in-all, it took roughly 15-minutes to get the bonuses removed. Not a great start. Nobody likes having to mess around when wanting to play bingo.

Gameplay
Triple chance bingo games, patterned bingo, 5-line bingo, coveralls and bingo games are offered at Bumble Bingo, each one housed in its very own special category for easy access. A decent choice for any level of budget whether you're a newbie or a seasoned bingo player. The number of players in the rooms, the game type, start time, ticket prices, pre-buys, jackpots and expected prize money are all visible via the lobby.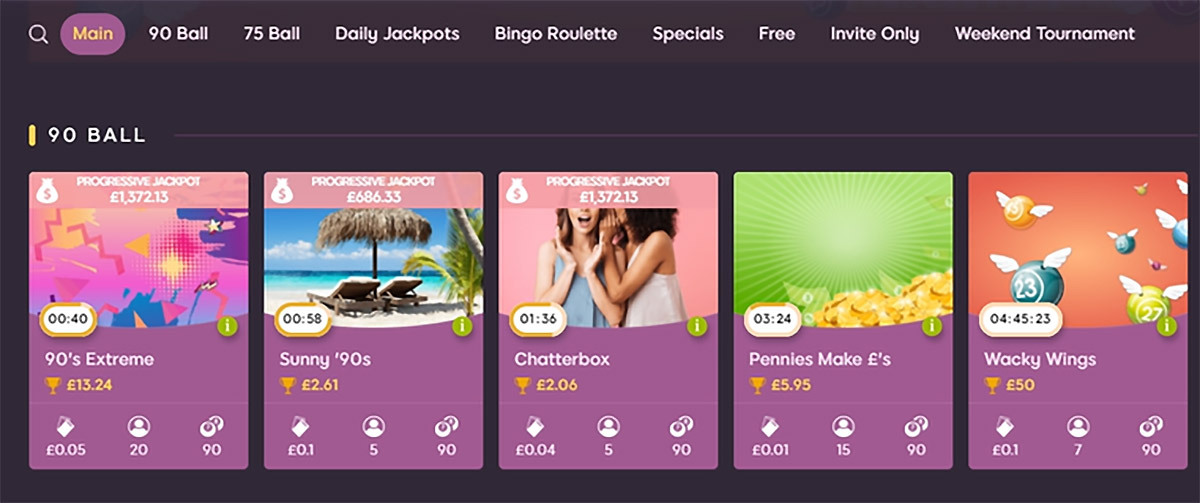 Bingo rooms were fun, and the chat host was always trying to get players involved with chat games and quizzes, but as player numbers were down, prizes were also down. Even after winning, and sharing with 3 other people, TiredMumof4Dogs never won more than £5 playing in the bingo rooms.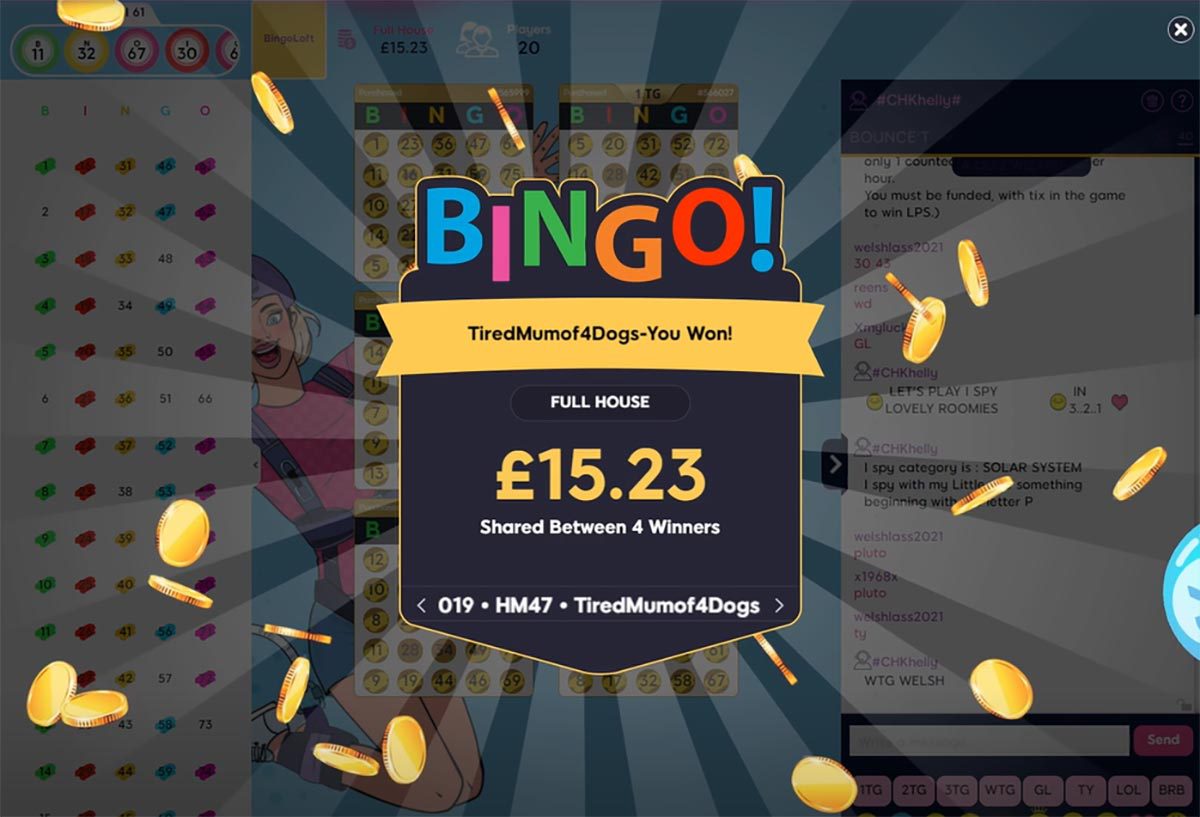 Our reviewer noted there were a few issues when attempting to launch some games in the bingo rooms, all of which are powered by Eyecon software. The mini game screen either went blank or displayed a 'game launch problem' message. Fluffy in Space Jackpot, Enchanted Prince and Unicorn Bliss were the only three affected.

Requesting a Withdrawal
Cashier issue number 3 coming up. TiredMumof4Dogs decided it was time to cash out her remaining balance of £75.38p after a good hour of playing. The last game she played was the new Eyecon release – My Bingo Hall (slot) where her balance was clearly visible as £75.38p. To the top of the screen, the total balance was also displaying that same sum, so there was no mistaking what she had in her bingo account.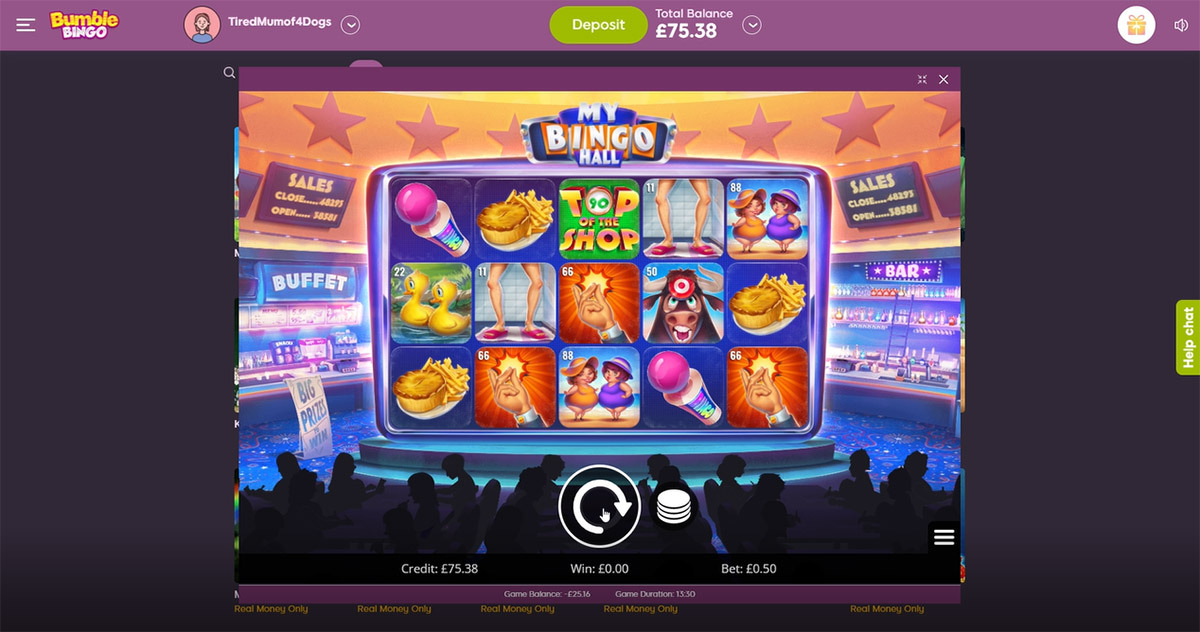 Looking to cash out her entire balance, she was shocked to discover a discrepancy within the cashier itself – only a penny, but it's a penny less than what she should've had.

Off she went to live support again where she was 'congratulated' on her win and told she could only withdraw £75.37p. After insisting her balance should be one penny more, the agent advised her to send a screenshot to the help team via email.

A day after sending the images to Bumble Bingo support, she received an apology and was credited with the penny.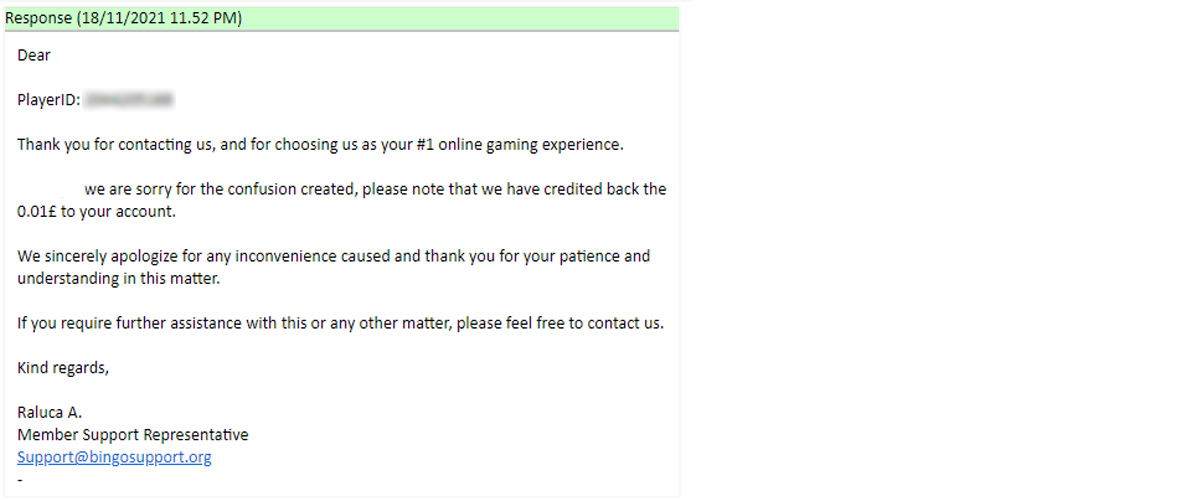 November 19th the withdrawal for £75.37p was complete and the funds were in our reviewer's PayPal account as soon as she received the 'processed' email.
How Does Bumble Bingo Stack Up?
A few frustrating instances cropped up in terms of the cashier performance including deposit issues, the addition of bonuses after they were clearly refused and an incorrect balance. That aside, withdrawals were processed quickly via PayPal, the choice of games was and continues to be superb and the loyalty perks and promotions are always guaranteed.
This information concludes this extensive test as part of the project From the Players, For the Players. If you are a member of Bumble Bingo or consider making a deposit, we hope this report provided some useful information.
From the Players for the Players
Back to articles
Your feedback
Please enter your comment.
Your comment is added.