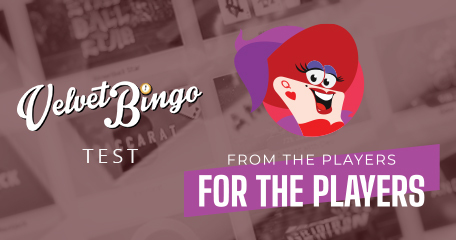 Velvet Bingo initially launched in 2013 with a suite of games powered by Cozy Games, a provider that has since closed up shop. Velvet Bingo were one of the many that survived by switching to a more dominant bingo software provider and network – Dragonfish. Joining LBB's ever-growing list of online bingo sites in December 2021, we decided to put them to the test – the From the Players for the Players test.
Described as a 40s', 50's retro bingo site with modern games and promotions suited to all types of bingo enthusiasts, we tasked our expert reviewer, slickrick, to make a real money deposit and play some games before requesting a withdrawal. Follow along to see how he got on at Velvet Bingo.
Tester of the day: slickrick
Deposit date, amount and payment method: Monday 13th December, £150 via Visa Debit
KYC Verification: Not required on this occasion
Withdrawal request date: Monday December 13th, withdrawal request of £75.02p was made via Visa Debit
Withdrawal received date: Withdrawal of £75.02p was received via Visa Debit on Wednesday 15th December
Registration
Registration requires the standard personal details in addition to your occupation. Failure to add this info will result in an unsuccessful registration.

Once registration was complete, slickrick received a couple of emails, one welcomed him onboard, another referenced to playing responsibly and a third was for him to review his occupation. As he had already supplied his occupation, there was no need for him to act on this.

Initial Deposit
Navigating to the cashier, slickrick was offered two ways to make his deposit, PayPal or Debit Card. Opting to use Visa Debit, he was instructed to provide his card details before being able to credit his account. Despite Velvet Bingo boasting some of the lowest wagering requirements in the industry, our reviewer decided to decline all bonuses to keep things simple.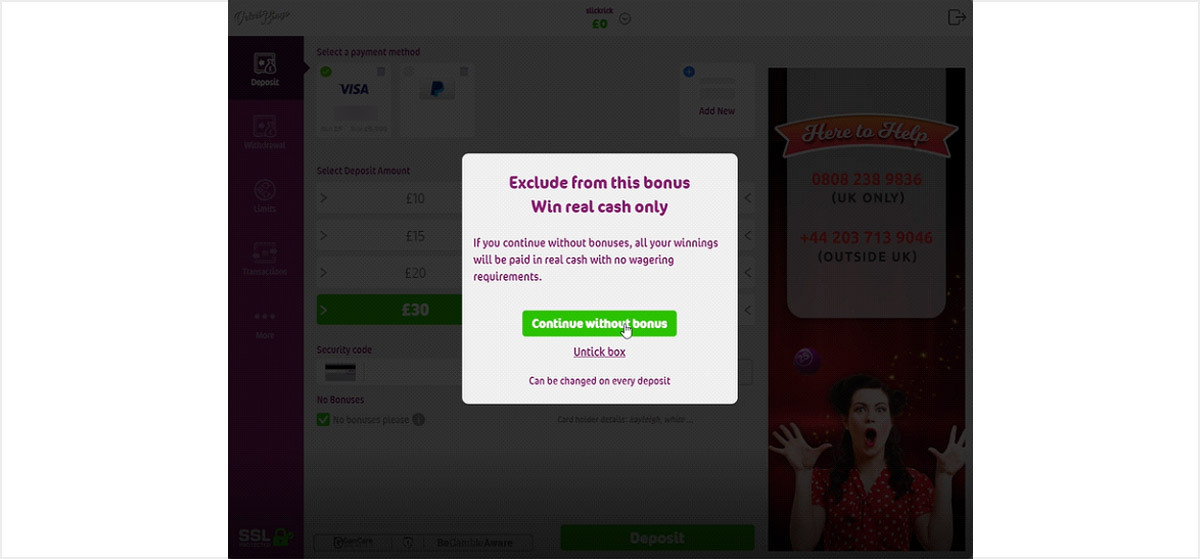 After declining bonuses and adding his details, a deposit of £150 was made into his Velvet Bingo account on Monday 13th December. The next step was to play some games.

Gameplay
Our reviewer noted the bingo lobby was easy to navigate and uncluttered. The rooms were separated into 7 different categories:
Main: The most popular rooms
Live Bingo: The rooms with games happening regularly
Special Jackpots: Games with a difference such as bingo roulette, suit up – card-based bingo, mystery jackpots, £50 must be won daily special and two bingo rooms where you can win bonus spins for Fluffy Favourite and Starburst.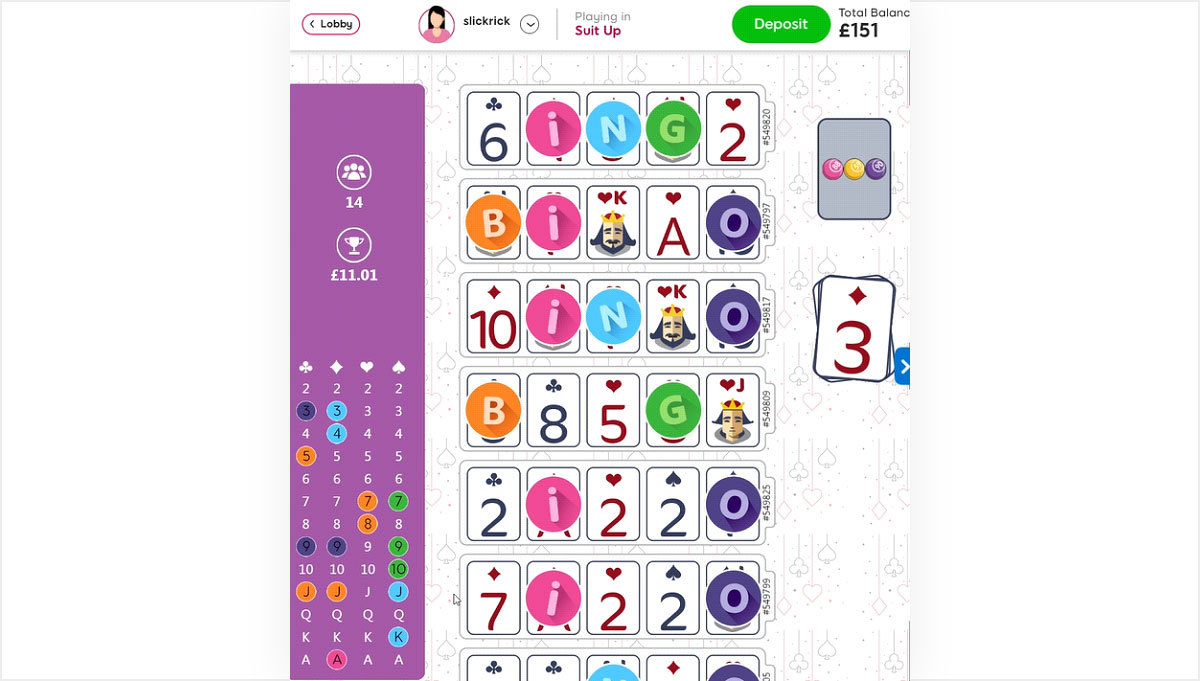 Exclusive: Bingo rooms exclusively available to Velvet Bingo, including a bingo room where £1 million can be won from a £1 a ticket!

Free Bingo: daily, weekly and monthly free bingo games to win as much as £1K!
Invite Only: If you don't get an invitation, you won't be playing these games! Prizes include real money as well as vouchers and physical goods.
Festive Season: Three rooms created purely for Christmas 2021 with weekly prizes of cash, spins and a New Year's Eve special for £2,022!

With it being December, the bingo rooms had been decorated with tinsel and other festive paraphernalia. Slickrick managed to win a few small prizes in a few of the rooms, and noted the prizes were credited to his account within a minute of the full house being won.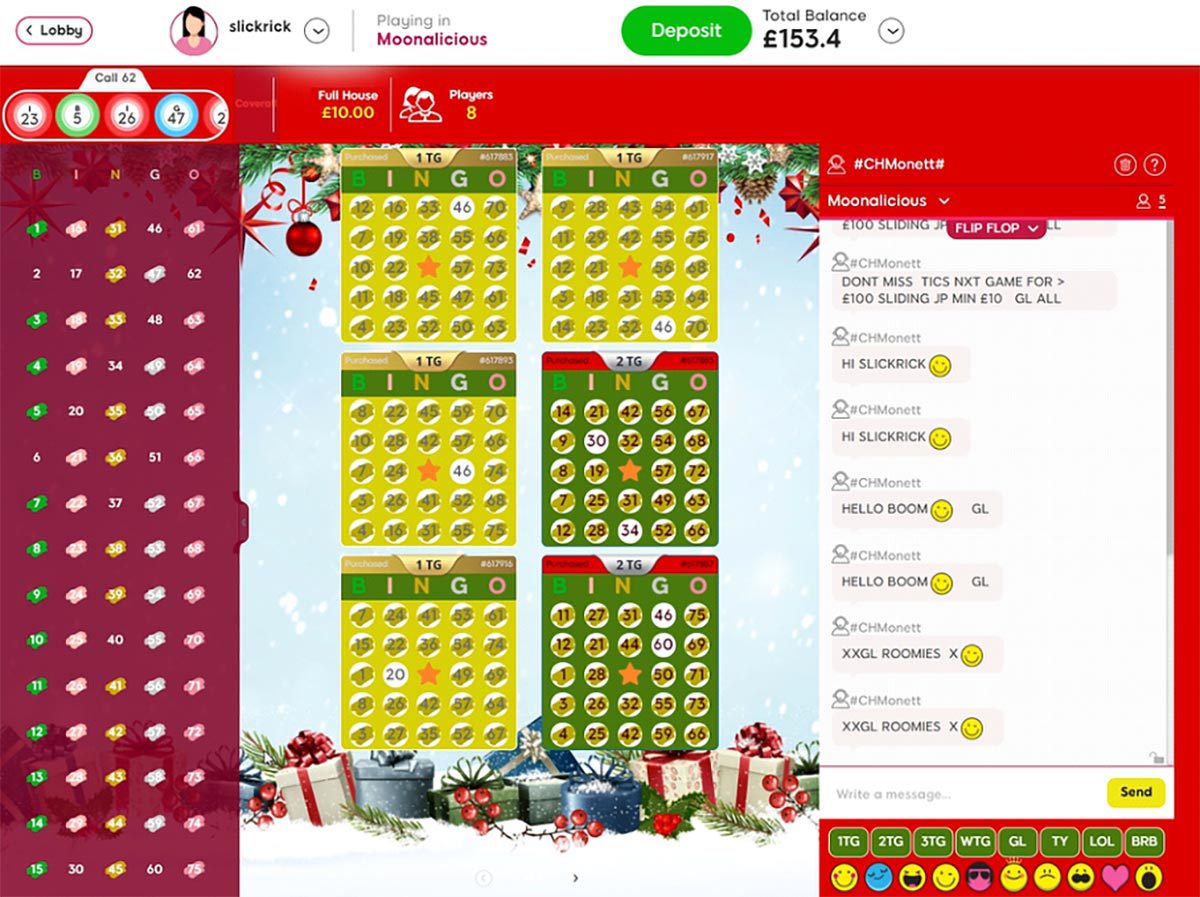 After playing in many of the bingo rooms, slick rick turned his attentions to the slots. The entire suite of Red Tiger Gaming's daily jackpot games is featured at Velvet Bingo, only instead of offering both hourly and daily jackpots, they only offer daily.

Requesting a Withdrawal
On Monday 13th December, our reviewer decided it was time to cash out his remaining balance. Strangely enough, his available balance was showing as 1p less than his actual balance. When attempting to withdraw the full £75.03p, he was told he could only withdraw his 'available balance' of £75.02p.

Despite this, he continued with his withdrawal request before sending support an email. Our tester cashed out £75.02p and sent Velvet Bingo support an email about the missing penny. A response came on the 15th, and suggested our reviewer made an error when cashing out.

Another email was sent back to the support team explaining why our tester had contacted them in the first place and to not only confirm the 1p was still in the account, but to confirm the penny had not been available to withdraw at the point of requesting the withdrawal on Monday 13th.
"I didn't mean to leave 1p in my account. That 1p I wasn't able to withdraw. I'll repeat why I contacted support in the first place...
"...I attempted to withdraw my entire balance £75.03p, it was showing as £75.03p while playing games and in the cashier, but when I typed in £75.03 - my entire balance, it said I didn't have enough and I was only able to withdraw £75.02p. That's why I left 1p in the account, not because I wanted to but because I wasn't 'allowed' to withdraw the whole balance for some reason.
"I have just logged in and that 1p is still in my balance, so not sure why you say it has vanished. I have supplied screenshots of my problem. I just wanted to know why I wasn't allowed to take that penny out? Just in case it happens again."
In the meantime, while waiting on an outcome, the withdrawal of £75.02p was processed and received on Wednesday 15th.
A day later on the 16th, 3-days after emailing about the 1p discrepancy, a reply came explaining the withdrawal process. There was no solution and no acknowledgment of what had happened to that 1p!

How Does Velvet Bingo Stack Up?
Do Velvet Bingo live up to their claim of being a 'surprise' of a bingo site? They sure do! Even after our reviewer's withdrawal was completed, they surprised him with free bingo tickets to the Santa's Stash game, tickets worth £5! Logging in on Thursday 15th, an automated message appeared in chat offering slickrick tickets to a big prize money game that evening. After reading the terms, the free tickets were accepted for the £2K no wagering bingo game! He may not have won one of the triple chance bingo games, but what he did win was real money from the 1TG pot! And there are many other random surprises to be had once logged in.

The payment was received promptly, however, the disappointing part was the penny being held and support providing no answers.
This information concludes this extensive test as part of the project From the Players, For the Players. If you are a member of Velvet Bingo or consider making a deposit, we hope this report provided some useful information.
From the Players for the Players
Back to articles
Your feedback
Please enter your comment.
Your comment is added.