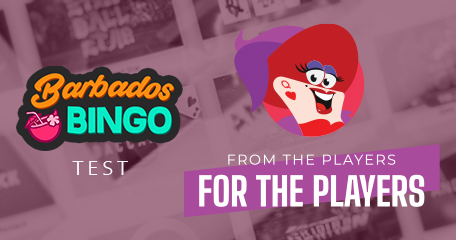 Barbados Bingo, despite its name, is not only a place where you can dab bingo tickets, but a place to play online slots, live casino games, instants and table games. Regardless of your budget, there are games to suit all stake levels plus numerous jackpots dropping randomly into player accounts. Falling under the Jumpman Gaming umbrella means the games on offer can be enjoyed on the go via a user-friendly mobile optimised website.
A quick glance at the website reveals an unlimited number of ways to trigger bonus spins, monthly prize draws, happy hours and free game opportunities every month, but is seeing really believing? We aim to find out! Nothing beats personal experience so as part of our From the Players for the Players experiment, we decided to put Barbados Bingo to the test. Did they live up to our reviewers expectations or did they flop like a jelly on a plate? Stay with us as we reveal all there is to know about this sunny bingo destination.
Tester of the day: tropicalwinthing
Registration date: Thursday 21st October
Deposit date, amount and payment method: October 21st, £150 via Visa Debit
Withdrawal request date: October 21st, withdrawal request of £75.57p via Visa Debit.
Withdrawal received date: October 24th, £75.57p withdrawal processed minus £2.50p fee. This should have resulted in a payment of £73.07p, but the amount received was £73.06p.
The Registration Process
Registration is labelled as a quick and easy process with just 3 steps…the basics where you add your name, email address, mobile number (if you want) and date of birth, followed by your address and finally player details; this is where you choose your username and password. Our reviewer, tropicalwinthing, visited Barbados Bingo for the first time on Thursday 21st October, so that registration process should've been a breeze…but it wasn't.
After tapping in all her details for the first time ever, she was met with the following message: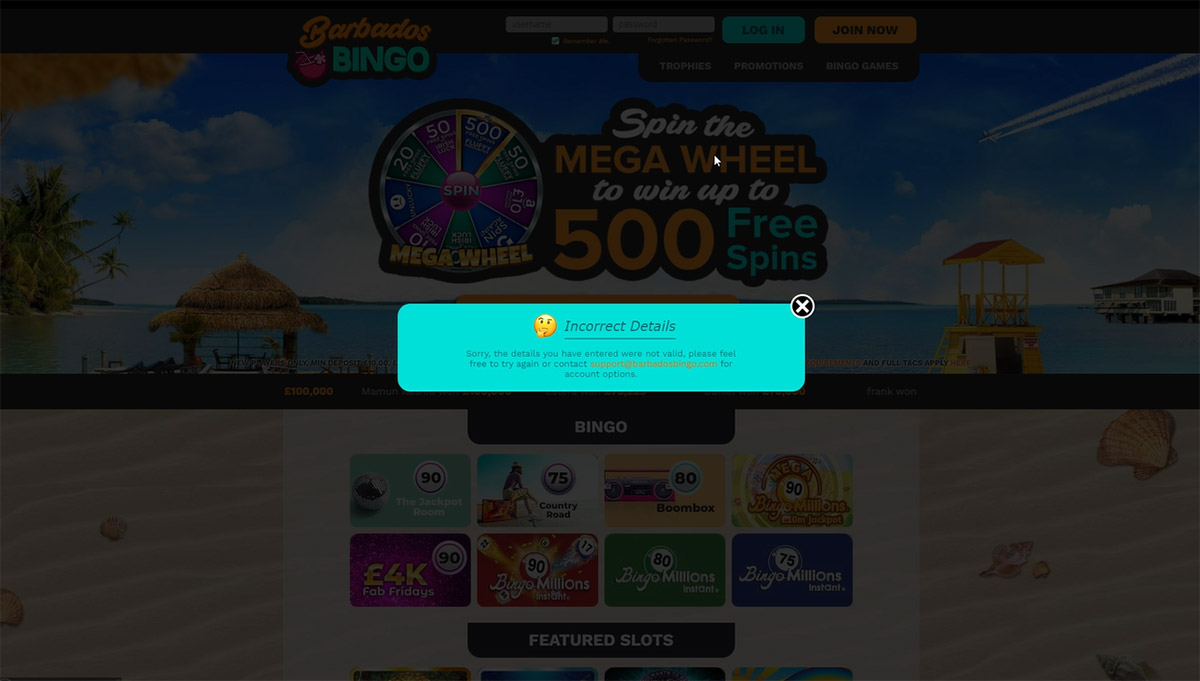 This can happen if you already have an account with another bingo site on the Jumpman Gaming network , so she decided to use an alternative email address. As soon as she did, she was welcomed with bonus spins.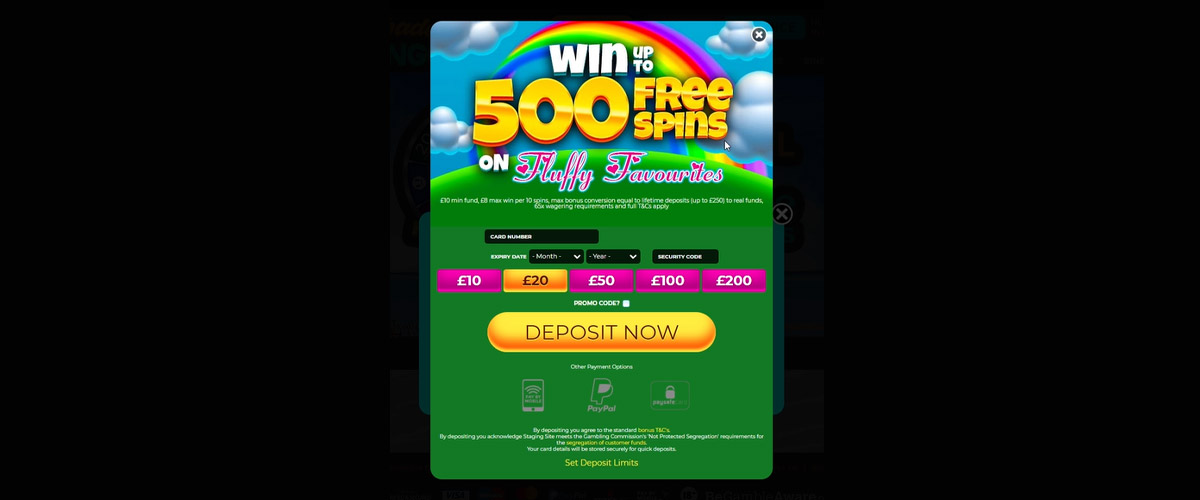 Initial Deposit
The Barbados Bingo cashier is also made up of three steps, first being the available deposit methods, second is where you add your payment details and the third is the deposit amounts.
Deposit values include £10, £20, £50, £100 and £200, and none of those corresponded with what our tester of the day wanted to deposit, which meant having to make two separate deposits, one of £100 and another at £50 using Visa Debit.

Once confirming the second deposit via her banking app, tropicalwinthing had a balance of £150 to play with.

Gameplay
Being a bingo website, our tester was expecting bustling bingo rooms with overflowing pots of cash, but in reality, what she got was 12 rooms, most of which were empty, lots of pre-buys and of the rooms that were open, they only offered a few quid as prize money.

Bingo Millions in 90, 80 and 75-ball variants run round the clock with a multi-tiered prize pool, so even if there are no other players in the room, you can still win up to £10 million (in seasonal specials). Our reviewer noted the games were slow due to the lack of players. Her winnings never exceeded £2.
Mini games in the bingo rooms come from Eyecon, only you get a choice of just 12 instead of scores of them. Tropicalwinthing discovered in order to play other gaming titles, she needed to launch them independently from the bingo. The Beachball Blast room only offers 10 mini games, all of which are Pragmatic Play releases.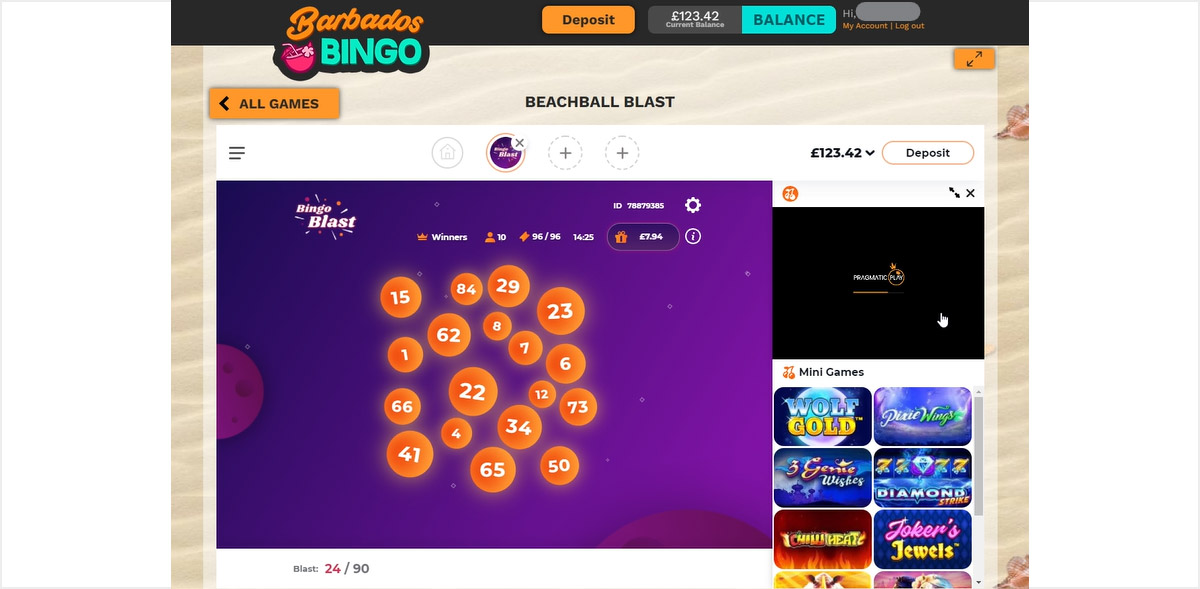 The choice of slots and games when played directly via the lobby is huge, with titles from Microgaming, NetEnt, Blueprint Gaming and Playtech. Red Tiger Gaming's full suite of slots is available at Barbados Bingo, only they don't offer the much-loved 'must drop' hourly jackpots.

Requesting a Withdrawal
Before a withdrawal can be processed, identification must be uploaded. Barbados Bingo have a handy upload form with details of what you need to add to make withdrawals quicker in future. What they don't tell you is you also need a smartphone with a front-facing camera, or you won't be able to receive your funds.
To add your photographic ID, you need to click the link on that upload form, which then takes you to a blank screen with a QR code.

Open the camera on your mobile device and hover it over the QR code for a link to appear on your mobile screen. When you click the link, you will be guided through the upload process. The next step is to capture front and rear images of a passport or driver's license on a dark background to complete that specific process. The last thing required is a selfie. Once done, close the mobile browser and head back to Barbados Bingo on your computer.
Tropicalwinthing added her documents on registration day, only despite being verified within an hour, her account was still in a state of 'review'.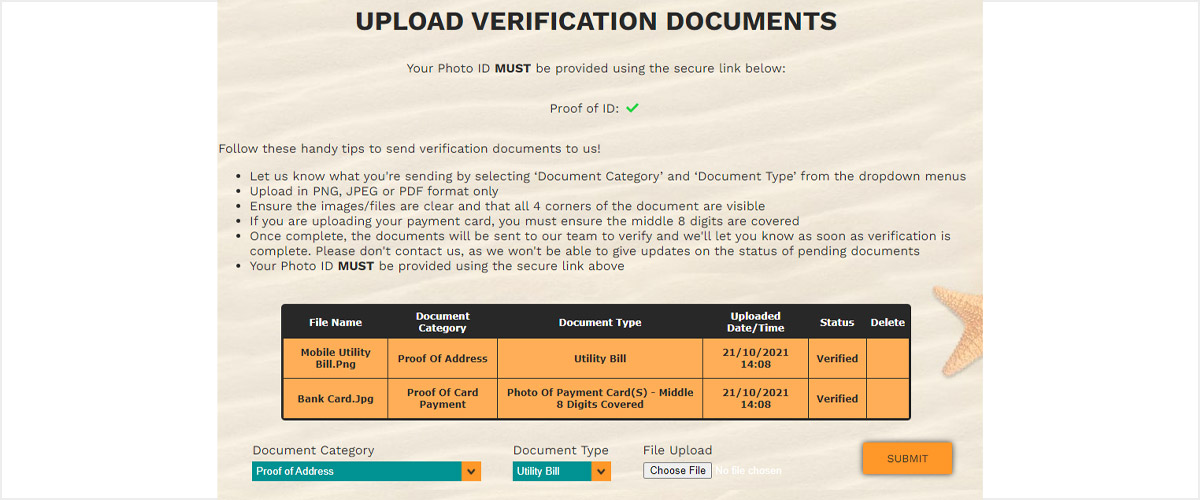 All new registrations go through what's called a verification period where details are checked. This is independent to the KYC process, and something that should only take 'up to 48-hours' if you go by the on-screen message.

On Saturday October 23rd, more than 48-hours after attempting a withdrawal for the first time, tropicalwinthing headed to the bingo site to discover the verification process still hadn't been completed. A day later, her account was verified, only she never received an email like the pop-up stated she would. The verification process took more than 72-hours to complete.
On Sunday 24th October, our reviewer requested a withdrawal of her remaining balance, £75.57p. After being warned she would lose her bonuses by doing so, she proceeded to cash out her funds.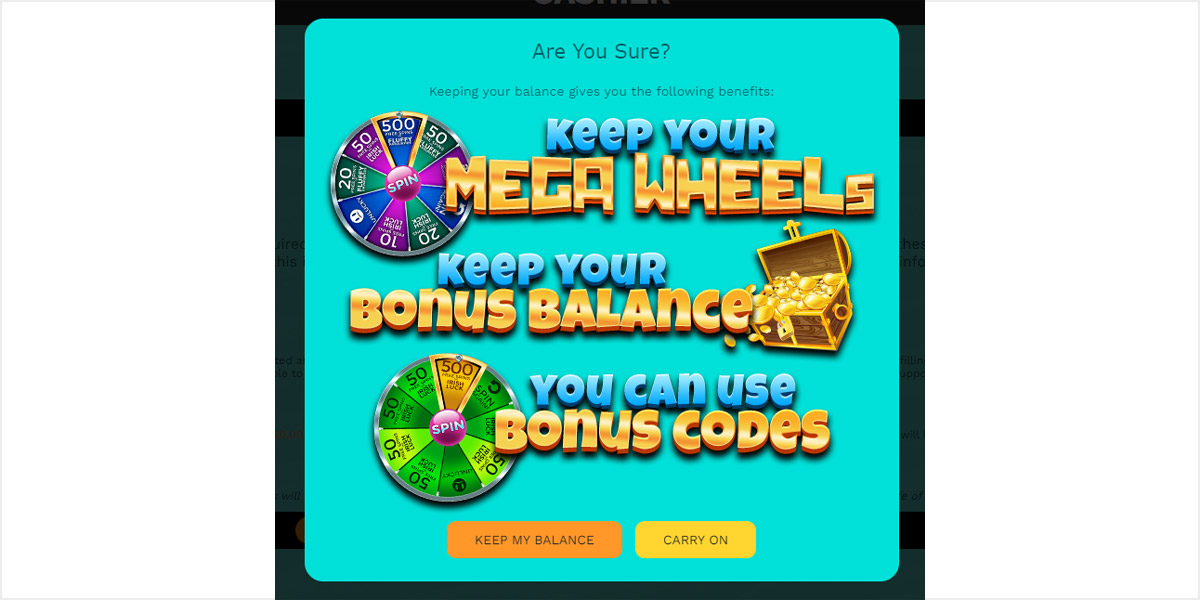 A couple of hours later, she received an email to say the withdrawal had been processed and despite quoting 3 working days in that email, her withdrawal was already in her bank. Swift work, especially given it was a Sunday too!

Barbados Bingo deduct £2.50p in fees from withdrawals, which should've resulted in her receiving £73.07p, the sum quoted in the email, but the amount she received was less than stated – a penny less at £73.06p. This could have been a result of bonus funds, but our tester sent customer support an email. A penny is a penny! She is still waiting for a reply.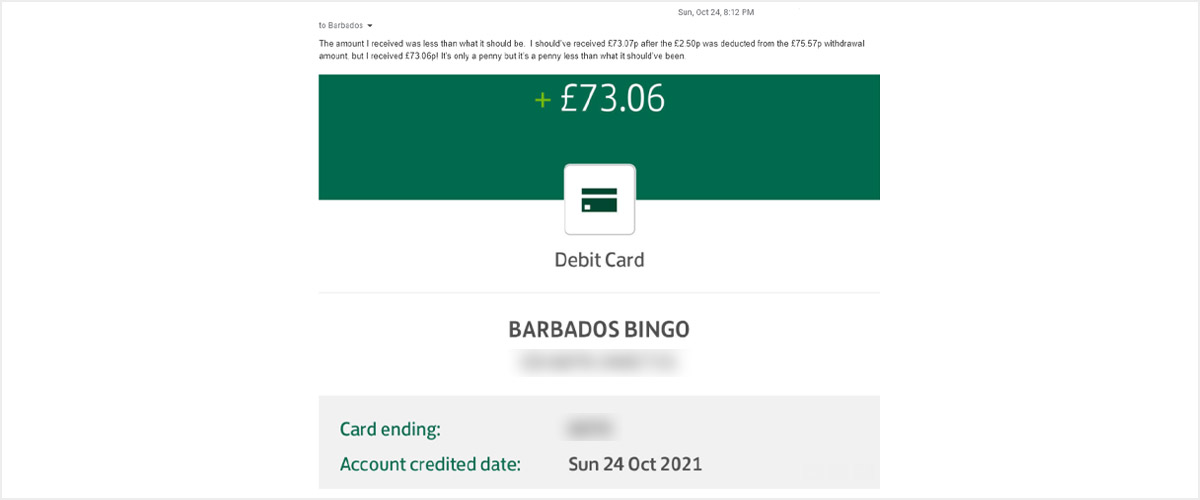 How Does Barbados Bingo Stack Up?
The bingo rooms are bordering on empty with prize money often less than the cost of max tickets. Mini games offer more ways to win for less, which is a shame as Barbados Bingo is labelled as an online bingo destination. The document upload form was quick and effortless as was the cashout process. Funds were received the same day (Sunday) via Visa Debit! Verification of new player details was slower than expected and email support can take several working days to reply.
We'd also like to note that the day after making an initial deposit, our reviewer received an email invitation to play the daily drop game despite the pending review status of her account. The game replaced the cashback program and is offered to players the day following a successful deposit.

This information concludes this extensive test as part of the project From the Players, For the Players. If you are a member of Barbados Bingo or consider making a deposit, we hope this report provided some useful information.
From the Players for the Players
Back to articles
Your feedback
Please enter your comment.
Your comment is added.