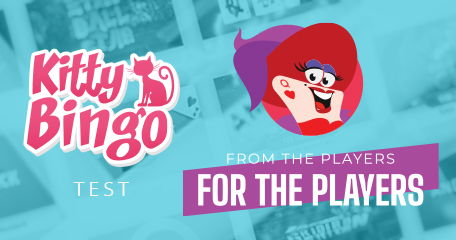 From the Players for the Players continues with Kitty Bingo, the fun bingo site with plenty to leave you feline fine about! If you've been following of exclusive feature, you'll already know we are putting online bingo/gaming sites to the test to see if they really are being true to their word. Many operators claim to offer a top-notch experience, but how do you know you're getting exactly that? Reading a review only tells you so much, so we decided to put them under the microscope and test everything from the deposit process to withdrawal, something no other bingo review site has done before!
Kitty Bingo launched in 2012 with a cool for cat's theme. You don't need to be a lover of kittens to enjoy the mewsive varied selection of bingo (and games), but it would help, seeing as there are images of furry little pussycats everywhere! Operated by Daub Alderney, the Playtech bingo rooms give players access to unique variants such as Rainbow Riches Bingo, Age of the Gods Bingo and even Deal or No Deal Bingo, plus hundreds of the very best online slots and slingo games. Star attractions include a £1K monthly member prize draw, daily free to play game, free bingo to win real cash and charity games.
Now for the test itself and Ere4TheLolly was only too pleased to be testing Kitty Bingo, what with being an animal lover. Did she fall in love with what they were offering? You're about to find out!
Tester of the day: Ere4TheLolly
Test began on: Friday 6th August
Deposit date, amount and payment method: Friday 6th August, £126 via PayPal.
KYC verification: Uploaded previously as our reviewer is already a verified player.
Withdrawal request date: Friday 6th August, £75 via PayPal.
Withdrawal received date: Friday 6th August, £75 via PayPal.
Financial Survey
Ere4TheLolly registered with Kitty Bingo some years ago, meaning there was no need to fill in the registration form. Despite KYC documents being supplied at the point of registration, Kitty Bingo proceeded to request some more information from our tester, cleverly disguised as a 'financial survey'. Five questions were put to the reviewer via email three days after making her 'From the Players for the Players' deposit.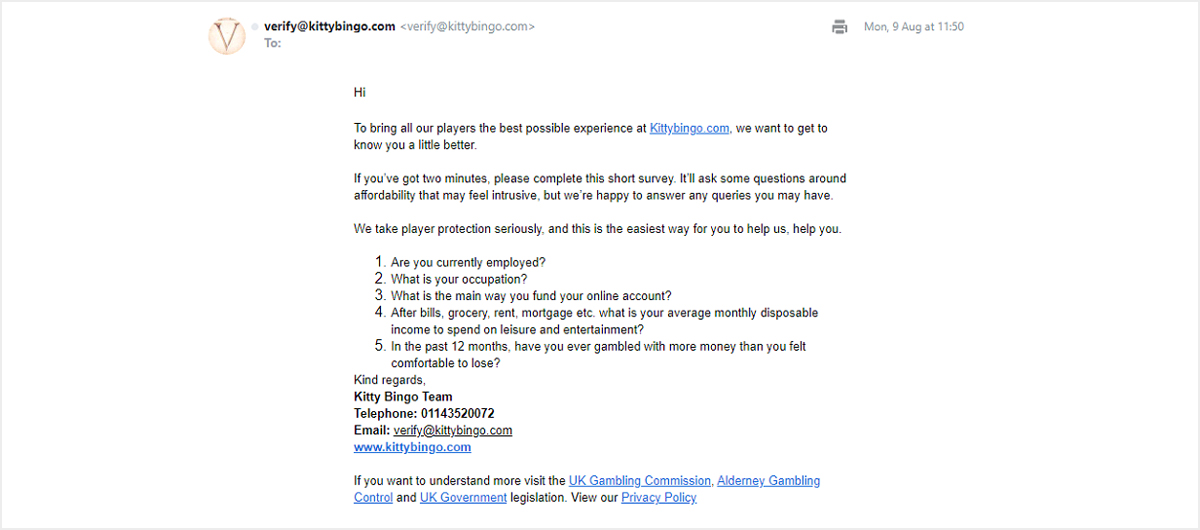 Initial Deposit
On Friday 6th August, our tester logged in and made a deposit of £126 via PayPal. It was a simple process which included having to verify her mobile number – a PayPal process related to enhanced security measures.

The cashier offered pre-set deposit options ranging from £20 to £200. As there were no options for £126, she had to insert this value into the 'other' box.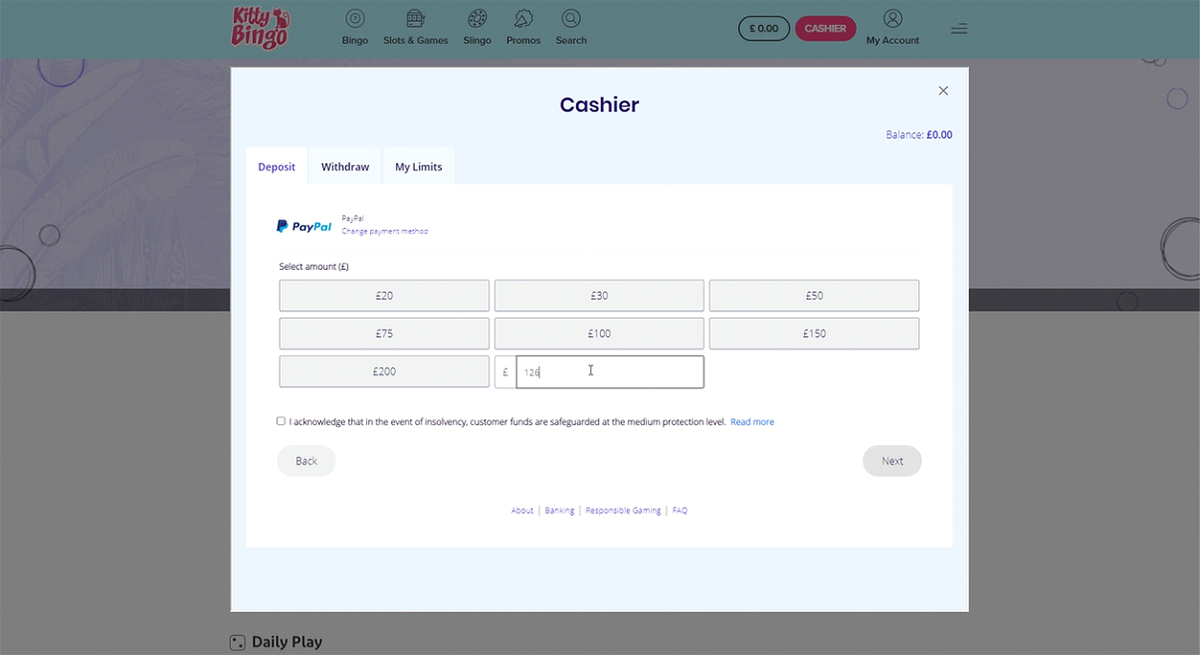 She logged into her e-wallet account, verified her mobile by receiving a security code via text and actioned the deposit. Within a few seconds the funds were available in her Kitty Bingo account.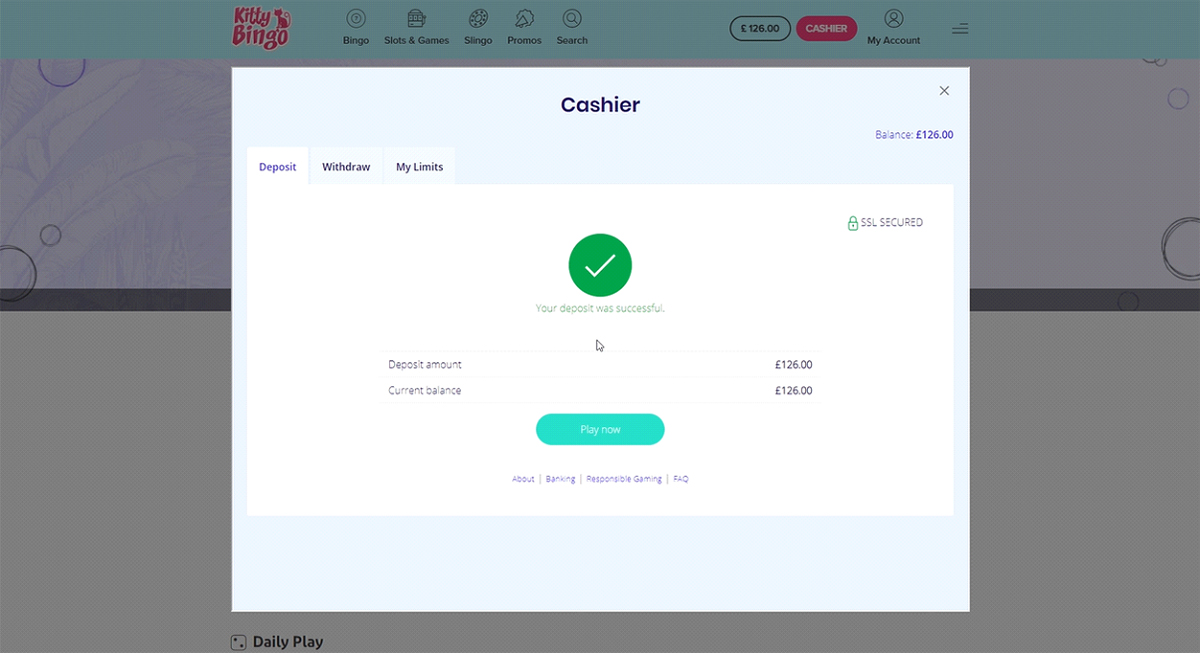 Gameplay
The choice of bingo rooms and games at Kitty is astronomical. The bingo lobby separates all of its bingo games into variant type. Handy if you're looking for a specific type of game to play.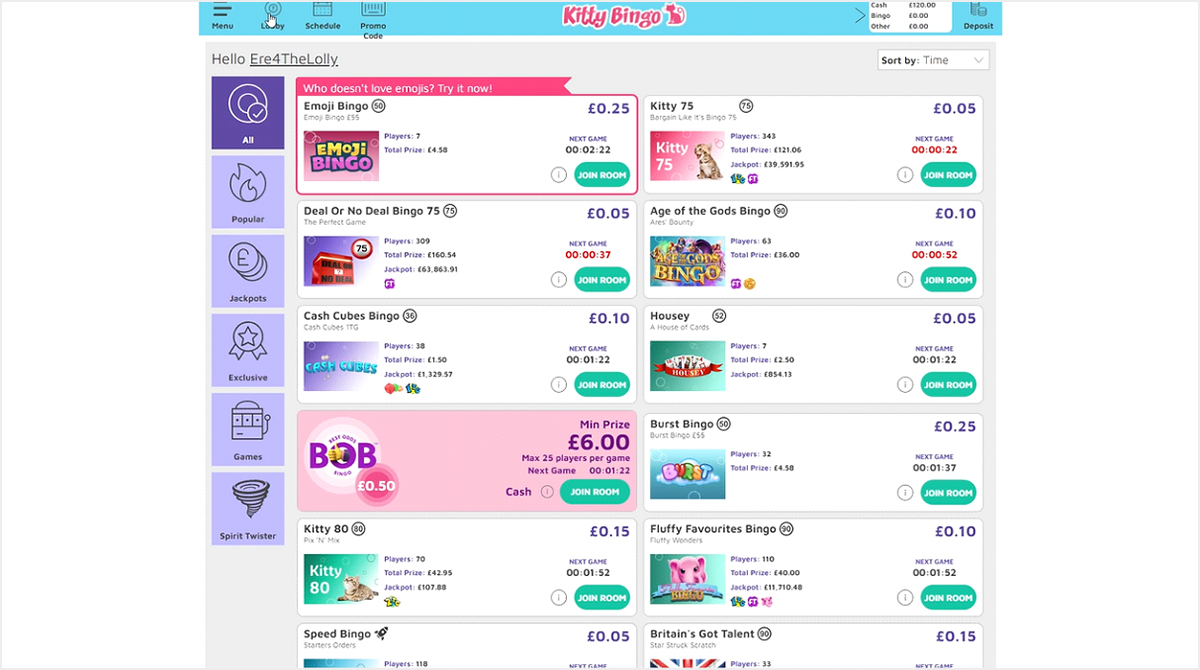 The reviewer made a decision to try every bingo variant offered, and this included Cash Cubes bingo. It's a simple game to play with cubes instead of bingo tickets. Every time you visit the room, a brief insight into how to play will appear on screen. When you play once, all becomes clear. Each section of your chosen cube houses a number (1 to 36). When you match all numbers, your cube is filled and you win the stated prize. Our reviewer had no such luck though.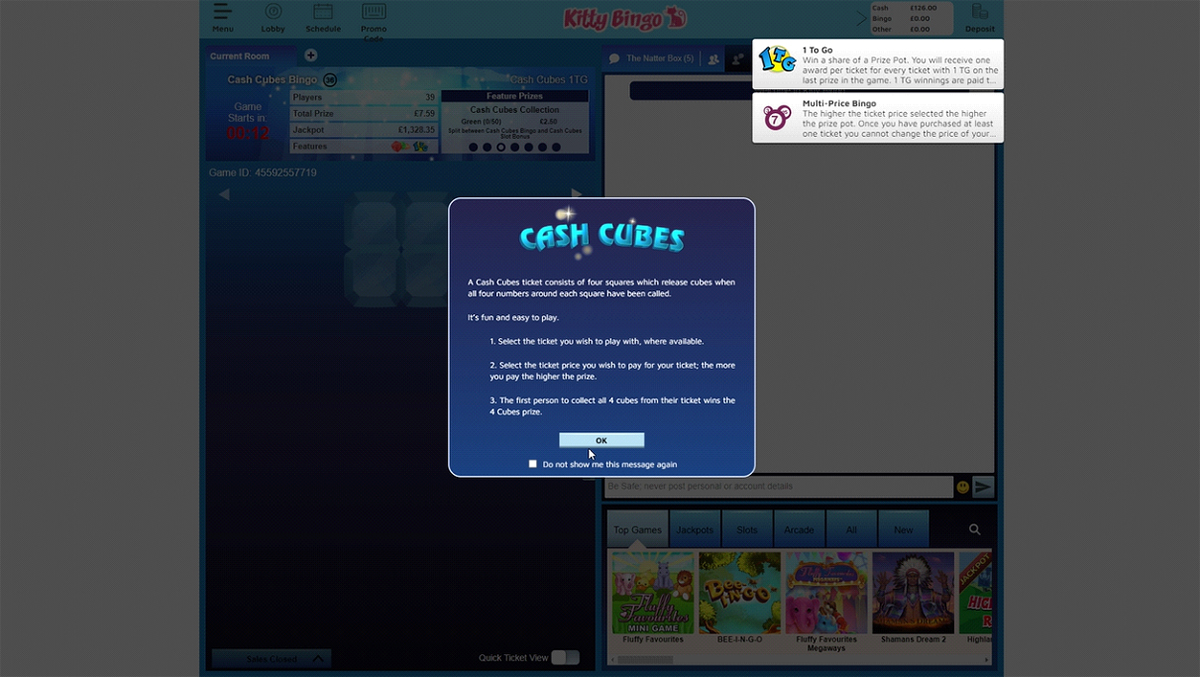 Emoji Bingo was next, a modern-day version of 50-ball bingo. Instead of numbers you have characters and icons such as a smiley face, cocktail glass, no-look monkey and even a poop! Ten characters per ticket, the winner is the player who matches all ten emojis before anyone else.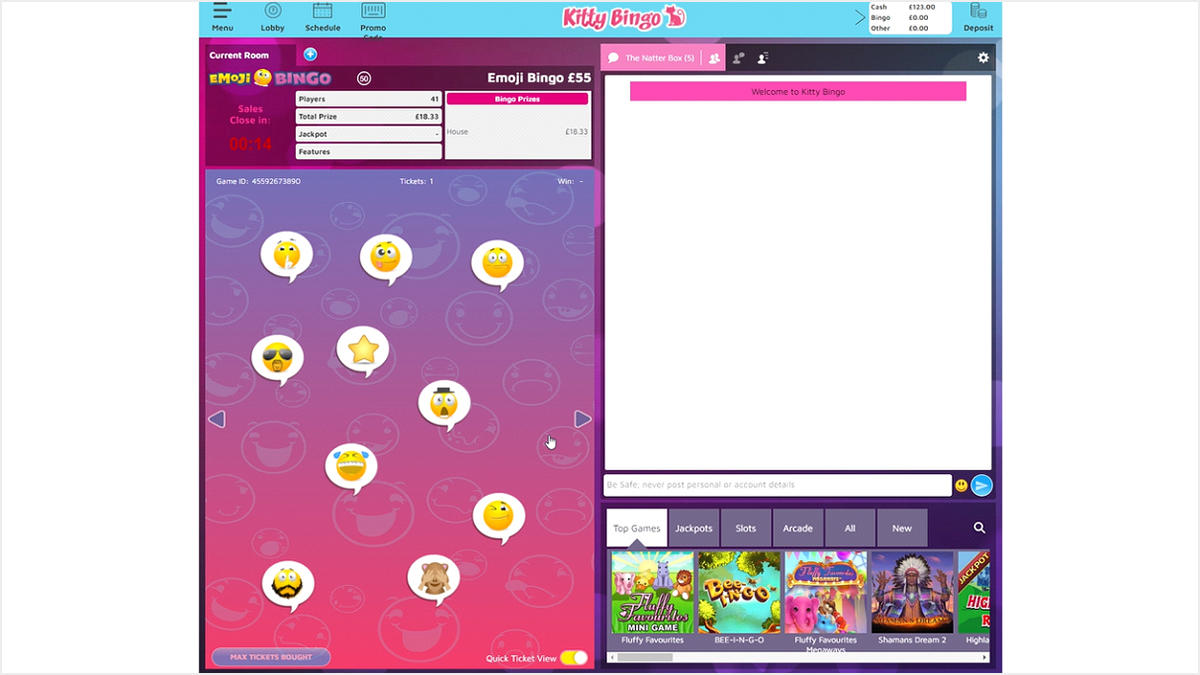 Like all bingo games at Kitty Bingo, Emoji Bingo comes with a simplified version, allowing you to monitor your ticket's progress a lot easier!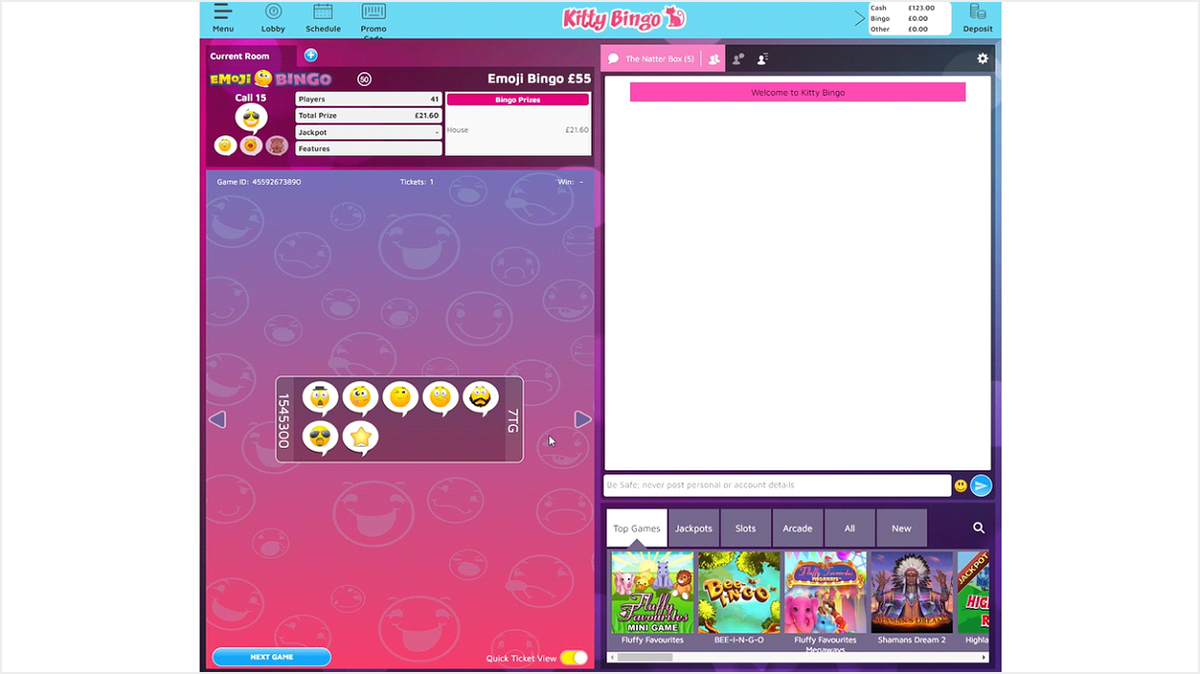 Deal or No Deal 75 is a popular room as it offers five-line prizes as well as a banker's bonus. Throughout the game, specific numbers will lift the lid on any of those 22 identical sealed boxes, this in turn eliminates them and the value of the prize inside from play. When the full house is won, not only does the player receive the full house prize but will receive an offer from the banker based on the value of the boxes left in play. A vote is put to the community on whether they should 'deal or no deal'. The game froze on first attempts to play, but this was soon rectified by leaving and re-entering the room.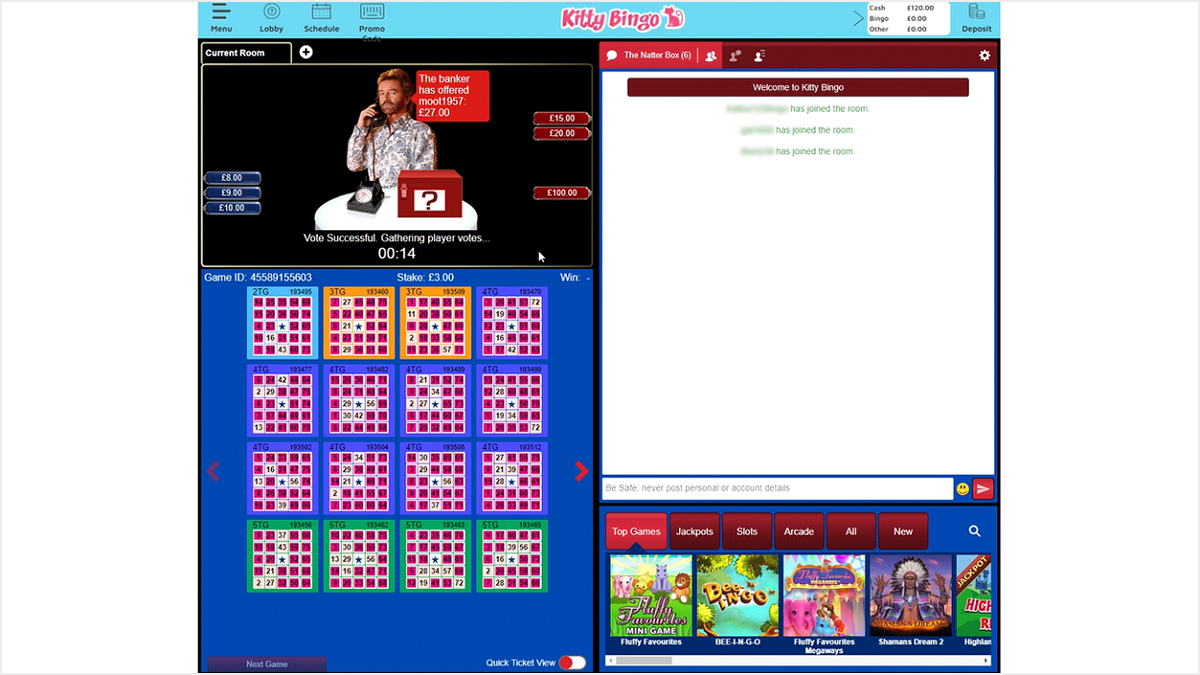 Another popular and new way to play 90-ball bingo is Age of the Gods Bingo, a jackpot bonus game styled on the hit Age of the Gods slot franchise by Playtech. Aside from the line, two-lines and full house, players compete to go head-to-head with the mightiest of Gods. Win the full house and it's pick and click bonus time, only if you reveal the jackpot, half goes to you and the remaining half is split between those with tickets into the game.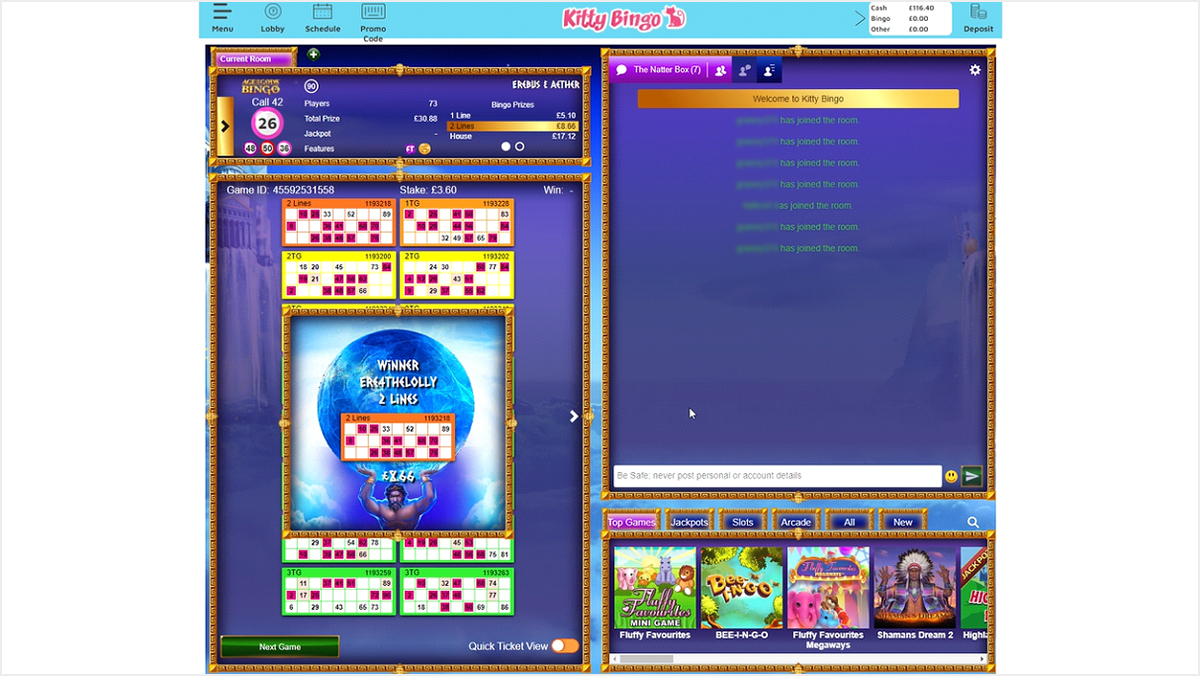 Requesting a Withdrawal
Having not managed to win much more than a tenner, our tester decided it was time to cash out her remaining balance of £75. The withdraw option is located next to the deposit tab in the cashier.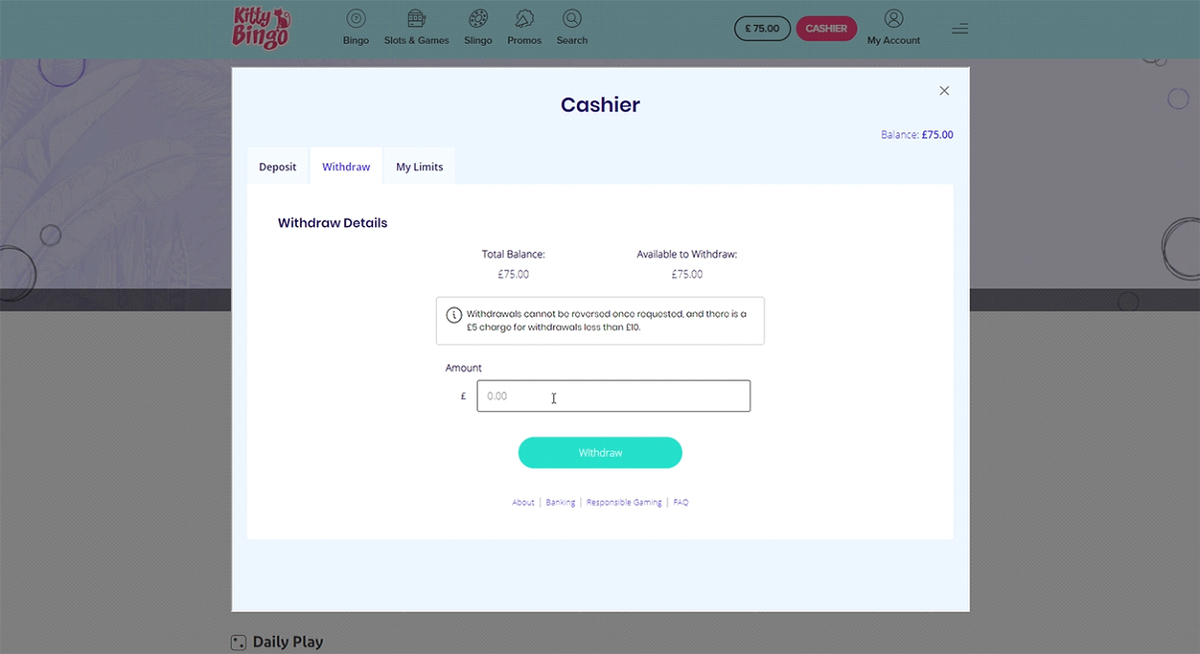 After requesting the withdrawal on Friday 6th August, all that was left to do was wait for the funds to hit her PayPal account.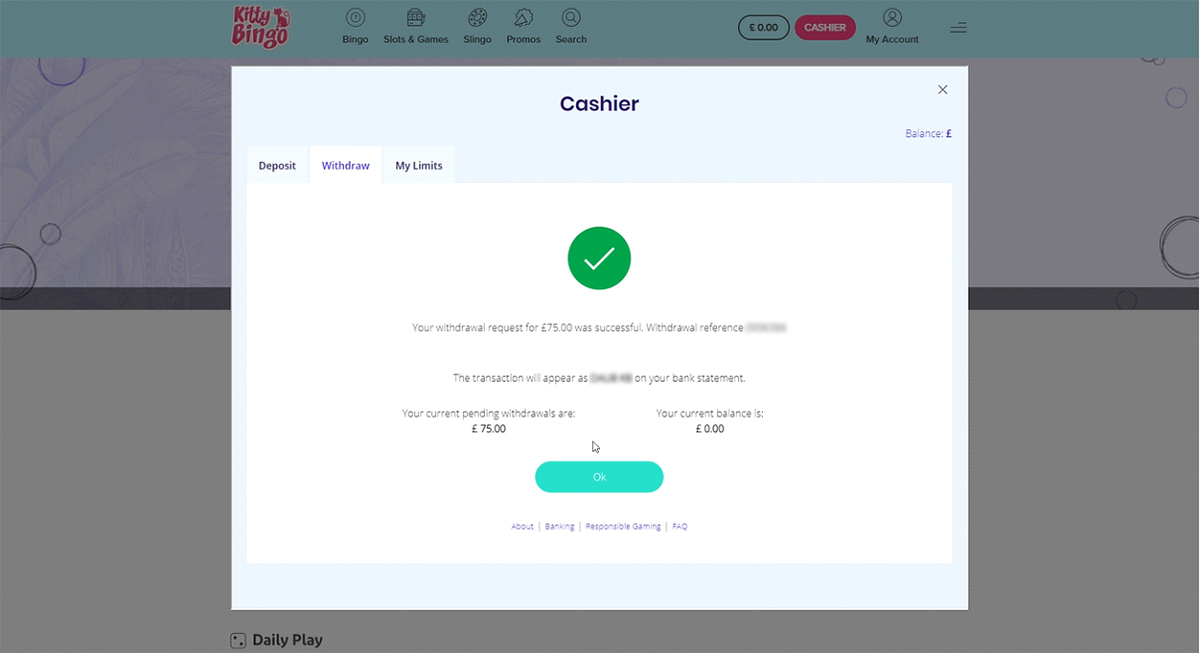 Kitty Bingo withdrawal process is fast, with our reviewer waiting just 4 hours for her funds.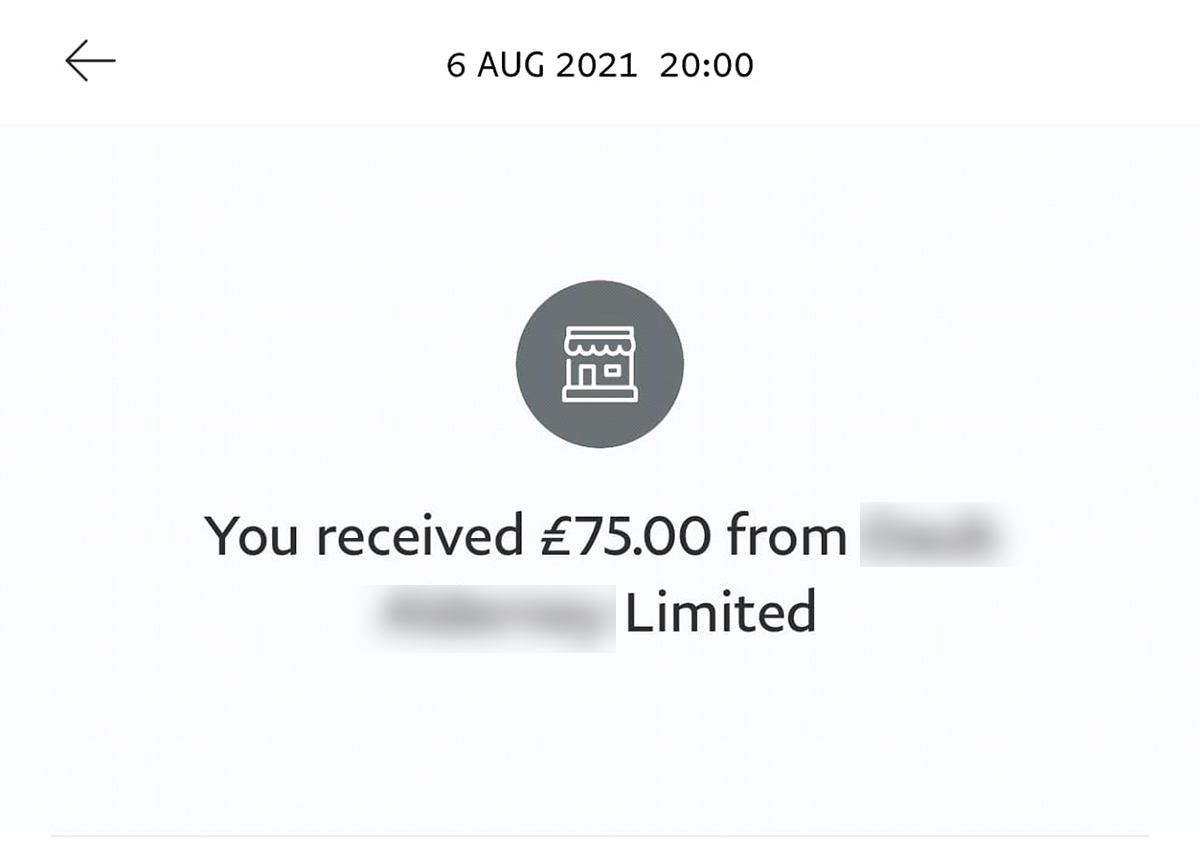 How Does Kitty Bingo Stack Up?
Kitty Bingo offers it all; live chat, promotions, free bingo, no deposit deals, big jackpots and a massive selection of online bingo games. The PayPal withdrawal was processed within 4 hours. Upon further investigation, the banking terms state that the PayPal payment method is enabled with 'Fast Withdrawals' and "80% of withdrawals are paid back in your bank within 10 minutes." This was not the case with our tester, however, the cashout was received the same day.
This information concludes this extensive test as part of the project From the Players, For the Players. If you're registered at Kitty Bingo or consider signing up, we hope that this detailed report gave you some insight. Feel free to drop by and leave a comment for other potential players!
From the Players for the Players
Back to articles
Your feedback
Please enter your comment.
Your comment is added.
Bixy
08/17/21, 01:08:27 PM
As per my opinion, 4-hour period is a rapid cash out interval. Since Kitty Bingo offers the enriched content and no deposit deals, definitely I will try my luck there :)
bridgetjones
08/17/21, 08:08:21 AM
Kitty Bingo is one of my favorites and I am so glad that everything went smoothly. Thanks for the report! :)