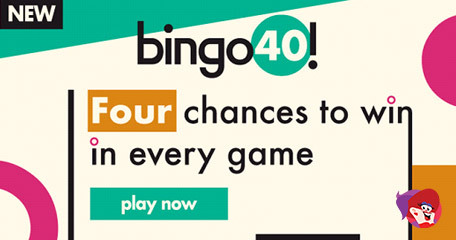 A brand-new bingo game has just dropped over at tombola HQ and it comes with four chances to win in every game! bingo40 offers jackpots of up to £10K with one-line, two line, three line and full house prizes guaranteed to be win!
The new faster-paced bingo game is exclusive to tombola, meaning you won't find it anywhere else. Entering the bingo room, the first thing you'll notice is the retro look and feel with sharp geometric shapes in pink, amber, teal, cream, and black shades. As ever, the bustling bingo community can be found to the right with five ticketing options to the left.
The current game calls, time until the next game, number of players in the room and prizes up for grabs can always be viewed, giving players an idea of what can be won and for what stake. As this is an equal chance bingo game, all participants have the same chance to win – it's one ticket per player here. The cheaper the ticket, the less you can win, the more costly the ticket, the more you can win. Same applies with the bingo jackpots.
How To Play
Choose to play manually or by using auto mark. Winners are announced automatically by the game server whether the game was played in manual or auto mark mode, and whether you were in the room or not! If you've purchased a winning ticket and somehow get disconnected from the game or have to dash off out, you will still be credited with your winnings!
To play simply purchase a ticket for 10p, 25p, 50p, £1 or £2. Each player will play with one ticket with 4 chances to win on that ticket – pink, black, amber, and teal. Remember, only one ticket can be purchased per game, and you must do so at least 10 seconds before the game begins.
The (real money) prizes vary from game to game and are determined by the number of players in the game, the ticket price, the amount of real money staked and whether the game is included in a promotion.
Each game will have four prizes: pink, black, amber, and teal. Each prize is awarded to the first player(s) who can complete the 4 coloured tickets. Each coloured ticket has a 'jackpot' attached to it. The Jackpot and number of calls needed to win the Jackpot is displayed in the game info boxes above the tickets, but we will of course point that out to you!
The Jackpots
Pink Ticket: Win in 4 calls for £50 (10p stake), £125 (25p stake), £250 (50p stake), £500 (£1 stake) or £1K (£2 stake).
Black Ticket: Win in 12 calls £100 (10p stake), £250 (25p stake), £500 (50p stake), £1,00 (£1 stake) or £2K (£2 stake).
Amber Ticket: Win in 18 calls £250 (10p stake), £625 (25p stake), £1,250 (50p stake), £2,500 (£1 stake) or £5K (£2 stake).
Teal Ticket: Win in 22 calls £500 (10p stake), £1,250 (25p stake), £2,500 (50p stake), £5,000 (£1 stake) or £10K (£2 stake).
Will you be giving the new bingo40 tombola game a try?
Bingo Promotions & Bonuses
Back to articles
Your feedback
Please enter your comment.
Your comment is added.
bridgetjones
09/08/23, 06:09:34 AM
The jackpots are very generous. Be warned though, the rooms are extremely busy with it being a new game!