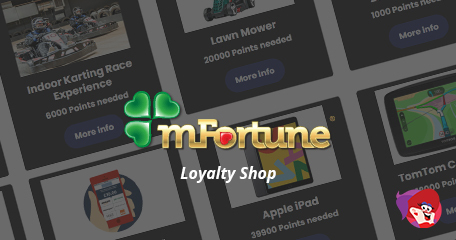 Everyone has their favourite place to shop – from local delis to out of town shopping centres, and while many of these remain close, finding that bargain seems almost impossible, but there is a way! I've found a shop open 24/7 offering the best in bargains – bingo bargains, but unlike most loyalty shops, this one offers goods ranging from top-up credit for mobile phones to the actual mobile phone!
Members of mFortune are not only treated to monthly batches of free games, no deposit deals and countless progressive jackpots, they're also treated to amazing physical goods, all through a very generous loyalty system. How it works is simple; you play, you earn points and spend them on whatever you want! Is your garden in need of a makeover? There's a top-of-the-range lawnmower for that. Are you aching for a day out alone with some pampering thrown in? There's a Red-Letter Day voucher for that too along with countless other options!
Redeeming is as Easy as 1, 2, 3
Step One: You need to be a valued member of the mFortune team, and you can give your session a boost with a no deposit offer valued at £10! You can use this to play exclusive slot titles such as Cat & Mouse or maybe even one of the most recent releases - Fantasy Gold. Or, you can head to the bingo rooms where you'll find no less than 11 dazzling gemstone themed rooms with jackpots ranging from £7K to £109K!
Step Two: Play. You only accumulate points through playing and when you have enough, you can start exchanging instantly! Points are based on real money purchases, from 10p bingo tickets to win one of three prizes to a £1 bet on roulette, all of these will contribute to your points balance.
Step Three: Spend Wisely! Most common exchanges are for bonus credit and with values ranging from £3 to £20, there's plenty more winning opportunities up for grabs. But what else can you spend your points on? If you've enough in your bankroll, you could claim gadgets ranging from an Apple iPad to the latest Xbox video games console. Then there are experience days where you can (literally!) throw yourself into activities such as bungee jumping, zorbing (a bit like a hamster in a spinning wheel) and even a helicopter flight with bubbly!
It may take some time to accumulate those points but this exclusive member shop is just another fine example of why players continue to choose mFortune. Don't forget to check them out on Facebook if you can because they regularly hold giveaways and competitions just for their players! What do you make of the shop? Let us know below!
Bingo Promotions & Bonuses
Back to articles
Your feedback
Please enter your comment.
Your comment is added.
Member's Feedback (1)
Bubles12
01/15/21, 10:01:28 AM
I've cashed in my points for bonus credit before but this time I'm saving them for a gadget for Christmas.