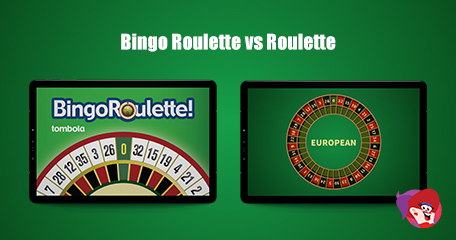 New Year's resolutions are often filled with promises to lose weight, get fit and pick-up new skills, but for me, in 2021, I'm making a promise to try new things – especially when it comes to bingo, and one of those is Bingo Roulette! When does bingo stop being bingo? When there's a roulette wheel involved! These 'special' games last just as long as a typical game of bingo which is a darn sight longer than a spin of a roulette wheel and the difference between the two may actually surprise you!
If you've ever played (European) roulette before, you'll know there are (37) pockets on a wheel (a single 0 and numbers 1 to 36) and the winning number is determined by a ball landing in one of those pockets. One spin is all it takes to throw up wins of up to 35:1 and while there are options to bet on as many numbers as you like, each comes at a cost and all of these do add up!
Great Value for Money Gameplay
Roulette bet types are not as straight forward as buying a bingo ticket and waiting for your numbers to come up, you have to guess where you think the ball will land, but which pays the most? Bet types with any variant of roulette include:
Straight Up: A single number bet with pays of 35:1
Split: A bet on two adjoining numbers, horizontally or vertically with pays of 17:1
Three Line (Street): A bet on a row of three sequential, adjacent numbers with pays of 11:1
Corner: A bet on four numbers in a square with pays of 8:1
Six Line: A bet covering two adjoining streets, where the chip is placed on two adjoining three lines – this has pays of 5:1
Column: A bet covering all 12 numbers of any three columns with pays of 2:1
Dozen: A bet on 1-12, 13-24 or 25-36 – a group of 12 numbers with pays of 2:1
Red/Black: A bet on a red or black number pays 1:1
Odd/Even: A bet on an odd or even number pays 1:1
Low/High: A bet on low (1 to 18) or high (19 to 36) pays 1:1
Based on those pays, the max you can win is 35x your stake – if you predict where the ball will land correctly (bigger multipliers with Quantum Roulette)! But this is where bingo roulette differs – you can win up to £10K on top of your full house winnings, which are much more than just 35x your stake! For our example we will use Tombola – Britain's biggest bingo site. Bingo roulette is based on a European variant with up to four chips (four chances to win!) in each game and it just happens to be one of their most played games!
To play (from 10p!), drag and drop your coloured chips onto the table or use the randomiser to place them on various numbers on the betting cloth. Green, purple, blue and red are the chips, and each colour has a total of 8 chips. When ticket sales are closed, the ball will spin around the wheel and land in a single pocket and automatically remove any chips covering that same number. This process of spinning and removing chips will continue until a winner is found – 8 chips of one colour must be removed from play to be a winner.
There are four rooms to choose from over at Tombola; Luxor (open between 8am and 2am) and Mirage – both 10p rooms (all four tickets in play will cost 40p per game), Venetian is a 25p room (£1 for max chips) and Bellagio – the 50p room where the biggest of cash is hiding! There are two jackpots (different to a progressive) available per game; call in 12 numbers to win up to £1,000 or 10 numbers to win £10,000!
A £1 stake with roulette will last half a minute max, with one chance to win a maximum of £35. A £1 stake with bingo roulette lasts at least 5-minutes and offers four chances to win a full house prize as well as two jackpots, for an unlimited sum of money! On average, full house prizes are £100 for a £1 stake, but that is during off-peak times, where you have greater chance to win!
Bingo Games
General Bingo News
Back to articles
Your feedback
Please enter your comment.
Your comment is added.
HangingAround
12/29/20, 02:12:54 PM
Never played it before! I thought it was the casino game so always stayed away! I'll have to give it a try next time I make a deposit at Tombola!