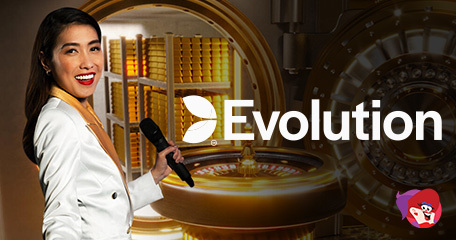 Massive Multipliers of 88x In Suspenseful New Variant
When is a game of roulette not roulette? When it's an Evolution production! Today we introduce to you a brand-new way to play European Roulette, where players collect golden bars by placing regular chips on straight-up bets, and this in turn could lead to mega cash payouts.
Each gold bar pays 88x the gold bar value and you can place as many of the gold bars as you like across the betting table for increased multipliers. Landing a gold bar win will also reward you with extra gold bars as well as the cash for your stake. The object of the live casino game is simple, you need to predict where you think the ball will land by placing one or more bets that cover that number. The wheel includes the numbers 1 to 36 including a single zero.
Once betting time has expired, the live host will initiate the spin before opening four vaults. Inside the vaults could be as many as 20 gold bars. When the ball comes to rest in one of the pockets on the wheel, players who covered that bet will receive their payout. If a straight-up bet was placed, the player wins the cash and the current rounds golden bars (up to 20).
Win Up To £500K Per Game
Gold bars can be placed on straight-up bets instantly or players can place real money wagers while attempting to collect as many gold bars as possible. One gold bar has a return of 88x, straight up delivers wins of 19:1, split 17:1, street 11:1, corner 8:1, line 5:1. Column and dozen bets 2:1 with red/black, odd/even and 1-18/19-26 all offering 1:1. Gold Bar Roulette is available to play on desktop and mobile at all major Evolution-powered casinos. One such casino is MrQ where bonuses carry zero wagering requirements and there are no win caps on bonus spin deals.
Todd Haushalter, Chief Product Officer at Evolution, said: "Having witnessed the amazing popularity of our Lightning Roulette game, we know there is an appetite for unique Roulette games that add extra suspense, entertainment and potential for big payouts. We also know how much players love big multipliers, so for Gold Bar Roulette we thought why not go a step further and give the player more control—why not let the player choose what numbers will pay big – and how big the payout should be?"
Haushalter added: "In Gold Bar Roulette, the golden wheel and Gold Bar vault environment is spellbinding. Players just love it when the number of Gold Bars that can be won is revealed, and then having the freedom to stack high their won Gold Bars on their own lucky number or numbers. The Gold Bars offer the chance of some big, multiplied wins—depending on how players choose to use their Gold Bars it's possible to reach multiplied payouts as high as 10,000x or even double that!"
Source: "Evolution Launches Gold Bar Roulette, Enabling Players to Take Control and Stack Up Massive Multipliers". Evolution. July 27, 2022.
General Gambling News
Back to articles
Your feedback
Please enter your comment.
Your comment is added.
lollipops321 07/29/22, 12:07:14 PM
Sounds different but a little complicated. I get you can gather bars and then stack them but it seems like an easy way to lose them all really quickly too.