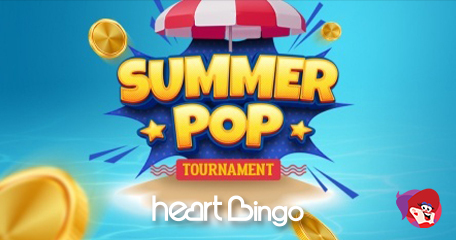 Explosive Fun Featuring Hundreds of Cash Prize Winners
Fail to prepare, prepare to fail has got to be one of my favourite quotes and it can fit just about any situation. Food prep, food shopping, packing a suitcase for that much-needed summer holiday and even when it comes to a bit of DIY, because if you don't plan ahead and get yourself organised, you're going to end up regretting it! Take me yesterday for instance, I decided to go shopping for dinner when I was hungry. It was off the cuff and a last-minute decision and because I was hangry (angry and hungry), I ended up buying stuff I didn't need!
Last-minute things can be a nightmare unless you're a Heart Bingo player that is! A brand-new summer pop tournament has recently gone live but, you have a limited time in which to get your name into the draw! A total of 187 players will win a share of a mega €20,000 prize pool, but you only have until the 20th of this month to take part!
You Could be the Next Heart Bingo Winner
The Summer pop tournament from Heart Bingo has literally just popped onto the bingo site and it involves playing qualifying Pop-themed games for a chance to win one of many cash prizes. Launch LolliPop, CherryPop, PiggyPop and/or MonkeyPop by the deadline, opt-in and try to spin a big win! There is no minimum bet per spin with this one, meaning someone playing 20p a spin has the same chance to win as someone maxing out. Keep it fun and safe by staying within your limits.
In double good news, the prizes carry zero wagering requirements or any other restrictions, which means even if you win the lowest prize on offer, you can withdraw it instantly with no problems! Talking of prizes, here's what you could win:
1st - €5,000 Cash
2nd - €2,000 Cash
3rd - €1,000 Cash
4th to 7th - €500 Cash
8th to 17th- €250 Cash
18th - to 47th - €100 Cash
48th to 87th - €50 Cash
88th to 187th - €25 Cash
Other promotions at Heart Bingo include a new guaranteed win with every spin wheel! Simply opt-in and spend £2 by the 19th to spin the wheel the very same day. Prizes on the wheel include bingo tickets and any wins you receive from your tickets…
…will be credited to your cash balance. Spend £10 to win even more free bingo tickets. Wager £25 on any Bubble Wild slot game and get up to 100 bonus spins with a spin of the bubble wheel! Opt-in to the father's day promotion and for every £5 you spend before midnight on the 19th, you will receive 1 entry into a cash prize draw. One-thousand players will win cash ranging from 50p to £125.
Don't forget to log in and play the no deposit Heart Bonanza game every day to win cash, free bingo tickets and bonus spins. It's basically a giant treasure map with hidden prizes. The more times you search, the more likely you are to win. All picks are free. Wins come with no strings attached and no nonsense terms.
Bingo Promotions & Bonuses
Back to articles
Your feedback
Please enter your comment.
Your comment is added.
lollipops321 06/17/22, 12:06:07 PM
I would miss out on all of these if I didn't visit LBB daily. I wouldn't have known about this one until it was too late! I love Heart bingo too because there is...
I would miss out on all of these if I didn't visit LBB daily. I wouldn't have known about this one until it was too late! I love Heart bingo too because there is no wagering anymore.
Show more