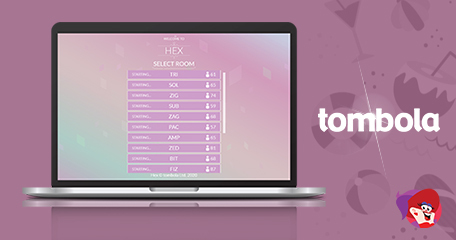 A brand-new bingo game with a colourful twist has been unveiled at Tombola HQ and the players already can't get enough! 'Hex' not only offers a full-house prize and the possibility of two jackpots but a 1 in 5 chance of winning your original stake back – and that's in every game!
Jackpots of up to £20K are not unusual and can go several times a day (if you're lucky enough), but how do you play and more importantly; how do you win? Hex is a fast-paced bingo game based on 30-ball bingo (very much like Pulse), only, the way the game operates is different!
As ever, before playing, you will need to decide on a stake from 10p to £2. Once you've done that, select one of the five team colours before you confirm your tickets. Teal, purple, red, orange and green offers the 1 in 5 chance of winning your stake back!
As the count-down timer reaches zero, your hexagon tiles (effectively your bingo ticket!) will appear on the screen. The aim of the game is to match your 10 numbers before anyone else to win! A single full house is available in each game and the more players who join in, the bigger the prize!
Now for that cash back offer. Each tile that drops onto the main stack will be one of the five team colours. When the bingo game ends, if the colour of the final tile matches your chosen team colour, you and everyone else in that team win your stake back!
Bingo Just Got 'Hexy'
To win the jackpot, call house in 12 numbers or less to win 10,000x your stake or 14 calls or less to win a fixed sum of 1,000x your stake. But what happens if more than one person wins the jackpot? Will you have to share? No, you won't! Tombola guarantee that if there are instances where there are multiple jackpot winners, each player will receive the full amount stated!
As with all new games, there could be a chance of a little hiccup and it would seem there were a few bugs in the Tombola system on the launch day (Monday 17th!) when multiple players claimed they didn't receive their stake back! igglepiggle30 said: "i didn't get steak back that game!" geegees-daughter added: "ok that's 3 times I've never got my stake back so gonna leave it till it works better gl all." User awinwudbnicethanks also commented in the chat feature: "lol got stake back, wasn't even my colour!"
CM-profiterole who was very calm and cool reassured players that all will be well soon; "Sorry folks it sounds like we have a couple of teething probs, bear with us. It's being checked now thanks for flagging this up to us." Despite all this, Hex has become a popular game already; you only have to look at the lobby to see how many rooms are offered and the number of players in them!
Will you be trying the new bingo game?
Bingo Games
Back to articles
Your feedback
Please enter your comment.
Your comment is added.
Bubles12
08/17/20, 04:08:29 PM
Tried it after reading this post and even though I didn't win the full house, I won my stake back and actually received it, so it must be working again now.