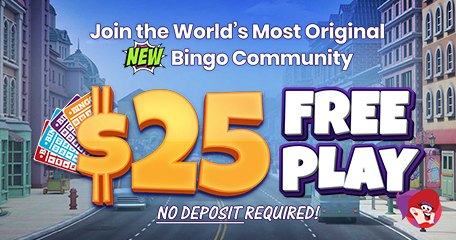 Play Hunt the Chat Host to Pick Up Extra Prizes
There's a place where bingo goes to thrive and that place is Bingo Village, a virtual suburb where residents can play for free, pick up big chat room prizes and take part in daily promotions. There's always a comfy couch or chair waiting for you in the Cozy Café bingo room with copious amounts of cash to be won day or night. When you become a resident you also get to access a feature no other bingo website has…
…the ability to build your very own virtual home right there on bingo street! Earn a plot of land via a fun loyalty program and work towards building your new home just the way you like it. Earn collectibles and explore hidden rewards at the same time, all by playing bingo and games at Bingo Village.
Build Your Own Destiny
Before you can pick up those blocks and start to build those walls, you need to lay the foundations, this being registration. Our readers can claim an exclusive offer which is effectively double the standard sign-up value! Instead of $25 free trial, our code: BVBONUS50 triggers a $50 no deposit offer along with 100 bonus spins for more chances to win! Fill in the form and get your bonus instantly with 10 spins each day for the next 10 days!
Take a stroll around the busy bingo suburb and if you decide you like what you see you'll be eligible for five bonuses on your first five deposits! Your first deposit will be tripled with the 200% bonus, your second will be boosted by 250%, third deposits are quadrupled (300%), fourth deposits receive a bonus of 350% while fifth deposits are boosted by 500%.
Every Monday you can play bust my balloons for a full 3-hours to win great bonus prizes. If you win a full house you'll be asked to pick a number from 1 to 75. Behind each number there are balloons worth as much as $50 (bonus credit). Over in the Bingo Village casino promotions you can earn up to $150 in cash by completing missions:
Mission 1: Play 30 casino games to get $5 in cash.
Mission 2: Win a prize of $50 or more for $10 extra.
Mission 3: Lose 10 consecutive times and get $15.
Mission 4: Achieve $200 in wagers for $20 in cash.
Mission 5: Achieve 10 consecutive wins and get $100 cash.
Plus there are prizes for calling a full house on a double number, virtual horse races in chat on a Thursday, bingo buddy and bonus spins with no deposit every Friday and re-loads on the first deposit of the day. On a Sunday those slot missions are boosted with as much as $200 in cash up for grabs:
Mission 1: Spin the reels of Get Crackin' ten times to win $5 in cash.
Mission 2: Win 5 games in a row and receive a $10 prize.
Mission 3: Accumulate $50 in bets and get $15.
Mission 4: Win 7 games in a row to get $20 in cash.
Mission 5: Win $150+ in prizes for an additional $50 cash.
Mission 6: Win $300+ in prizes for $100 wager-free cash
Bingo Promotions & Bonuses
Back to articles
Your feedback
Please enter your comment.
Your comment is added.
MadamMilly
05/27/22, 03:05:19 PM
Sounds like a fun place to play bingo. Those missions look a piece of cake!