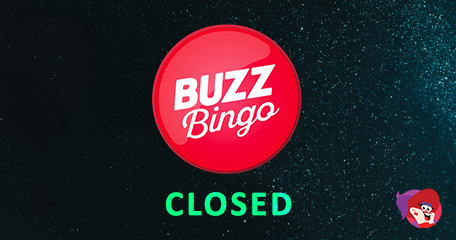 The hype surrounding bingo halls reopening has literally taken over the media the last couple of weeks; which clubs will open and which won't, but it's the latter that is taking centre-stage now, after being allowed some time to digest a recent announcement from one of the UK biggest bingo.
Buzz had originally announced that all clubs in England would be open for business from August 6th, which led many to question why they were opening a whole month behind everyone else. And now we know why.
Taking to Facebook, the social media team said: "It's with a heavy heart we announce that 26 of our clubs will not be reopening and will be closing permanently. We're really sad to bring you this news as we know this will be a difficult time for our community and our colleagues."
Disappointing News
Chief Executive Chris Matthews has said that a restructure of the bingo chain was necessary to be able to adapt to new safety measures whilst adhering to social distancing rules and fewer customers through their doors. As it stands, Buzz Bingo employs some 3,400 people, but with 26 permanent club closures on the cards, this means 573 people will lose their jobs.
But he was quick to point out in his statement that here were reopening's to celebrate shortly as well as being able to join in with the vibrant community online. "We are reopening 12 clubs on 6th August and the rest of our clubs will be reopening in the coming weeks, and, of course, our online bingo and slots are open to all at online. I really hope that you will continue to enjoy playing with us."
Needless to say, some of the players at these clubs were a little disappointed when the news broke, but not as disappointed as Elle Gilbert, who posted this to their Facebook page: "I work at Weymouth, sorry I *worked* at Weymouth. We were informed at 8.30am that we are one of the 26 to close.
I'm guessing I will now lose my Diamond account too coz I now won't have money to play with, don't even know how I'm going to pay rent.Now going to spend my day job hunting. I'm going to miss my customers and you lovely diamond members so much. Take care all of you. Stay safe." Before adding that Sky News knew before they did!
The twenty-six clubs penned for closure are:
Banbury
Boston
Bournemouth
Bridlington
Carlisle
Chatham
Chorley
Cramlington
Derby Foresters
Edinburgh Westerhailes
Harpurhey
Hereford
Kilmarnock
Milton Keynes
Oxford Kassam
Salford
Salisbury
Southampton Antelope Park
Stockland Green
Tamworth
Wednesbury
Weymouth
Wigan Robin Park
Wolverhampton
Worcester
Wythenshawe
Mr Matthews said: "The ongoing pandemic has had far-reaching consequences for the entire leisure and hospitality sector and an immediate and significant impact on our business." He continued; "to ensure we are well positioned for a return to growth, while adapting to the ongoing, challenging environment as we start to reopen the majority of our clubs."
Is your cub one of those earmarked for closure? What are your thoughts on the penned closures after months of waiting for them to reopen? As ever, let us know below.
Source: "Buzz Bingo to Close 26 Halls and Cut hundreds of Jobs". BBC News. July 15, 2020.
Land Based Bingo News
Back to articles
Your feedback
Please enter your comment.
Your comment is added.
bridgetjones
07/22/20, 09:07:12 AM
How terribly sad for those who will lose their jobs!