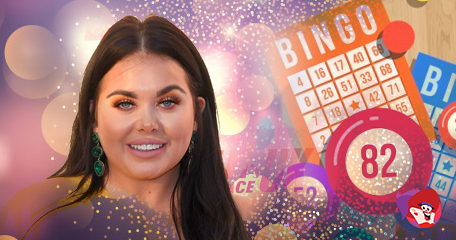 Bingo is all fun and games unless you're a celeb who's out celebrating her birthday, then it becomes a bingo brawl for all to see and this is exactly what happened to Scarlett Moffatt recently, the reality television star who became famous for her role in Channel 4's Gogglebox series.
Scarlett was out celebrating her 29th birthday with friends and family when she was filmed ranting at a woman at Dabbers the hipster bingo venue in East London. The reality star who previously won I'm a Celebrity Get Me Out of Here in 2016 was recorded flying off the handle at an unnamed woman…
… "He's not good? He's not good? She's f--king laughing at me. This is my birthday, she's laughing at me, man" she said to her policeman boyfriend Scott Dobinson. Nobody knows why the events unfolded, but news reports quote a source as saying; "Scarlett was in good spirits and looking forward to enjoying her birthday. She had a big group with her, and it seemed nothing could dampen her mood."
The unnamed source continued: "But it all kicked off later in the night and Scarlett was left feeling uncomfortable at her own bash. Her outburst may have shocked people used to seeing her laughing and joking on the telly. But it was clear she had become distressed."
Not so Rosy:
Prior to the unfortunate showdown in the bingo hall, Scarlett posted a picture of herself with two close friends who were all looking forward to an evening of bingo and celebrations: "Turning 29 with my favourites the girls I lived with at uni, my besties from home, my family, only missing a couple but so happy!! Let's make this last year of my 20s the best!! Life is far too important to take sensibly remember that everybody!!"
Since the dramatic bingo brawl, many of her previous fans have voiced their anger towards her attitude on her Instagram photo, with one person quoted as saying: "If that's the case why kick-off because you thought somebody laughed at you. Wonder you didn't make the statement 'Do you know who I am?' Now that really turns my stomach!" But it seems that the reality star is still distressed from the incident and has taken to voicing that concern on social media:
"Your friends should speak up for you when you feel low. If they don't, dump them." Could she be hinting at her friends not being supportive of her during the bingo brawl? Let's hope she can put this ordeal behind her as soon as possible because Scarlett and her whole family are being uprooted from the North East of England (UK) to Africa for a new reality TV show for Channel 4 in the coming months.
Land Based Bingo News
Back to articles
Your feedback
Please enter your comment.
Your comment is added.
JaniceJ 10/17/19, 10:10:49 AM
She's always been a drama queen. Just because she sat on a couch eating and giving her opinion (as a nobody) on TV shows, doesn't make her royalty. Reality tv stars think they're so much better than everyone else.