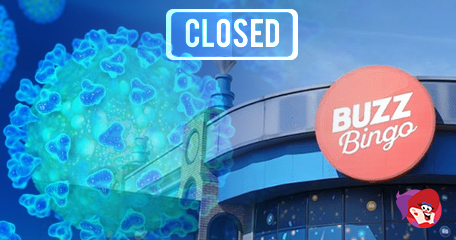 Nationwide bingo hall closures have been announced today, in an attempt to stop the spread of the Coronavirus. Only yesterday, Castle Bingo came under fire on social media with players accusing the management of putting profits before player (and staff) safety. What a difference a day can make because today, Friday March 20th, they (along with others), have had a change of heart.
A statement posted on the Castle Facebook page read:
"Following the advice from Government it is with great sadness that we announce the decision to temporarily close our Bingo clubs from this evening, Friday 20th March. We wish you and your family well at this time and thank you for your continued support. We look forward to welcoming you back to Castle clubs as soon as we are able."
But they're not the only ones closing their doors for what could be a considerable length of time. Buzz Bingo had this update for their members last night:
"Given the rapidly evolving coronavirus situation and government social distancing advice, it is with great sadness that we're temporarily closing all Buzz Bingo clubs from Saturday 21st March with the last sessions being on Friday Evening.
We're still playing online bingo and slots together every day on the website. Our Customer Service team are answering all your questions and concerns 10am - 10pm every day by LiveChat and by email. Stay safe, look after each other, and follow government advice – the Buzz Bingo community means the world to us."
Will They Re-Open?
As we enter a period of ever-growing uncertainty, we will undoubtedly face more closures – temporary closures I may add. Hopefully, we will emerge from this global pandemic soon, but as of yet, there are no timescales. Will all these bingo clubs open again? We expect them too and so do they.
If you're worried about leaving the home or are in quarantine yourself, there are safer ways to play bingo – online! We have hundreds of reviews here to help you find the best place to play. Looking to keep all your winnings? We've the perfect place to play – at no wager bingo sites.
Following Advice:
Chris Matthews, CEO of Buzz Bingo, released a statement as to why they decided to close all bingo doors. It reads: "Dear Buzz Bingo member, given the rapidly evolving situation with coronavirus and advice from government for people to avoid clubs, pubs, restaurants and bars, it is with great sadness that I must announce the temporary closure of all Buzz Bingo clubs from Saturday 21st March, with our last session being the evening of Friday 20th March.
We desperately wanted to keep bringing you club bingo sessions through the crisis. For many members in the Buzz Bingo community, coming to a local Buzz Bingo club is a wonderful time to get together with family and friends. I couldn't possibly count how many times a Buzz Bingo club colleague has told me that many of their players feel more like friends than customers. However, as the situation has evolved, it's clear that keeping our clubs open is impossible without compromising customer and colleague safety.
I know I speak for all Buzz Bingo colleagues when I say that the Buzz Bingo community means the world to us. We may be physically distanced from you for a while, but your support, understanding, and well wishes are cheering us up more than we can say. We're still playing online bingo and slots together every day right here online at Buzz Bingo and we'll be doing our very best to bring you even more great online activity than usual – you have my promise.
We'll also be keeping that incredible Buzz Bingo community spirit alive on Facebookhttps://www.facebook.com/BuzzBingo where you can speak to your local club teams and customers. It's not the same as being with you in person, but for now it's the best we can do until our reopening party.
Everyone at Buzz Bingo understands that these are nervous times, so we want you to know that we're here to help. Our incredible Customer Service team is available from 10am to 10pm every day via LiveChat and email.
Thank you for all your support and understanding. This period will be tough, but I know we can get through it together. I'm already looking forward to announcing that our clubs are open again and I'm sure you are too! In the meantime: stay safe, look after each other, follow government advice, and we'll see you in the online bingo rooms."
Source: Elliott, Louise. "'We care too much about our customers" - Popular Stoke-on-Trent bingo hall to close this evening due to coronavirus". Stoke Sentinel. March 20, 2020.
Land Based Bingo News
Back to articles
Your feedback
Please enter your comment.
Your comment is added.
Bubles12
03/21/20, 02:03:08 PM
I really think it was the right thing to do and others should be following suit. Mecca bingo – I'm still waiting on them making an announcement.