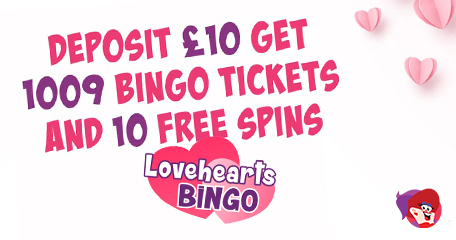 No Nasty Surprises – Just Fair Bingo and Bonuses
Bingo bonuses are designed to give players more winning opportunities for free, and while the majority of said bonuses are fair, there are a lot that aren't. The higher the wagering terms attached to bonuses, the less likely you are to cash out. The lower those wagering requirements, the more chance you have of cashing out your winnings…
…both types of bonuses exist in online bingo and I for one don't necessarily pass up on a bonus opportunity purely because wagering is a little on the high side, because after all, a free chance to win is free, nonetheless.
Unbelievable Bingo Madness
We've established not all bonuses are bad and how wagering works, but in my opinion, the best bingo bonuses are bonuses with absolutely no strings attached and Lovehearts Bingo know all too well how to deliver those! From the welcome offer to the daily free bingo games, everything is wager-free. Example, you sign up and deposit £10 via Visa Debit and receive 1,009 free bingo tickets and 10 bonus spins. You win the full house via your free bingo tickets and bag yourself £750 from one of those 1,009 free bingo tickets. You are free to withdraw this instantly! Bonus spins do come with a maximum win limit, however it's cash – 100% cash!
Same can be said for the free bingo room where there is lots of dough to be won with jackpots of £10 in 75-ball and 90-ball games. It's real money and whether you decide to cash out or play on, anything extra you may win from that £10 will also be credited as cash. We've been over the terms and conditions with a fine-toothcomb, even had the old magnifying glass out and Lovehearts Bingo guarantee there will be no wagering requirements ever!
What about those daily bonuses? Ah, I'm glad you mentioned that because guess what, these also carry zero wagering. I'm at risk of sounding like a parrot now but it's important to explain how generous these bonuses really are. From the moment you join, daily perks will be credited to your account and all you have to do is log in to claim them. Naturally, the more you play, the grander those fringe benefits become, with cashback, free tickets, daily spins and an increase in the maximum win limit per spins coming as standard.
Plus There's More
There's so much going on over at Lovehearts Bingo HQ, including the following. Don't forget, you can play on desktop or mobile with no downloads and no apps.
Last Call: Win up to £100 every night in the best chance bingo game. The room will be restricted to just 75 players to maximise your chances of a win.
Dab and Grab Spins: Play to win 100 bonus spins in the Gobsmacked bingo room. It's 20 spins for the one-line prize, 50 spins for the two lines and 100 for the full house! Even players with 1TG and 2TG get spins!
National Bingo Day: Play for free until June 23rd to win tickets to the biggest paying, free bingo games in celebration of National Bingo Day. The jackpot prizes for the £250 Soiree (24th June), £750 Party (25th June), £1.5K Carnival (26th June) and the £2,500 Grand Finale (27th June) will be credited in real money funds into the winner('s') accounts immediately after winning the game.
Equal Chance: The Even Stevens bingo room is the only room on the bingo site to guarantee everyone has the same chance to win. How? Every player is required to buy 24 tickets for 2p each (48p per game), so that chances of winning are evenly spread. Winnings are paid out as follows: 20% of the pot to the one-line winner, 30% to the two line winner and 50% to the full house winner.
Royal Room: £4,900 is the prize fund that is won by real Lovehearts Bingo players every month, and just in the one room. Wednesdays, Thursdays and the last day of the month are open to all with a £1,150 prize pool, Fridays and the 15th of every month is for even more but by invitation only.
The choice of bingo rooms is superb with games to suit all types of budgets. One of the most popular rooms is the mystery room where you could win up to £500 for 5p a ticket! The rules are simple; buy your tickets (never cost more than 10p each), wait for the timer to reach zero and watch as the treasure chest appears on your screen. A prize ranging from £10 to £500 will pop out and this will be the prize for the next game. You won't know what you can win until ticket sales have closed! Coverall games and patterns are hosted in this room only.
Free bingo rooms are open 24/7, some even come with a progressive jackpot element. If you can win within the stated number of calls, not only do you win the full house prize but the progressive jackpot too! Keep your eyes peeled for the monthly jackpot freebies where you can play to win a share of £10K on the 10th of every month – for free! Everyone who takes part will win a prize.
Love to play casino games? You'll love the line-up of slots at Lovehearts Bingo! Just the one account allows you to play bingo, side games and/or online slots with titles from the likes of Play'N Go, Microgaming, Pragmatic Play and Barcrest. The Red Tiger must drop jackpot network of slots is also featured with a jackpot winner guaranteed to be produced every 24-hours! Popular titles include Rainbow Riches, Crabbin' Crazy, Hyper Strike and the romance-filled title, Starlight Kiss.
Promotions & Bonuses
Back to articles
Your feedback
Please enter your comment.
Your comment is added.
Member's Feedback (1)
lollipops321 06/20/22, 07:06:17 AM
Love Lovehearts bingo. Hosts are so friendly and there are bonuses to be won in chat too. Yesterday the £500 mystery jackpots full houses appeared multiple times...
Love Lovehearts bingo. Hosts are so friendly and there are bonuses to be won in chat too. Yesterday the £500 mystery jackpots full houses appeared multiple times and I was so close to winning one of them! Cheaper tickets are before busier periods.
Show more