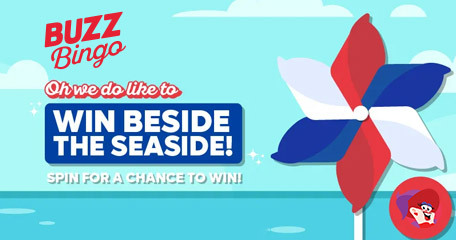 Ins and Outs of The Biggest Bingo Promos This Summer
From a new bingo variant to a chance to take on the banker, free bingo with winnings paid as cash to daily spin and win freebies, Buzz Bingo has it all, including four chances to win up to £3K in a new June jackpots promotion. To celebrate the arrival of summer, a series of scorching new specials have been added to the bingo site including daily offers relating to bingo and slots play. Whether you love to dab those bingo tickets, spin the slots or hit the live dealer tables, you'll be super impressed by what you're about to witness.
Free – All Free – No Catch
No deposit free offers, you can't beat them, unless they come with hefty wagering requirements with little or no chance of cashing out. Buzz Bingo have a couple of freebies up their sleeve and everything is guaranteed to be real cash with no turnover terms and no withdrawal restrictions. There are, however, minimum withdrawal requirements, so best read the terms and conditions before opting in.
First up you have the daily beach pinwheel spinner, available between midday and midnight each day until 29th of June. The rules are simple, log in, take a spin to see if you can pick up a bingo bonus or slots bonus. Be mindful, this feature also has that pesky no win at all segment, so best avoid that if you can. All bonuses are for staking purposes only with no wagering requirements applied.
Did you know more than £3,150 is won in free bingo games every week at Buzz Bingo? That's £450 each day going to free online bingo players. Standard games produce £1, £2 and £3 prizes for the one-line, two lines and full house while super free bingo games double those prizes to £2, £4 and £6! Bingo games with free tickets commence every hour from 8am until 12:15am with four back-to-back games played as mini bingo sessions. After this the room will close at 20 past the hour and reopen 10-minutes to the hour, just in time for the next set of free bingo games.
Keep your eyes peeled for the super free bingo games between 5pm and 11pm. All players have the same number of tickets to make it fair bingo and there is no limit to the number of times you could win.
Boosted Prize Pots
Sure free offers are great, but there is only so much you can win. Even if you got extremely lucky with the free bingo games, you'd only pick up a max of a couple of quid per game. To win bigger prizes, real money wagers are required, but that doesn't mean you have to splash the cash. It's important to remember to play within your limits and to keep it fun and safe.
You know that beach pinwheel spinner we mentioned earlier, well there's a premium version and it guarantees a win with every spin…
…to qualify, a deposit and spend of £10 is required. Once you've met the criteria, you'll get your spin the following day. Don't forget to spin the free version too! The premium feature has no lose option with bingo bonuses, slot bonuses – bigger than the free version, as well as cash. No wagering here either! The wheel is available between 2pm and midnight daily.
Other promotions and offers at Buzz Bingo this summer include:
Win Up to 50 Spins Every Day: Spend £30 or more on Bar-X and unlock a spin of the bonus spin wheel. As many as 50 bonus spins for this same slot can be won with a guaranteed win with each spin. There are no wagering requirements on wins.
Buzz Boosts: Log into your bingo account each day to view your personal daily offer. Opt-in to reveal your offers and info on how to unlock your boosts. Example, get 50 bonus spins from Monday to Wednesday, a share of £3K when playing selected slots on Thursday, up to 50 bonus spins on a new release every Friday and Saturday plus a slots bonus of up to £25 on a Sunday.
Buzz Blast: New 36-ball bingo with explosive fun and more winners. Forget the one winner per game – this room has multiple chances to win this summer. Double blast guarantees 2 winners per game with prizes to the first player to pop 6 numbers and then a prize to the player who pops 12 numbers. Triple blast sees three winners bag a cash prize with prizes on 4, 8 and 12 numbers popped. The best bit is everyone has the same chance to win a prize with the one ticket per player rule.
Swinging 60's: 1960's themed bingo with £60 prizes! Every full house has a £60 prize but if you can call that full house on any number from 60 to 69, you'll win another £60! Play between 8am and 10:30pm every day until 26th of June.
June Jackpots: Escalator jackpots every Friday mean bigger prizes to be won without increasing those ticket prices! On Friday 17th of June, £2,500 must be won before midnight. Head to the 5-line bingo room from 6pm to take part. A week later on the 24th, £3K will be won by midnight in the Deal or No Deal 75 room. The fun begins at 6pm.
Deal or No Deal Bingo: Taking on the banker has never been more fun! On the 3rd Friday of every month, £20K will be won in a massive Deal or No Deal Buzz Bingo promotion. Tickets start at 1p and never go beyond 10p with three prizes to be won in every game. Twelve hours of fun will commence from midday with the full house winner guaranteed to lift the lid to even more cash! That's right! You win that full house and you not only win that full house, but you can decide whether to take the banker's offer or to take what's in your box!
Promotions & Bonuses
Back to articles
Your feedback
Please enter your comment.
Your comment is added.
HulioSas 06/15/22, 03:06:58 PM
I love buzz bingo. The welcome offer has wagering but it's fair. All other offers have no wagering. I'm yet to be told to meet wagering on offers. I claim spins almost daily and weekly boosts.