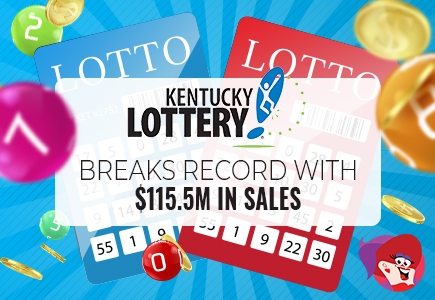 If you like and play lottery and you're from Kentucky -
congratulations!
You have just contributed to a piece of gaming history without even being aware of it!
According to recent reports, the promise of a record-breaking
Mega Millions $1.5 billion jackpot
in October motivated the residents of Kentucky to purchase tickets in unprecedented amounts.
Thirty Years' Peak:
The Mega Million jackpots run as well as
Powerball
jackpot that has risen to over $680 million have amounted to the biggest lottery ticket sales in the Kentucky Lottery's 30-year long history. October's overall ticket sales reached an amazing $115.5 million - $33.2 million or
40.3% more than what was budgeted!
This volume of sales produced a monthly $34.4 million net income, which makes the previous income record of $32.6, set in January 2016, pale in comparison. That was the same time when previous record for monthly sales was set - $105.1 million.
The incentive of winning the Mega Millions biggest jackpot of all time pushed Kentucky players to spend $21.2 million on Mega Million tickets, which exceeded the budgeted sales by $3.8 million.
$13.3 million in tickets for Powerball was also sold - the budgeted sales were exceeded even higher here,
by as much as 114% ($7 million)!
Even the scratch-off tickets sold $9.3 million more (20.3%) than budgeted for a total of $55.1 million in sales.
Online Sales Blossomed Too:
Kentucky Lottery also reported the highest level of sales via their online portal - $1.5 million, which beat the old record of $300,000 to a pulp. Online sales were also driven, chiefly, by people's hopes of winning the Mega Millions or Powerball jackpots.
Lottery's CEO and President Tom Delacenserie stated:
'While jackpot games were obviously the major driving force behind these record sales, our other products also did really well.'
He added:
'Great performance by our Scratch-offs and strong online sales helped bring home the record month. We have a solid plan ahead for November to help sustain the forward momentum, as our state's college students are counting on us for scholarship and grant proceeds.'
Kentucky is one of the potential US states that could soon make sports betting
legal
within their borders. With most neighboring states' legislation process already behind them - and some even offering sportsbooks - Senator Morgan McGarvey pleaded for passing of this legislation.
Kentucky helps fund public education via taxes on Lottery sales and winnings, so passing this measure would also improve their public services by a long mile, especially seeing as how high the sports wagering taxes are.
Source:
'Kentucky Lottery has most successful sales month in its history'
. Lane Report. November 12, 2018.
Lottery & Scratchcards
Back to articles
Your feedback
Please enter your comment.
Your comment is added.
DomLatVit
11/19/18, 09:11:28 PM
Just when you think that it can't get any higher – the figures go even further upwards. Amazing.