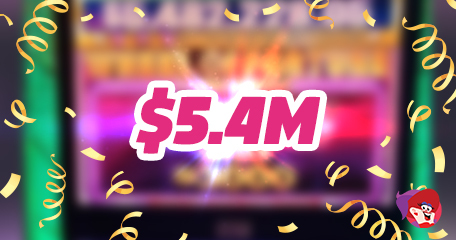 The city of Las Vegas is where dreams are made; no wonder visitor numbers for 2019 reached a record-breaking 42.52 million! That's almost 43 million people looking to hit the big time, but very few do. Slot machine royalty is what the punters come for and one of those many millions recently left far-far wealthier than they arrived.
A recent guest at the Excalibur Hotel and Casino in the gambling capital is now a multi-millionaire after landing a trio of red diamond sevens on the Wheel of Fortune slot machine…
…Coughing up to the tune of $5,482,229, the famous progressive jackpot slot delivers a simple 3-reel, 5-win line mechanism, however, winning the top prize is anything but easy.
Tweeting a picture of the win on Twitter, Excalibur Las Vegas said: "Congrats to a lucky slot player who won $5,482,229 on one of our Wheel of Fortune machines! That's what we call Slot Machine Royalty!"
No other information is known about the winner. All we do know is they managed to pop those jackpot sevens on the only win line that mattered – win line number one.
Biggest Las Vegas Wins
Popular to theory, people do actually win big cash prizes on slot machines. Whether you're spinning the reels of the likes of NetEnt's mythical Divine Fortune or its mighty Hall of Gods counterpart online or pulling the one-arm bandit lever in a land-based casino, if the jackpot is ready to go, you could be about to receive a life-changing sum of money.
Nine lucky people have gone down in the record books for landing amazing wins in Las Vegas, the biggest was won by Kerry Packer, the Australian Billionaire. Having never played Blackjack or Baccarat before, the late Kerry Packer sat down to try his luck and ended up winning $20m and $40m respectively in the same evening! The servers received tips of almost $1m each just for handing out the drinks and chips!
In 2003, a 25-year old engineer from LA made his way to the Excalibur Casino before heading off to support his favourite baseball team. When there, he spent a total of $100 on the slots and landed $39,713,982.25. Asking to remain anonymous, the young man requested to be paid in annual increments of $1.5m. This means he should have about $14m yet to be paid and for those wondering, his yearly 'winnings, will stop in about ten years' time.
Here we are back with the Wheel of Fortune slot machine. A few years ago, a 60-year old local woman won a staggering $680K whilst playing at the same Excalibur hotel, but she decided to keep playing and shortly after, she won $27m!
Erwin Sherwin, a WWII veteran, manged to win twice, just like Kerry Packer, only the elderly gentleman landed his wins on the slots; $21m and $4.6m! Hell, some of us can't even win once let alone twice!
During a 5-month casino game playing spree (December 2010-April 2011), Don Johnson managed to win $15m at three Atlantic City casinos and was labelled 'The Killer of Atlantic City' for his efforts.
Land Based Bingo News
Back to articles
Your feedback
Please enter your comment.
Your comment is added.
Bubles12
02/13/20, 08:02:12 AM
My dream is to go to Las Vegas. I would love to see all these slot machines and games in action. Mind you, I couldn't afford the plane fare let alone the gaming...
My dream is to go to Las Vegas. I would love to see all these slot machines and games in action. Mind you, I couldn't afford the plane fare let alone the gaming fare!
Show more