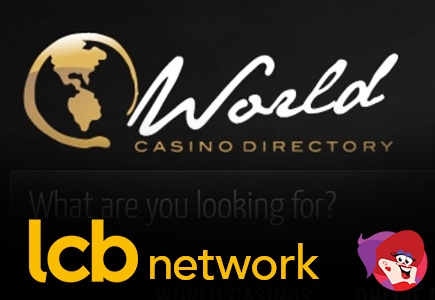 Yes, you've read that correctly. The
LCB network has grown
by one more with the addition of top notch online and land-based casino guide,
OnlineCasinoDirectory.com
. LCB was in talks with the owner, Bernard Richter, for several months and it was important that his vision was not lost. With confidence in us, he agreed to sell his pride and joy for $1.7 million.
Browse the pages of WCD and you'll immediately see the hard work and commitment of Bernard and his team. Selling something you've built from the ground up is not easy as described by the original owner:
"
Selling the World Casino Directory was one of the most difficult decisions I've made in my life. I had become truly attached to the people I work with and the World Casino Directory itself over the last decade. Thankfully, meeting J and his extremely talented team has given me a great source of relief and pleasure, because beyond realizing what a big heart this man has, I also know with his leadership and skills that this team will be able to realize the vision I've always had for the site. I will be following their progress closely. One last note, on a very personal level, I've enjoyed meeting quite a few of you reading this article over the last decade, and plan to see you all in my future endeavors
." - Bernard Richter
Ever heard of WCD?
If you haven't encountered this site during your online travels, it's about time you checked it out - don't you think? It's really impressive with lots of information about online and land-based gambling. Stay on the up and up with the latest casinos popping up in your area or learn the basics of poker all in one place. Perhaps you're interested in learning more about licensing jurisdictions? Get an education on each of them from Alderney to Curacao, Malta and beyond.
LCB's Commitment
As we welcome the WCD team to our growing network, it's important to stress to them and their loyal following that the team isn't going anywhere. They will remain on board and work with us to take the site to the next level.
The purchaser said, 'Bernard and I agreed to the deal late last year after several weeks of negotiations. I came to know that Bernard was interested in possibly selling the site after he mentioned in an unrelated email if I was interested in looking to make another big purchase I should drop him a line.
'
After chatting we discovered that we shared a similar vision for the site and I put his mind at ease ensuring we would retain all of his staff and friendly work environment
."
'
My team at LCB have big plans for the site and are very excited to build on what Bernard and his team have already done.
'
Bingo Society News
Back to articles
Your feedback
Please enter your comment.
Your comment is added.