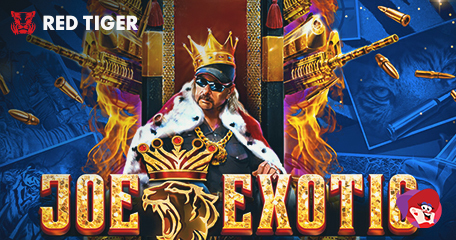 Controversial Character Immortalised in Video Slot!
Among the eccentrics, cults, and strange-but-true world of endangered species owners, very few stand out. In 2020, Joe Exotic was one of those who longed for attention, in fact he craved attention so much, his unorthodox way of living caught the attention of the reality TV creators over at Netflix. The mullet-wearing, 50-something from Oklahoma is the owner of what's known as a roadside zoo with cages crammed full of wild tigers. What started out as filming to get to know this man and the way he treats his wild animals, turned into a story of drug kingpins, conmen, and murder.
The Plot
Joe spirals out of control throughout the Tiger King documentary series which touches on his love life as well as his role in breeding these tigers, but the most shocking aspect of his life is not that he messes with beasts wild enough to rip his head off, but that he's been accused of hiring someone to murder his chief rival, Carole Baskin, an American big-cat rights activist. Here's where things get interesting. It's revealed in the show how Joe killed 5 tigers and hired a hitman to gun down Carole. But death isn't exactly new to Carole, what with her husband going missing and presumed dead since 1997!
Carole is a controversial character herself, with many questioning whether she played a part in the disappearance of her own husband Don Lewis. Despite her Big Cat Rescue being worth $13million, she refuses to pay her 'employees' for looking after the animals. It was revealed in 2020 that her missing husband had his signature forged on his will, a will that had left his entire fortune to Baskin! She denies this and has since taken a new husband.
Joseph Fritz, attorney to Don Lewis has been open about what he believes happened to the missing man who was pronounced legally dead in Florida back in 2002. Talking to Fox Nation he said: "There's no question but that he was murdered. What I had heard was that he was strangled from the backseat of an airplane over the Gulf [of Mexico] at 50 feet and dropped out over the Gulf."
And Now the Slot:
The documentary that griped a nation, if not the world…
…also gained the attention of top-tier software developer Red Tiger, who happened upon an idea to bring Joe Exotic to life via a slot machine. After months of brainstorming, the new Joe Exotic slot machine is now live and available to play at Leo Vegas. The colourful character finds himself the ruler of the reels in an action-packed title where big cats, even bigger personalities, and country music come together as one. Joe played a little part in the making of the new slot by providing his own soundtrack.
Fans of the show can re-enter Joe's world of big cats, guns and country music in an attempt to extract a cash sum of up to 3,500x their stake. Boasting a 5x4 reel engine with stacked symbols, voiceovers from the main man himself, there's no mistaken what this release is all about. Launching the game automatically triggers an explosive welcome of guns, bullets and big cats with Joe sat on a golden throne of cash and riches. The objective is to 'get insane, get paid!'
Packed with special symbols and features makes for an entertaining title, but what can players expect? Dynamite, a randomly triggered feature available during the base or the main feature, sees all low paying symbols removed from the reels to make way for higher paying ones. Tiger bounty comes in to play when 3 Tiger Bounty symbols land on the first, third and fifth reel. Here, Joe presents up to four offers and Allen decides which to accept. Possible offers are: 5x, 15x, 25x or 50x the stake.
Election time is a fun bonus packed with multipliers, but what do you need to do? Three vote Joe symbols will grant the feature where you must pick from the options on your screen to uncover votes for the different candidates. The first to win three ballots wins. Prizes available are James Garretson of 5x, Allen Glover of 20x, Jeff Lowe of 50x stake and Joe Exotic of 150x.
Exotic spins are the star of this slot game. When three Exotic Spins symbols land on the first, third and fifth reels, the feature awards 9 bonus games. During free games, a 1x3 Joe Exotic super multiplier wild takes hold of the third reel and stays locked in place for the duration of the bonus round. Every time a win takes place, the multiplier attached to the wild increases by 1x (up to 15x) before being applied to the next win. The great thing about the multiplier is that it never resets! Landing two Exotic Spins symbols on the first and the last reel during this feature will grant 5 additional spins.
The multiple award-winning Leo Vegas welcomes new players with massive welcome offer of up to €250 and 50 spins on their first deposit! There are more than 1000 games to play including live casino tables, progressive jackpot slots, gameshows and bingo rooms, plus, withdrawals here are processed quicker than anywhere else, so you'll never have to wait long to get your winnings.
Will you be spin it to win it? Let us know your thoughts below!
Source: "Drama Queen. Who is Carole Baskin". The Sun. April 05, 2021.
Bingo Games
Back to articles
Your feedback
Please enter your comment.
Your comment is added.
Member's Feedback (1)
bridgetjones
06/24/21, 12:06:05 PM
I haven't watched the series, but I've seen so many memes of them on Facebook. I like playing slots and this one sounds great so I may have to watch the series now...
I haven't watched the series, but I've seen so many memes of them on Facebook. I like playing slots and this one sounds great so I may have to watch the series now to see what all the fuss is about!
Show more