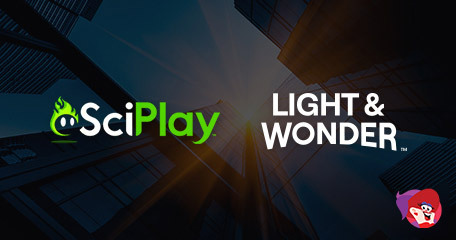 Read All About It!
Light & Wonder, Inc., formerly Scientific Games Corporation (SG), has announced plans it wishes to take over full ownership of SciPlay with an all-cash offer for of $422m for the remaining 17% of its public shares. When then group who owns approximately 83% of the economic and 98% of the voting interest in SciPlay, revealed its plans to acquire the gambling company in what it called a "seamless collaboration", shares rose to 28.5% (May 17th).
In a letter to the SciPlay board of directors, Matthew Wilson, L&W President and CEO, wrote: "The proposed transaction offers SciPlay's public shareholders a compelling combination of value, speed and certainty. SciPlay's public shareholders would receive an immediate and certain premium value for their shares in cash, obtaining liquidity and de-risking their investment in a volatile and uncertain market.
"L&W will not conduct due diligence and we do not expect consummation of the transaction to require any regulatory approvals or the approval of L&W shareholders, simplifying and expediting closing the transaction. Further, L&W will not require any third-party financing to fully fund the transaction. Through our existing collaboration with SciPlay, we believe the transaction would be operationally seamless, and we look forward to fully joining forces with SciPlay's talented leadership teamand employees to continue innovating on behalf of customers and players."
But saying that, the proposed deal may not actually go ahead! The letter to the board also states quite openly that the "proposal is an expression of interest only, and we reserve the right to withdraw or modify our proposal in any manner at any time. No legal obligation with respect to the Transaction or any other transaction shall arise unless and until execution of a definitive merger agreement between L&W and SciPlay."
Record Breaking
In other Light & Wonder news, figures for Q1 have been released and show that gaming revenue increased 18% to $419 million compared to previous years figures for the same period, and this was due to an increase of 53% on gaming machines. SciPlay witnessed record revenue of $186 million, an 18% increase compared to the prior year period, due to the social casino business. iGaming revenue also reached record quarterly revenue of $65 million, this is a 10% increase from the prior year period, primarily driven by continued growth in the U.S. market.
Matt Wilson, President and Chief Executive Officer of Light & Wonder, said, "We're off to a strong start in 2023, delivering on all key metrics and once again driving double-digit revenue growth across all three of our businesses. Our strategy and disciplined investments are driving enhanced returns as we continue to develop and execute on our robust product roadmap, building off the strong momentum that we saw in 2022.
The teams executed several notable wins and key launches in the quarter, and we have a full pipeline of games that support progress toward our long-term targets. With leading talent, technologyand products, we continue to strengthen our position as the leading cross-platform global gamescompany."
Connie James, Chief Financial Officer of Light & Wonder, added, "We continue to capitalize on the strong growth opportunities that we see in our markets, and drive margin enhancement across the business as we remain focused on operational excellence. This quarter demonstrates Light & Wonder's favorable financial profile with strong topline growth flowing to the bottom line, and importantly strong cash conversion, enabling us to invest in future sustainable growth.
We continue to focus on generating significant cash flow while maintaining our balanced and opportunistic approach to capital management and a healthy balance sheet to enhance value for our shareholders."
Source:
"Light & Wonder Announces Proposal To Acquire Remaining Public Shares of SciPlay", explore.lnw.com, May 18, 2023.
General Gambling News
Back to articles
Your feedback
Please enter your comment.
Your comment is added.