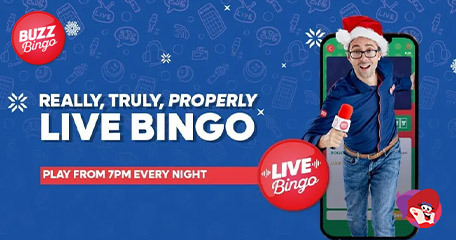 New Christmas Live Bingo Schedule
The live bingo games over at Buzz Bingo HQ are so popular, they've had to open up a new room to keep up with demand! The latest festive themed bingo room will deliver round the clock, real cash paying bingo games until Christmas Day, then, there' New Year's Eve, free bingo with no deposit and World Cup bingo offers on top of all that!
Before we begin, we want to say a huge congratulations to England making it through to another round! Now, on any knock out match day England play, the Live Bingo show will use a football theme, along with a goals galore game for a bigger cash injection!
The World Cup jackpot game promises to be spectacular with huge cash prizes to be won! The 5-line bingo room on December 19th will be home to community jackpots with 50% going to the full house winner and the remaining 50% going to all other players with tickets in that winning game!
Experience Live Bingo As It Happens:
There is a new schedule in the live bingo room and it's taken on a very Christmas twist! Take a look at the new and improved offers available to you in the Christmas Club this month:
8am – 9am: Bargain Baubles (buy 6 tickets, get 1 free)
9am - 10pm: Ho Ho 1 To Go (1TG feature on all games)
10am - 11am: Jingle Balls BOGOF (buy-one-get-one-free on all tickets)
11am – 1pm: Xmas Dinner 1TG (1TG feature on all games)
1pm - 2pm: Jingle Balls BOGOF (buy-one-get-one-free on all tickets)
2pm – 3pm: Tinsel Twins (twin & win feature on all games)
3pm – 4pm: Rudolph's Roll On (roll on feature on all games)
4pm – 5pm: Ho Ho 1 To Go (1TG feature on all games)
5pm – 7pm: Xmas Mega Mix (variety of features, games named after Christmas songs)
7pm – 10pm: LIVE BINGO
10pm – 10:30pm: Chat Stars Xmas Party (chat games)
10:30pm – midnight: Twilight Xmas (£50 Full House on all games)
Live Bingo Pick A Present – 'All I Want For Christmas Is 2!'
All Live Bingo shows in the Christmas Club room will have a festive theme plus new 'Pick A Present' feature. If the number 2 appears during any game, the next one-line, two lines or full house winner gets to pick a present for an additional prize ranging from £5 to £100. The only time there will not be any pick a present features is during the World Cup Specials.
Other Christmas live bingo promotions at Buzz Bingo include:
£1K big bang escalators
2 x £1K jackpots guaranteed to be won on Christmas Eve, Christmas Day and Boxing Day
Completely free bingo with no deposit for £20 and £23 prizes on each game on New Year's Eve. Play in the New Year's Free Bingo Party room on December 31st between 11:45pm and 12:15am.
Every Friday this month, the Christmas big prize avalanche will get underway and it features a flurry of big prizes! A big link up game will commence at 9pm on 2nd, 9th, 16th, 23rd and 30th of December with an everyone's a winner feature. £200K will be won with prize pots increasing by £5K every week!
Between 25th December and January 1st, Deal or No Deal escalator games will be paying out community jackpots and banker's bonus prizes! The jackpot increases £5K every day (between £20K - £55K) for bigger and better prizes!
Bingo Promotions & Bonuses
Back to articles
Your feedback
Please enter your comment.
Your comment is added.
Jovana1407
12/07/22, 07:12:12 AM
It's all real money too! That's what I like about the ticket deals at buzz bingo.