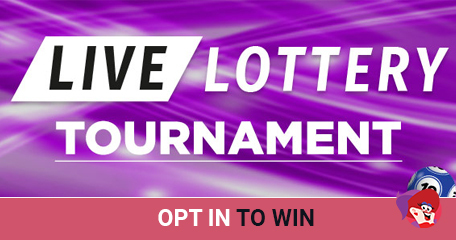 Red-Hot Line-Up of Promotions and Freebies
This June, Cyber Bingo is hosting an inaugural live lottery tournament event and you're invited to take a front row seat. Each week the lottery tournament will get underway on a Thursday and Friday with immersive action, cash prize pools and more than just the one winner. On top of the winnings there's a weekly prize pool plus there's a chance to scoop cash while taking part from your in-game wagers!
The tournament has several different instant win, keno and various lucky number games that you can play, but you'll need to be playing one of the games on the following list to be included in the tournament:
Lucky Six 35/48
Win 5/48
Keno 10/80
First Ball Colour (Win 5/48)
Win 5/80
Win 10/20
Drawn Number 1/37
Keno 20/80
Win 7/48
Win 50/80
First Ball Colour 5/20
Keno 5/80
Lotto Win 10/80
Win 20/80
Win 30/80
Win 40/80
As with all tournaments, your position is based on your winnings. The more you win the better your ranking on that leaderboard. Remember, a 10x win is the same value for high rollers as it is for players with a smaller bankroll, so bet savvy not silly! To recap, this promotion is a weekly 2-day live lottery tournament with a prize pool for the top 20 ranking players. You have from Friday to Saturday every week to try and get your name on that leaderboard. Qualification rules state you must have been funded in the previous 7-days to take part and you must opt-in via the promotions page.
More Bingo Value Fun
Did you know you can boost your account every weekend with Cyber Bingo? The on-going special weekend bonus could see you claiming as much as 150% on top of your deposit! Simply make a deposit of $30 or more on Friday and Saturday evenings to be eligible. The value of your bonus will depend on the size of your deposit and there are four different tiers available. A bonus of 50% is triggered on a deposit of $30 to $60, a bonus of 75% on deposits of between $60 and $100, 125% when a deposit of more than $100 is made with 150% going to VIP players who deposit more than the max of $100.
This next bingo promotion will impress you – win even when you lose bingo…
…that's right LBB'ers, Cyber Bingo is guaranteed to make you a winner with their diamond bingo cashback special. Play in the dazzling diamond bingo room on Tuesdays and Thursdays and if you don't win you get 25% free play bingo bonus in cashback! The amount credited to your account will be based on what you have wagered. The maximum bonus cashback value is a whopping $500! And this is available every week!
Now for two very special June tournaments, one casino and the other bingo. The tropical bingo room is to host exciting weekly bingo tournaments with top of the hour games and multi-part stake games with a buy 7 get 3 free offer. The theme is camping and if you manage to call house on the various camping-related patterns, you'll score yourself some cash as well as points towards the leaderboard. If you find your name in lights at the end of the tourney, you will be one of 40 players taking home a share of cash and bonuses. Top prize every week is $1,365 in cash! No wagering!
Over to the casino games tourney now and instead of dabbing those bingo tickets, you simply collect points on your wins. The wild slots tourney will take place every Wednesday and Thursday in June with cash prize pools for the top 20 players. Your wins influence the points not your wagers, meaning you have the same chance to win as someone wagering big stakes. Opt-in and play any of the following to not only pick up prizes in-game, but via the leaderboard too.
Wild Fishing
Wild Fruits 27
Wild Wizard
Wild Protectors
Wilds Alaska
Wild Giant Panda
Wild Berry
Be Wild 3D
Wild Spirit
Wild Drops
Wild Shamrock
Wild Vick
Wild Wild Bell
Wild Fairies
An Epic Bingo Party Packed with Cash
Before we dish the details on the highlight of the month, let's take a look at a freebie. Throughout the month of June, Cyber Bingo will be giving away unlimited bonus spins and to qualify, all you need to do is deposit on a Sunday or a Monday! You can deposit with Bitcoin, Check, Bank Transfer, EcoPayz, Maestro, Skrill and Wire Transfer. There's plenty of free play action guaranteed for June here!
Get 30 bonus spins on the flapping Birds title with a deposit of between $50 and $100
Trigger double the spins (60), this time on The Hive release by BetSoft on deposits of between $100 and $250.
The maximum number of spins available every week is 120 for the Dragon's Paradise video slot. To qualify a deposit greater than $250 is required.
Why wait a whole 12-months to have a party when you can take part in a cash-packed one every month at Cyber Bingo? The last Sunday of every month, thousands in wager-free prizes are won by real Cyber Bingo players and with a buy 3 get 2 free offer attached to tickets, you can see why this promotion is so popular! What are you doing on Sunday 26th of June? If you're not sure and think you may be busy…
…you do have an option to pre-buy into the bingo games. There will be 10 warm-up games with $910 in guaranteed cash followed by the main event where 10x more will be won – that's $9,100 in cash! What would you do with that? I think I'd splurge mine on a holiday, get the garden done and maybe book a holiday. Will you be joining IONE in the winner's hall of fame? The lucky lady has won the $10K coverall three times since joining Cyber Bingo 22-years ago!
Oh, one more thing, there are plenty more promotions and free offers waiting at Cyber Bingo, including our exclusive reader offer - $50 bingo bucks offer with no deposit!
Bingo Tournaments
Bingo Promotions & Bonuses
Back to articles
Your feedback
Please enter your comment.
Your comment is added.
bridgetjones
06/05/22, 09:06:37 AM
I've seen the big one go to previous winners but that's rare. It only takes one ticket to win and last month I was 1 away for about 10 calls. Gutted it didn't come...
I've seen the big one go to previous winners but that's rare. It only takes one ticket to win and last month I was 1 away for about 10 calls. Gutted it didn't come out, but I'll try again this time.
Show more