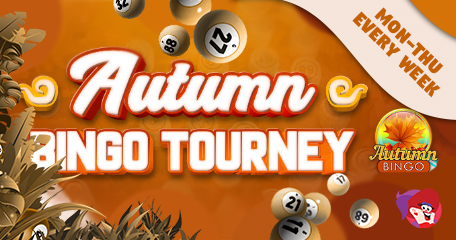 Now that October seems like a distant memory, it's time to start thinking ahead! I don't want to alarm you but there's only 50-something days left until Christmas Day! Okay, relax, don't get your tinsel in a twist roomies, I'm not here to spread the joys of the festive season (yet!), I'm here to dish the details on how you can make it a fall to remember this November!
Autumn is well and truly here – have you felt the drop in temperature lately? I'm in a constant battle with myself when it comes to the heating; do I turn up the heat or reach for another sweater? If you're feeling the cold, you could try adding a little heat to your day with any (or all!) of these fabulous upcoming promotions; starting with the Autumn bingo tourney.
Cyber Bingo wants you to savour the days of fall by admiring the beautiful leaves, watching squirrels stashing away acorns and by having a jolly good time in their bountiful Autumn bingo tourney! The action will take place in the seasonal room from Monday to Thursday each week in November and all you need to do is bask in glory (by winning!) to become one of the top 20 players taking home a slice of a $3K prize pool! Get your name onto the top spot of the leader-board to win a $1,500 real money prize!
Bonkers Bingo Bonanza
We've all played bingo right, but have you ever played bingo in reverse? And no, we don't mean turning your backs to your computer or mobile to play! Bingo Fest is pulling out all the stops on November 1st for their 'fall reverse coverall' special and it's packed with a $2,500 top prize! So, for this one, the line prize becomes the biggest prize while the full house prize awards the smallest prize! How exciting! And, to make it even more entertaining, a buy 5 get 2 free offers will be applied to all tickets in this session.
Get a wiggle on and make your way over to Bingo Spirit on November 13th where BOGOF (buy 6 get 3 free) offers could see you dabbing your way to a top prize of $500! These super affordable games have been hugely popular in the past and we suspect they will be again, so be warned!
We're staying with Bingo Spirit for…
…the last of the November specials known as 'crazy Saturday.' Playing on the 7th and then again on the 21st, the bingo community can win huge cash prizes when playing in the top of the hour games. And, if you manage to find your name in the top 20, you'll win even more! Buy 8 get 4 free will apply to these events with a top prize of $1K awarded to the top player in both specials.
You can't win unless you're in, and you can't get 'in' unless you're a member! Don't despair, each of these popular bingo sites welcome new players with a free trial offer, and once claimed, there are additional bonuses to be had too, including offers where you receive bonus spins on top rated releases – who's up for a spin on the Monster Pop title then?
Bingo Tournaments
Back to articles
Your feedback
Please enter your comment.
Your comment is added.
MadamMilly
10/29/20, 07:10:12 AM
Great promotions to look forward too! Just to let new players know; you need to have a funded account before you can win jackpot games.