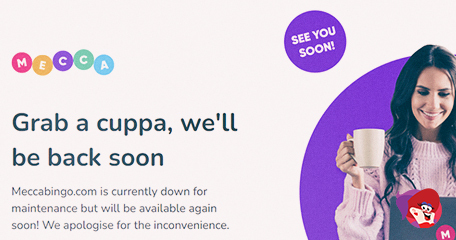 Players Told to Sit Back and Wait…and Wait!
The world of online bingo moves fast, unless you're Mecca Bingo that is, who in recent days suffered a major maintenance fail. On Wednesday January 12th, players attempting to access the website were met with a "grab a cuppa, we'll be back soon" message, but more than 24-hours later and players are still greeted with the same message.
Planned maintenance was scheduled for Wednesday, a day naturally known as being humpday and that's exactly the word I would use to describe Mecca Bingo players now – what with them getting the hump with the popular bingo brand. There was no winsday for thousands of players this week and people have been taking to social media to let off steam!
Hell, Hath No Fury Like a Bingo Player Unable to Log In
An update came on the Mecca Bingo Facebook page on Wednesday afternoon:
"We are still making some improvements to our site and are working hard to get it right so your bingo experience going forward is seamless! We apologise for the inconvenience and aim to have our website back up shortly!"
One bingo player was furious and asked what would happen to all those who qualified for free bingo that day. The social media team did their best to calm the crowds by explaining the free bingo had been rescheduled for Thursday. Another who went unanswered, was querying about her bonuses that she hadn't been able to play!
Thursday morning, another update came:
"We are really sorry for causing 😡 and ☹ faces.
As of now, there are aspects to our site which are not working how we'd like, and we're prioritising these matters so we can deliver on our promises of a better and seamless player experience. Please do not worry if you are having issues with your account, rest assured we are working behind the scenes to ensure your account stability, player safety and enjoyment."
The Waiting Game
We understand issues arise from time to time, but their explanation is no consolation for those Mecca Bingo players who had already lost out on bonuses from the previous day! Another major issue is with the spin the wheel daily game. Players who had made a deposit on Tuesday should have been able to play the premium wheel on Wednesday, but there is no sign of any offer to compensate those who may have missed out on a substantial prize and possibly even a jackpot. Some were able to bypass the 'maintenance' screen, only for the wheel to say, "come back tomorrow!"
Free bingo games originally for Wednesday have now been rescheduled for Saturday…
…between 5pm and 6pm, but only if the website is up and running as it should be! One commentator joked: "I've had about 30 cuppas since the bingo site has been down, when will it be back!"
Not only are there log in problems but updates to deposits too, plus some players are reporting their username and passwords as being rejected. They even went as far as resetting their credentials only for the system not to recognise their request. It would seem there is a bad case of gremlins in the Mecca Bingo computers and no amount of complaining on Facebook is going to sort that!
General Bingo News
Back to articles
Your feedback
Please enter your comment.
Your comment is added.
Member's Feedback (1)
MadamMilly
01/14/22, 09:01:45 AM
Last time something like this happened all spins for the premium wheels were credited or free games were given in place of the no deposit wheel.