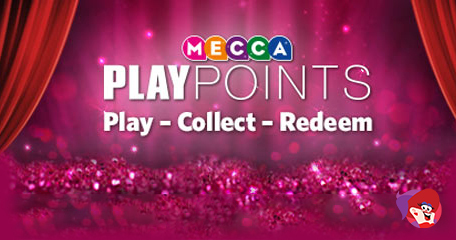 Rank owned Mecca Bingo, who was once famed for its loyalty perks has decided to knock them on the head! We at LBB only just learned of the fate of the popular Play Points reward scheme, when an email arrived in our inbox. Bingo players are not being told of the loss directly, instead, it would seem the bingo brand is relying heavily on affiliates to spread the message!
All content referring to the Mecca Play Points scheme will need to be removed and quick, as they're terminating the program on July 31st. The email read: "As of August 1st, 2020, Mecca Play Points will be removed from our customer offering to both new and existing players. Please ensure that any mention of the Mecca Play Points scheme is removed from any published content or Mecca brand advertising before the start of August."
Why so quickly? Rumour has it that one possible reason for axing of the reward system comes in the form of extensive clampdown measures from the UK Gambling Commission (UKGC). Back in April, they made it crystal clear that encouraging gambling activity with the promise of rewards, was not to be tolerated.
Last summer, I discovered the Play Points system after years of being a member and was that shocked at what you could win, I even wrote an article on it. It used to be hidden within the community tab, but since news broke on its demise, there is no mention of it!
Just like a loyalty or VIP scheme, players would earn points with every bingo ticket purchase. But it would seem inviting players to spend more in order to win physical goods (bingo bonuses and free games vouchers), is not a wise move. Pink, orange, green, blue and the top tier – VIP, saw dabbers entering draws for tech as grand as iPads!
A Social Call
There is absolutely no news of this on Facebook, but what you do have is a handful of disgruntled players who feel they have been let down! Amon the winner's announcements and the lucky lady posting an image of her new iPad (was it from the Play Points?), come complaints of Mecca Bingo being down.
If I were to hazard a guess, I would link the site being down to the removal of a certain prize draw scheme! Debbie Branscombe said: "I have free bingo room tonight and Sunday and cannot get the bingo rooms to launch. There is no live help and no answer to phones. It cost me £35 to qualify for this reward and now I cannot play. Will mecca refund me my money as I did not get the bingo as promised?"
As ever, copy and paste proved beneficial with a standard response of: "Keep an eye on your emails and account messages for any further updates" coming from the social media team. What do you make of the latest news? Will you miss it? Let us know below.
General Bingo News
Back to articles
Your feedback
Please enter your comment.
Your comment is added.
Member's Feedback (1)
HulioSas 07/26/20, 06:07:01 PM
How disappointing! I used to love the rewards on offer! I hope they will do something to replace this as it's a vital loyalty perk in my opinion.