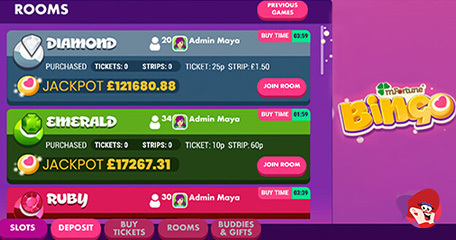 Dazzling Sums of Money To Be Won
Did you know you can win tens of thousands of pounds in extra cash by playing bingo games at mFortune. In addition to the one-line, two lines and full house prizes there are some right gems of jackpots to be won, including a bobby dazzler of more than £127K!
There are 11 different bingo rooms, each with three prizes. Twice a week there are prize draws to win physical prizes too, such as shopping vouchers and gadgets. All eleven gemstone themed rooms have their own progressive jackpot and that means big cash can be won in any room and at any time.
Lucky Legs Eleven
The prize pots will continue to grow and grow until one lucky dabber scoops the lot, from crystal cash to diamond dosh, it's all real money with no wagering attached. Bingo tickets are budget-friendly too starting from 10p each! To win the progressive bingo jackpot all you need to do is call a full house within 35 calls! If you can do that you'll be laughing all the way to the bank!
A sparkling line-up of bingo games and jackpots are guaranteed at mFortune, so are game of the month bonuses to trial new progressive jackpot slots and no deposit bonuses. Plus, every time you play bingo games you'll earn points and do you know what points mean? PRIZES! The loyalty shop is packed full of day's out experiences, iPads, white goods and much more – you can even swap points for a white-knuckle adventure or to hire a classic car, or maybe even enhanced bonus spins!
Feast your eyes upon the latest bingo jackpots at mFortune:
Ruby: Jackpot of more than £2,900
Aqua: Jackpot of more than £20K
Onyx: Jackpot of more than £21K
Emerald: Jackpot of more than £22K
Topaz: Jackpot of more than £24K
Crystal: Jackpot of more than £25K
Amber: Jackpot of more than £26K
Pearl: Jackpot of more than £39K
Amethyst: Jackpots of more than £60K
Sapphire: Jackpot of more than £63K
Diamond: Jackpot of more than £127K
To play, choose a room. If this is your first visit you'll qualify for a no deposit welcome bonus. Before you can buy bingo tickets you must select an avatar and a nickname. Touch a room to join. Ticket and strip prices along with start times, jackpots and the number of players in each room are visible via the lobby. All that's left to do is secure your tickets and keep your fingers crossed for a win.
The mFortune bingo mascot is on hand to give you hints and tips on how to play as well as announcing those winners. Side games can be played and there's also an option to send virtual gifts to your roomies to brighten their day!
Top tip: Have at least one ticket in play at the time of the prize draws to be in with a chance of winning extra prizes.
Promotions & Bonuses
Back to articles
Your feedback
Please enter your comment.
Your comment is added.
lollipops321 10/14/22, 10:10:00 AM
Wow, that's some jackpot! It's life-changing cash and from 10p a ticket too! I don't think I've ever seen bingo jackpots this grand.