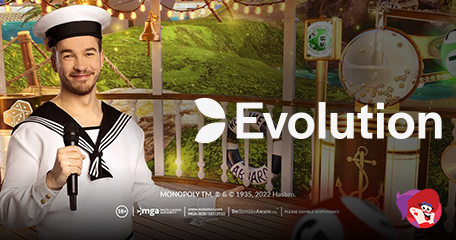 Augmented Reality Board Game with Mega Multipliers
Monopoly Big Baller is the new, unique and entertaining gameshow by Evolution, combining Mega Ball, a previous live bingo gameshow vertical, with one of the world's most well-known board games! Set in a stunning studio with live 3D augmented visuals, players are transported to a new gaming destination packed with winning opportunities and board game bonuses.
Playable from 10p, players are gestured by Mr Monopoly (and the live host!) to place bets on four bingo cards and/or the two bonus cards within the allocated time. Numbered balls (from 1 to 60) will be drawn at random by the ball drawing machine and the aim of the game is to complete lines to win cash…
…bet on "3 rolls" and/or "5 rolls" cards for a chance to play the bonus game. When activated, players are taken to a virtual 3D Monopoly board game where Mr Monopoly will walk around the board and collect multipliers for you.
Ramping Up That Bingo Excitement
Now available to play at Play OJO Bingo, Monopoly Big Baller Live is big value fun! This exclusive 60-ball bingo variant draws 20 balls at random and if any of those balls match the numbers on your card, a red daub will be automatically placed. It's similar to Mega Ball in this aspect. It's fast-paced fun, and this means the games will not last as long as typical 90-ball bingo games.
The more lines you have on your card, the more chances you have to win the multiplier values stated. Bigger multipliers are waiting within the bonus game but you can only enter by placing chips on the bonus cards. The "3 rolls" option gives three rolls of the dice while the "5 rolls" option gives five rolls. That's not to say you won't get more! Remember, in a standard game of Monopoly, when those rolled dice display a double number a free go is awarded and it's just the same here!
Players who have not placed bets on the bonus cards are not able to participate but will still be able to watch the outcome. All the familiar Monopoly board game elements are in play including GO, Community Chest, Chance, Jail and Super Tax. The further around the board the moustached mascot gets, the higher those multiplier prizes. The maximum prize a player can win is £500K!
To experience the thrills of modern bingo, head on over to Play OJO Bingo where new players are welcomed with an unrivalled offer – deposit £10 and get 50 free bingo tickets and 10 bonus spins. Unlike other online bingo sites, OJO guarantees never to cap your wins from offers and those same offers also come with a no wagering requirement rule! Anything you win is yours to keep. No fees on withdrawals and if you deposit via debit card you can expect to have your funds in your account within a few hours!
Bingo Games
Back to articles
Your feedback
Please enter your comment.
Your comment is added.
TinTinn
08/18/22, 12:08:49 PM
I tried mega ball and there were way too many purchase options for my liking. Only 6 cards to bet on with this new one means not having to spend so much money at...
I tried mega ball and there were way too many purchase options for my liking. Only 6 cards to bet on with this new one means not having to spend so much money at a time. Will have to see it in action.
Show more