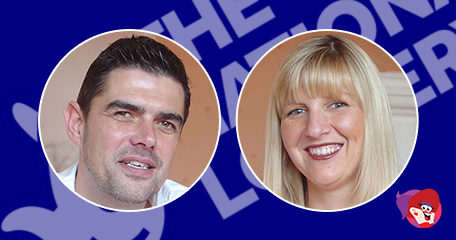 How A Lottery Winner Turned £4.8m Into £30m Then Nothing!
In 1997, Barry Chuwen and partner Jenny scooped almost £5million by playing the National Lottery, becoming two of Scotland's biggest ever winners, but their story isn't one of wine and skittles. Did Barry and Jenny didn't get their happy ever after? Sadly not, as its been revealed the man who amassed an impressive business portfolio worth £30m, not only lost his businesses, but has called time on his marriage after meeting a woman through work.
Seven years after the mega lottery win, Jenny suffered a miscarriage and as a result of this her husband set up The Teddy Foundation, a charitable organisation claiming to providing special needs kids with trips to Disneyland, riding lessons and massage sessions totalling £500K. Fast forward to May 2022, and Watchdogs have launched an investigation into the foundation over serious concerns surrounding both "governance and financial controls."
Barry, now 52, said: "We are doing everything we can to co-operate with the Office of the Scottish Charity Regulator. Discussions over this have caused a great deal of stress for Jenny and I, on top of pressures related to business and a protracted period of ill health."
Being The Silent Partner Has its Downfalls
At the time of the lottery win, Barry owned a small hairdressing salon but he set his sights on far greater dreams. With the win under his belt, he was able to start a fresh and this meant cutting ties with his hair salon, and he did this by gifting it to his staff. With the £4.8million in the bank he started a career as a property investor and estate agent. Little over a decade later, his £30million empire came crashing down around his ears when the financial crisis hit the UK. This later resulted in his entire portfolio going bust in 2013 when the Bank of Scotland pulled the plug on his spiralling debts.
Fast-forward to 2022, another of Barry's companies, MQ Estate Agents Limited, entered liquidation. But the story does not end there. Throughout all of this, the loss of a child, acquiring and letting properties and the opening of a foundation, Jenny has been in the background – it was Barry who opened the foundation, snapped up property and then lost everything, and now Jenny is about to lose one more thing – her husband, after it was revealed he was leaving his loyal wife for another woman!
"I also acknowledge that during this difficult time in our lives, I developed a relationship with someone who I met through work," Barry continued: "I have apologised to Jenny and our children and hope to continue to be a loving father to them as they grow up."
Source: "National Lottery Couple Who Won Almost £5million Split After Husband Meets Another woman". Mirror. July 31, 2022.
Bingo Society News
Back to articles
Your feedback
Please enter your comment.
Your comment is added.
TinTinn
08/01/22, 06:08:31 AM
£5m 25-years ago was a hell of a lot more money than it is today. It just goes to show that money cannot buy you happiness, but it sure as hell takes the sting away...
£5m 25-years ago was a hell of a lot more money than it is today. It just goes to show that money cannot buy you happiness, but it sure as hell takes the sting away from being poor!
Show more