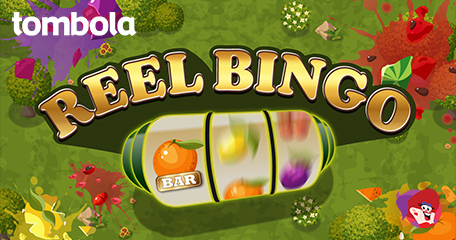 Slots and Bingo for Maximum Fun
There's a new (and exclusive!) Tombola game in town and it's proving to be a hit already! Released on Monday 30th of May, the new bingo variant combines online slot fun with bingo, but it's only available to mobile users at present. Everyone has the same chance to win and there is even a bonus round alongside the line and full house prizes. Juicy fun awaits with mega cash prizes from the lowest of stakes!
As with all new gaming releases, Reel Bingo is attracting big crowds and big crowds mean bigger prizes and less chance to win. A stake of 25p on launch day offered over £700 in prizes. Imagine What the higher stakes produced! Before the game begins you can play a little game of squash that fruit – this has no influence on the game and you can't win anything from it other than bragging rights.
How to Play New Reel Bingo
Your stake is the first step in this new bingo room. Choose 10p, 25p, 50p, £1 or £2. The higher the ticket price, the larger those prizes. There is roughly 30-seconds between each 35-ball bingo game. When the countdown timer reaches zero, an allotment will appear on your screen. The left and right has a column, each with five rows of different fruity combinations. Each row houses three fruits. The first prize is the column, be the first to remove all your delectable goodies on either side of the allotment to win.
Once the column (line) has been won, the next prize is the full house. Remove all combinations before anyone else to win that full house prize. It's as simple as that! Combinations are determined by the 3-reel, 1 win line slot machine to the top of the screen. If on any spin three overlay BAR symbols appear, the bonus game is activated. Once the full house is won, the bonus game will be triggered.
In similar style, the bonus game makes use of slot reels to determine the outcome of each spin. To win the very large bonus pot of cash – far greater than both the column and full house prize put together, collect 10 BAR symbols before anyone else! There can only be one winner of the bonus prize, so it's winner takes all, but the good news is everyone who plays Reel Bingo has the same chance to win!
Unlike other Tombola games, there are no jackpots for calling a full house within a set number of calls, instead you have a bingo bonus round. Visitor numbers will be in their thousands for the first week or so. Busier periods tend to be around midday and from 5pm to 10pm. The best time of the day to play is off-peak, so early morning and last thing at night. Will you be giving the new bingo game a try? Let us know what you make of it below.
Bingo Games
Back to articles
Your feedback
Please enter your comment.
Your comment is added.
Member's Feedback (1)
Bubles12
06/01/22, 10:06:56 AM
I echo other comments in the chat that the game is over way too quickly. Your money goes quicker, but it is fun. I haven't won yet but there are a few that have...
I echo other comments in the chat that the game is over way too quickly. Your money goes quicker, but it is fun. I haven't won yet but there are a few that have won multiple times and in the same game. Kind of disheartening to see that. The bonus should award cash to multiple winners not just one big pot of cash to one winner.
Show more