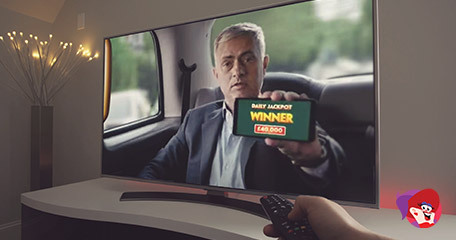 An End to Popular Figures Appearing in Gambling Ads
From October, footballers, celebrities and social media influencers will be banned from taking part in gambling advertisements to protect those under 18 years of age. Past and present stars include Jose Mourinho – the former Chelsea manager promoting the jackpots on Paddy Power, Jeff Stelling, an iconic sporting legend being used to promote multiple Sky-owned betting products and you even had actor Ray Winstone on the Bet365 ads until the watchdog deemed it to be too inappropriate.
Former England footballer and football TV pundit Paul Merson said in an interview it "sickens" him to see former players and managers featured in gambling ads. The ex-Arsenal player revealed last year that he had a gambling problem and it is estimated he lost £7million through his addiction.
What the New Rules Mean
The new gambling legislation also states that gambling ads (including lottery ads) must not "be likely to be of strong appeal to children or young persons, especially by reflecting or being associated with youth culture." Any references to video games or gameplay popular with audiences under 18 are also prohibited. The Committee for Advertising Practice (CAP) said the "tough" rules were there for a reason – to safeguard young people and venerable audiences.
Former Arsenal and West Ham player Jack Wilshere, popular with teenagers, was hired to be the face of Paddy Power earlier this year. Harry Redknapp whose popularity shot through the roof after appearing on and winning I'm a Celebrity Get Me Out of Here in 2018, has previously appeared in ads for BetVictor and Love Islands Chris Hughes, another teenager favourite with some 2.1 million Instagram followers, is actively a brand-ambassador for Coral Racing.
Shahriar Coupal, director of CAP, said: "By ending these practices, our new rules invite a new era for gambling ads, more particular to the adult audience they can target and more befitting of the age-restricted product they're promoting."
Are the New Rules Enough?
Lord Don Foster, chairman of Peers for Gambling Reform welcomes the latest legislation but has concerns the ban on celebs, footballers and social media influencers in gambling advertisements won't go far enough and young audiences would still not be safe from gambling ads. "It won't stop gambling advertisements appearing on the shirts of children's sporting heroes nor many of the other concerning actions of gambling companies who spend over £1.5bn a year promoting their products," he said.
"The government should ban all links between sport and gambling, all inducements, such as so-called "free" bets, and direct marketing to individual customers and take steps to reduce all forms of gambling advertising," said Lord Foster.
One of the previous measures to restrict children and venerable people viewing gambling ads included a "whistle-to-whistle" ban where no gambling advertisements could be shown during live sort before 9pm. The industry body of the Betting and Gaming Council estimates this alone has resulted in 97% fewer young people viewing gambling advertisements.
Do you think the latest rules are a good move? Let us know below.
Source: "New Rules on Gambling Adverts Ban Celebrities and Sports Stars". BBC News. April 05, 2022.
Bingo Society News
Back to articles
Your feedback
Please enter your comment.
Your comment is added.
HangingAround
05/12/22, 10:05:14 AM
If you want to stop young people seeing gambling ads the first thing they should be doing is stopping football teams being sponsored by gambling companies. Having...
If you want to stop young people seeing gambling ads the first thing they should be doing is stopping football teams being sponsored by gambling companies. Having big logos splashed across the kit is stupid! Kids wear those kits.
Show more