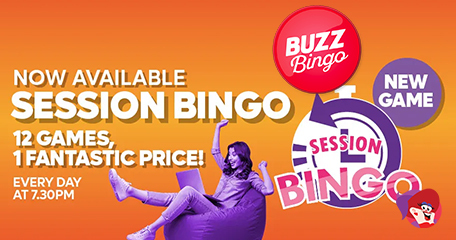 Play an Hour of Bingo from £5 and Save Up to £10!
Sound the klaxons! Buzz Bingo has introduced a new way to play bingo and win (big!) cash – session bingo, and as opening sessions go, it was a huge success! How does it work? Styled on the land-based concept, bingo players can enjoy a whole hour of 90-ball bingo games at a one-off set price; the price you pay will determine how many tickets you have in play for the duration of the session.
The new session bingo room offers a chat facility as well as three prizes per game plus a few added surprises; 1TG/2TG and roll-on features for even more winners. To celebrate the launch, Buzz Bingo are boosting the prize money of the final game every night this week to £1K! I logged in on the opening night (Monday) and managed to win a line. Not bad considering there were 157 other players competing for that cash! 'Hyperz' took away the first-ever £1K session bingo full house, and I bet she was mighty pleased!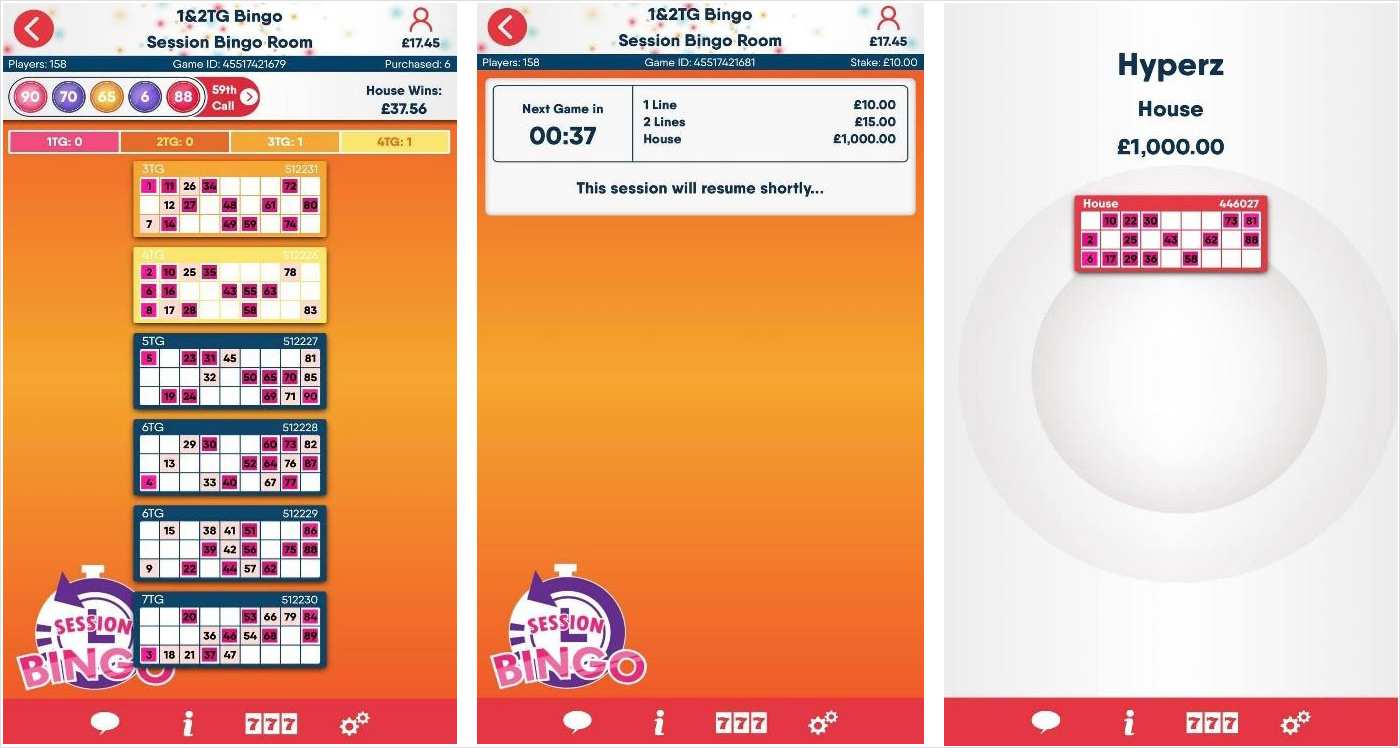 Session Bingo FAQ's
Q: What is Session Bingo?
A: An hour-long session all together with bingo games playing consecutively. Rather than buying tickets for individual games, you can buy tickets for the entire session. The number of tickets purchased will be the same for all games in the session.
Q: How Much Does it Cost to Play?
A: You may choose from four different 'packages':
Pack one of 3 tickets is £5, offering a saving of £2.50p.
Six tickets are £10, saving £5 off the original price.
Pack three is for 9 tickets for £15, saving £7.50p.
The final pack offers 12 tickets per game at a cost of £20. You save £10 on this bundle.
Q: Can I Play on Mobile?
A: Yes! You can choose to play on mobile via your browser or via the free app. Head to the bingo lobby and look for the 'session bingo room' to get started.
Q: When Do Games Begin?
A: Session bingo kicks off at 7:30pm every evening.
Q: Do I Need to Watch my Tickets to Win?
A: Now, this is where session bingo differs from the land-based bingo games we are used to. While visiting a bingo hall, you will need to pay attention while dabbing tickets or you will miss numbers and miss your call to win. With this new type of session bingo from Buzz Bingo, you can play in a different room altogether, play new slots or side games or not even be logged in and still win, as all new games play back-to-back over an hour and when you win, you automatically receive your winnings!
Q: Is There a Long Wait Between Games?
A: No! When a full house is won, the next game will begin in less than 1-minute.
Q: Can I Purchase Extra Tickets While the Games are in Play?
A: No! You may only purchase tickets prior to kick-off at 7:30pm, then ticket sales are closed, and prize money evaluated.
Bingo Promotions & Bonuses
Back to articles
Your feedback
Please enter your comment.
Your comment is added.
lollipops321 07/28/21, 09:07:19 AM
Love it! I don't now why more bingo websites don't do this! I'll be trying my luck tonight!