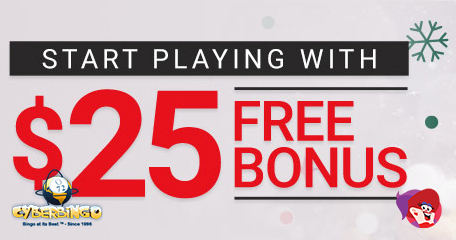 There's A Big Bingo Showdown Every Month!
Happy New Year LBB'ers! Welcome to 2023 where we have a whole year ahead of us to feast upon delicious promotions and free offers, starting with Cyber Bingo's January bonanzas!
Now, what we're about to tell you must remain a close-guarded secret because there's $20,400 in real cash prizes up for grabs, plus a buy 3 get 2 free deal on cards! Once a month an epic bingo party kicks off with top of the hour games and pre-set prize money, only unlike previous months, the pot have cash has been given a bit of a boost, what with it being a new year and all that.
On the last Sunday of each month from 5am (CET), warm up games will guarantee ten winners with the eleventh and final game producing a massive $10,400 winner! To particpate, all you need is a single ticket – remember, it only takes one card to win, but if you do decide to buy 3, you get 2 extra chances to win for free!
Both new and existing Cyber Bingo playersare eligible for the epic bingo party, with new sign-ups also receiving our exclusive free trial offer…
…That's right; register as a new player and get a bingo bucks bonus of $50 to test drive both bingo and casino games! From there, a massive 500% package will boost those first five deposits! Oh, and if you have a Bitcoin account, an additional 25% bonus will be applied to that initial deposit.
What?: A one-night bingo event with a prize pool of $20,400. The once-a-month event consists of 10 warm-up games paying $1,020 each and a main guaranteed game with a $10,200 cash prize.
When?: In the Tourney Room on the last Sunday of each month at 12:00AM CET with 10 warm-up games and the main event will be at 5:00AM CET.
How?: The cards for the warm-up games can be bought for $2.04 each and the cards for the main event will be priced at $5.10 each, however, there is a promotion for all cards and that is buy 3 and get 2 free (max 120 cards per player).
Check out what else is happening at Cyber Bingo this month:
Toboggan Bingo Tourney: A fantastic top prize of $510 in cash will be won every week and that's on top of all other prize money! Playing in the New Year's Bingo room every week between 6:01AM CET on Monday and 5:59AM CET on Wednesday, the more bingo games you win, the bigger that additional prize will be! Oh, and there just happens to be an offer on where you buy 7 and you get an extra 3 cards free!
Mega Slot Challenge: Take on and compete in the Mega Slot Challenge by ticking off tasks between 6:01AM CET on Thursday and 5:59AM CET on Saturday and you could be rewarded with an extra $150 in cash every week. Complete all 7 tasks within the two days and you'll earn the cash reward of $150.
Trigger 5 bonus spins on Frozen Fairies
Play special Smiley Veggies bonus
Achieve 10 consecutive wins on Vlad Dracula
Win 75x your stake on Blowfish Bomb
Losing spins are winners on Tres Mariachis
Spin a win of $10 on Aloha Wild
Lot 5 consecutive times on Lobsterama
Dream Nickel Cashback: Win when you lose every Friday and Saturday by claiming a 30% cashback bonus on your losses.
Bonus Spins Party: Deposit a minimum of €30 every Sunday and Monday to claim up to 200 bonus spins. The value of the deposit will determine the number of spins credited to your account:
$20 to $54.99 – 50 free games on Super Sweets
$55 to $109.99 – 100 free games on Wheel Big Winner
$110+ - 150 free games on Vlad Dracula
VIP's depositing $110+ - 200 free games on Ten Times Wins
Diamond Resolutions: Tuesdays, Wednesdays, and Friday every week in the Diamond Bingo room are paying double the prizes and there's a buy 6 get 3 free offer on cards! Prices start from just 36c a game!
Video Bingo Tournament: A top prize of $900 in cash will be won every week and just by playing video bingo games!
High or Low Bingo Games: High or Low €69.75 / €23.25 Bingo Games will commence between 4:00PM CET and 6:00PM CET and again between 4:00AM CET and 6:00AM CET inside the New Year Bingo Room every day!
VIP Bingo Room: Head to the VIP Bingo Room twice a week to win fantastic cash prizes without spending any money! Only if you're a VIP player!
VIP Bingo Cashback: Up to $200 in VIP bingo (bonus) cashback for VIP members.
VIP Bingo Tourney: Win a share of the weekly prize pool when you play in the fun filled VIP Bingo Tourney games! Will you be one of the lucky top 10 players to get a piece of the $437.10 prize pool?
Nickel Games: Low cost 75-ball bingo games to win guaranteed prize money! There are starting games, multi-part games and lots more!
Fantasy Bingo Tourney: Enter a world filled with fantasy and bingo every Saturday night with over $13,950.00 in prizes. This one-day weekly bingo tourney consists of multi-part guaranteed games and a prize pool of that will be shared between the top 10 players! There's a top prize of $279 in cash to be won! Players in positions 1 to 5 get cash while players in positions 6 to 10 receive bonus bucks.
One To Go Prizes: Does exactly what it says – pays prizes to players who are waiting on 1TG when that full house is won!
Diamond Room Specials: Every Tuesday, Wednesday and Thursday night, these dazzling bingo games will be paying cash prizes of up to $13,950! Play from 23c per card in a mix of multi-part and starting bingo games.
Promotions & Bonuses
Back to articles
Your feedback
Please enter your comment.
Your comment is added.