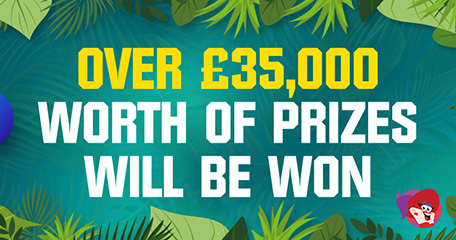 Lots Of Opportunities To Win Big Cash And For Free
I'm A Celebrity Get Me Out Of Here has returned to our screens once again and to celebrate, sponsors Tombola, are giving away £35K in prizes! In addition to this there will be a minimum of 400K cash and free plays to be won on site as well as £15K guaranteed full houses twice a day!
Whether you're a fan of the show or not, or simply just want to tune in to watch a certain MP face gruelling challenges, you stand a chance of winning some great cash and prizes for the duration of the television show. There will be hundreds of winners across Facebook, Twitter, Instagram and on-site, social media giveaways are free to enter too!
In order to participate and win, you must have a Tombola account. Opening one is free, quick and easy. New players can also claim a bingo bonus of £10 on their first £25 deposit and anything won with that bonus is wager-free, credited as cash and comes with no maximum win limit! Tidy!
I'm A Celeb Promo Line-Up
1) Tombola bugs on TV commences between 6th and 27th of November: Win £100 when you see the Tombola bugs on your television screens! During this year's show, Tombola creepy critters will appear during television ad campaigns and all you need to do is spot them and head on over to Facebook to get in on the fun!
Every Friday and Saturday night this month you have the chance to win £100 in real money prizes, credited to the last card used on your account, every time you spot the bugs on TV. That means there's achance to win £100 with every ad break (at least 3 chance per night!).
Each time the bugs are in an ad break, Tombola will share a corresponding image of the ad on Facebook. All you have to do and comment #tombolabugsontv and your username on the post within 2 mins before the post closes. If you don't watch the show, you can still win! Just have the Tombola Facebook page open and wait for the image to appear! Simples!
2) On-site I'm A Celeb Quiz between the 9th and 23rd of the month: Enjoy not one but two quizzes every week to win bingo bonuses! The I'm A Celebrity quiz will be hosted on Facebook and it will be beamed to your screens live! All questions will be in relation to the show, so unless you watch it you won't really know what's going on. Not unless you wait for other to reply! I often do that!
There's £600 to be won with 20 x £10 bonus funds up for grabs each week. On-site quiz winners will also be chosen to win merchandise.
3) The Bug Ballot between the 8th and 24th: Throughout this series, £500 Love2Shop vouchers will be won over on Instagram and there's six chances to win! Simply answer the CM's questions about bugs to be in with a chance of bagging a hearty shopping voucher! Runners up will also be chosen to win one of 25 bonus money prizes of a fiver.
The bug ballot will run every Tuesday and Thursday during the show from 10am.
4) Facebook live quiz between the 12th and 26th: A look back at the last 7 days in the jungle with 10 x £10 bingo bonus prizes on offer. Put your knowledge to the test in each of the quizzes on social media to win. Participate from 8:30pm on Saturday the 12th, 19th and 26th of November.
5) Win a takeaway for the final on the 26th: Head on over to the Tombola Facebook page on Saturday the 26th of November to be in with a chance of winning one of 40 Just Eat vouchers worth £25. All winners will receive their voucher via email by 1pm on Sunday 27th, just in time to tune into the final!
And there's Even More To Come:
That's not all! There's lots of fun stuff happening on Tombola and Arcade too with more than £1million estimated to be won in additional promotions. Check them out below:
Bingo90: Win £30K a day in the triple chance bingo room! Sunday 6th to Sunday 27th, full house prizes at 9pm and 9:30pm will be £15K each!
Bug Match: Sunday 6th to Sunday 27th, a minimum of 400,000 prizes of cash and bonuses will be won in the free no deposit giveaway. There's two chances to win every day, one on the bingo site and one on Arcade. Press to play and a platter will appear on your screen, even on mobile. There will be 9 hidden dishes, all of which are bugs. Match three identical bugs to win a prize:
Spiders award 5x Free Plays
Caterpillars award 10 x Free Plays
Ants award £5
Maggots award £50
Snails award £1K
Butterflies award £10K
Other non-I'm A Celebrity Get Me Out of Here promotions include two line Tuesdays in picture bingo, paying an additional two-line prize in Circus, Pirates and Mystery rooms plus that Britain's Biggest Bingo game on December 1st. November's winner pocketed almost £240K recently, will next month's game pay more than that?
Tickets for the big bingo game are on sale now with one strip costing just 50p. The maximum number of tickets a single player can have into the game is 4 strips (£2). The game commences on Thursday 1st December at 9pm and you don't even need to be logged in to win!
As long as you have your tickets, they will play out automatically! If you have purchased a winning bingo ticket, the funds will be credited at the end of the game. Tombola support faster withdrawals with Visa Debit customers waiting on average just 90-minutes to receive their winnings! Epic!
Bingo Promotions & Bonuses
Back to articles
Your feedback
Please enter your comment.
Your comment is added.