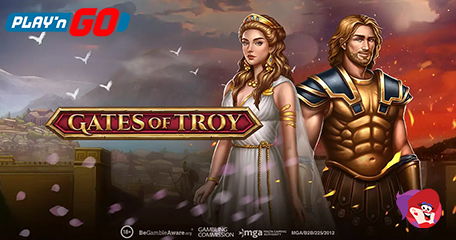 It's Set To Be Raining Cats & Gods!
Play'n GO, the award-winning software developer behind some of the biggest slot games ever to grace our screens are back with no less than two new slots to play, one based on Greek mythology and the other on cats!
Gates of Troy and ImmorTails of Egypt flew off the production belt within days of each other bringing a slew of fascinating bonus features along with them. Bonus spins, multipliers and wilds are just a few of the more attractive elements to mention. We all want to be thrilled when it comes to playing games and Play'N Go know exactly how to leave us on the edge of our seats!
Let Battle Commence
On September 15th, Gates of Troy emerged with a call to arms to all worthy warriors. The game's story is inspired by the Trojan War where according to Greek mythology, the city of Troy came under siege after Paris of Troy took Helen from her husband, King of Sparta.
In this vivid and immersive title, players will assume the position of Achilles who has been tasked to infiltrate the city of Troy…
…even with an army of soldiers this is no simple task. This is where that wooden Trojan Horse comes in! Cramming 20 soldiers inside a wooden structure isn't exactly ideal, but it's what's needed if Archilles is to get his treasure.
The goal is to land the bonus spins feature, which is achieved by spinning in three scatters. The bonus begins at the fortified entrance of Troy. Every wild landing during the feature will be gathered and its position on the reels will be 'framed'. On the final spins, all wilds will be added back to the reels. This could include 2x multiplier random wilds too!
Head of Games at Play'n GO, Charlotte Miliziano, said: "Our previous titles based on Greek mythology have been well-received – the setting provides lots of visual flair and storytelling avenues. We think Gates of Troy perfectly embodies what Play'N Go's audience wants. Fun."
A Game of Cat & Mouse
Our feline friends have been represented in social and religious practices of ancient Egypt for more than 3,000 years, with Mafdet, a stunning black cat documented as being the first cat to be worshipped during those times. A lot has changed over the years, but one thing hasn't and that is our fondness of those fluffy little pets!
With cats playing a huge part in ancient Egypt, Play'n GO decided it was time to throw the two themes together and came up with ImmorTails of Egypt, a stunning, immersive video slot packed with purrfect features!
Bestowed with the powers of their ancestors, the ancient Egyptian deities that they're named after – Bastet, Mafdet and Semhmet, the adorable triplets are on a quest to steal the treasures of their ancestors and they need your help to do it. Cascading symbols lead to the characters transforming into wilds and during the bonus spins round, the reels expand from 5x3 to 5x4 for an increase in prizes!
Play'n GO Games Ambassador, George Olekszy said: "This is a really fun game to play, the goals are clear from the start as players can see their progress with the kittens at the top of the reels and whether they've collected enough symbols to open the treasure chest! Play'N Go has an innate knack of knowing how to use themes that complement each other to create a game that may seem a little different to start, but the finished product just works!"
Bingo Games
Back to articles
Your feedback
Please enter your comment.
Your comment is added.
HulioSas 09/26/22, 06:09:43 AM
It's great understanding the theme behind the games. The cat one sounds a little like the big bad wolf game from Quickspin. Symbols lead to the pigs turning wild....
It's great understanding the theme behind the games. The cat one sounds a little like the big bad wolf game from Quickspin. Symbols lead to the pigs turning wild. I like that style of play. Can't wait to give it a try.
Show more