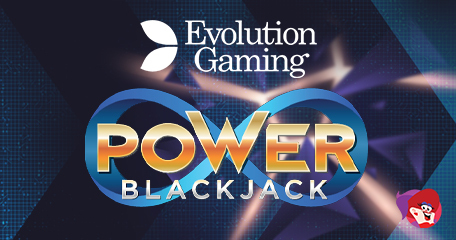 Due to its ease of gameplay, blackjack has become one of the most popular table games to play. You're dealt your cards and the aim of the game is to beat the dealer while getting as close to the number 21 as you can without going over. There are many versions of the game – including live casino variants, but none offer the thrills and excitement of the new Power Blackjack by Evolution.
Live casino's may be made up of man different tables an many different studios, but there is one name that is synonymous with quality and that is Evolution Gaming. First showcased at ICE 2020, Power Blackjack welcomes an unlimited number of players to the table with the potential to multiply their winnings!
By choosing to double, triple or quadruple down on the two initial cards dealt (even after a split), gives the chance to scoop some big winnings. The new game is played with 8 decks of cards with all number 9's and 10's removed. This means 64 fewer cards in the shoe to try new strategies.
Todd Haushalter, Chief Product Officer for the Riga-based developer, said: "With this game the mission was to give players more of what they love about Blackjack without changing the underlying gameplay. We know that players love classic Blackjack, but we are always looking for new ways to keep it fresh. Creating a version where players can triple and quadruple down, instead of just double down, felt like a great way to do this."
He continued: "A few years ago we created Infinite Blackjack, which is simply a Blackjack platform that allows an unlimited number of players at just one table, instead of the standard seven seats. Building on the success of our proven Infinite format, we have created further new Blackjack game types such as Free Bet Blackjack and now Power Blackjack, with more to come in the future!"
A Good Deal
Just like the other two live casino games in the 'Infinite' series (Infinite Blackjack and Free Bet Blackjack), there are no seating restrictions and players can make use of customisable camera angles as well as betting history and a chat feature.
Four great side bets plus no six card Charlie rule results in maximum entertainment:
Any Pair side bet: Pays on any pair made with the first two cards of the player's hand.
21+3 side bet: Pays on various Poker-style card combinations made with the player's first two cards and the dealer's up card.
Hot 3 side bet: Pays on various card combinations totalling 19, 20 and 21 made with the player's first two cards and the dealer's up card — with the top real money pay out for a Hot 3 of 7-7-7.
Bust It side bet: Pays an increasing amount if the dealer busts with 3, 4, 5, 6, 7 or 8 or more cards in his/her hand.
Source: "Evolution Adds Power Blackjack to Its Growing 'Infinite' Range of Games". Evolution Gaming. June 4, 2020.
General Bingo News
Back to articles
Your feedback
Please enter your comment.
Your comment is added.
Bubles12
06/11/20, 09:06:46 AM
Never really understood this game, but I may give this one a try. Seems different to the usual complicated tables.