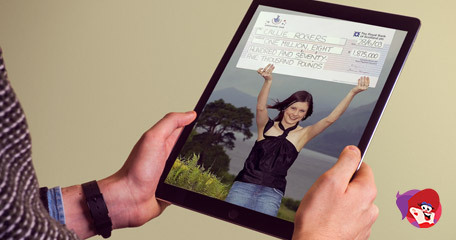 Money Can't buy You Happiness!
Callie Rogers was just 16 years old when she scooped £1.8million on the National Lottery in 2003. Twenty years on she has hit the headlines for being penniless after blowing her fortune on boob jobs, clothes and luxury gifts for her friends.
The 34-year old who holds the title of the youngest lottery winner, has revealed she is heading to university to train to become a nurse. Previous employment saw her earning just £3.60p per hour just before hitting the jackpot win.
Where'd All That Cash Go?
It's since been revealed she blew a total of £18,000 on boob jobs, £300,000 on clothes and £500,000 on items to please friends and family. Wanting to turn her life around, Ms Rogers said to the media: "Taking time out and working on yourself to become a better person pays off. So proud of myself and the future I'm making for my little family."
Going from a 16 year old checkout girl at the Co-op while living with foster parents in Cockermouth, Cumbria, to jackpot riches overnight resulted in a drastic change in circumstances. It wasn't long before she was hit with a 22-month driving ban after her 4x4 crashed into a hedge while high on cocaine. When the police attended the scene, the ex-lotto winner had to be pepper-sprayed to be detained!
Three years prior to this, Ms Rogers was set upon by two women after a night out on the town, resulting in her being knocked unconscious, sustaining broken ribs, smashed teeth, concussion and permanent sight damage. Fast forward to 2021 and it has been reported that Ms Rogers had been claiming Universal Credit despite winning almost £2million in 2003.
Since winning her fortune, the lottery winner has been very vocal with how the win drastically changed her life, and not for the better, and as a result, she had called for Camelot to increase the legal age of playing the National Lottery from 16 to 18. She said: "You're only 16, with all that responsibility. At that age, you can get the best advice ever but you're not in a position to listen. I was too young. Overnight I went from [a] carefree child to adult."
After winning the lottery at such a young age, Ms Rogers admitted she went off the rails, revealing it made it hard for her to trust people and left her struggling to live in the glare of the limelight. Just a couple of weeks after her win, she met Nicky Lawson, the father of her two eldest children. Within 5 years the relationship ended and this resulted in her attempting to end her life. At her lowest point, her children were removed from her custody.
Source:
"Britain's Youngest Lottery Winner Callie Rogers Who Blew £1.8M Jackpot She Scooped when She Was 16 On Drugs And Boob Jobs Is Going To University To Become A Nurse Aged 34", dailymail.co.uk, February 23, 2023.
General Gambling News
Back to articles
Your feedback
Please enter your comment.
Your comment is added.
bridgetjones
02/27/23, 08:02:09 AM
Good to see the age has been raised from 16 to 18. All gambling is 18 years of age so I never understood why the lottery was any different.