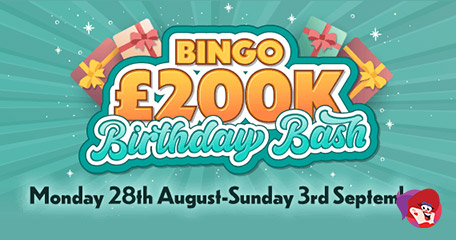 It's tombola's 15th Birthday and to celebrate they are giving away £200K in guaranteed prizes! Usually one must RSVP to a party and bring a gift but you're required to do nothing of the sort here…if you already have a tombola account and you have social media, you're one step closer to winning a share of £200K in cash and prizes!
Hip Hip Hooray
Since Monday 28th, tombola have been in full Birthday party swing with a series of giveaways and special bingo promotions running, all of which guarantee real money winners like you! Kicking things off was a mega £80K cash climber in bingo90, followed by £10K actual full house prizes from Tuesday to Sunday…
…this means you're still in with a chance of winning and here's how:
Log in or register.
Look for the special bingo promotional games and purchase tickets
Head on over to Facebook and Instagram for a chance to win physical prizes, cash, bonuses with no wagering and vouchers!
Not part of Britain's Biggest Bingo site yet? Here's where the special welcome offer comes in to play – register within minutes, make a deposit of £20 and get a free £20 bingo bonus. The bingo bonus carries no wagering requirements whatsoever, in fact, tombola is a wager-free zone! Any winnings can be withdrawn however, it is important to note that bonus money cannot be withdrawn and as soon as a withdrawal is made, the remaining bonus (if any), will be confiscated.
Where were we? Ah yes, Birthday bonanza! At 9pm and 9:30pm every evening until Sunday 3rd September, £10K full houses will be won in the bingo90 Multi Links promo. Tickets are capped at £2 making it fairer for all…
…plus, there's a progressive bingo jackpot running alongside the big (and little) prize money, and should you just happen to call a full house within the stated ball count, you win that on top of your full house prize money too! Better still, if you're a Visa Debit user, you can expect your winnings in your account within an hour! Oof!
Other offers include:
#1 – Sumer Bank Holiday Draw: There's £1K in free plays to be won every night between 8pm and 10pm across tombola arcade.
When: Friday 25th August to Monday 28th August, 8pm - 10pm
Where: tombola arcade
#2 – Free No Deposit Daily Competition: There's £10K in prizes to be won in the free to enter daily competition every day until Friday 1st September.
Mondy 28th August – Win 1 of 4 Dyson Hair Dryers or 20 x £2 bonus credit
Tuesday 29th August – Win 1 of 60 £25 Love2Shop vouchers or 20 x £2 bonus credit
Wednesday 30th August – Win 1 of 30 x £50 Takeaway vouchers or 20 x £2 bonus credit
Thursday 31st August – Win 1 of 25 apple Homepod Mini devices or 20 x £2 bonus credit
Friday 1st September – Win 1 of 15 £100 Primark vouchers or 20 x £2 bonus credit
#3 – No Deposit Daily Games x2:Log in for a chance to win up to £5K absolutely free every day in the Super Spins and Free Form free-to-play daily games.
Bingo Promotions & Bonuses
Back to articles
Your feedback
Please enter your comment.
Your comment is added.
bridgetjones
08/30/23, 07:08:05 AM
No better bingo site for promotions than tombola. The jackpots are huge and are being won regularly.