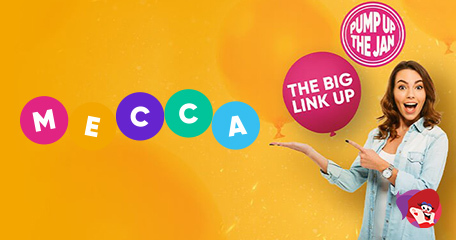 January Deals Don't Get Better Than This!
It's all go over at Mecca Bingo this January with a series of promotions designed to give you more for less spends! "Pump Up The Jan" sees ticket sales slashed while boosting those prize pots, plus there's a mega £100K weekend, £5K free bingo session, jackpots of up to £70K to be won alongside full house prizes and a whole lot more besides!
They've pumped up the prizes but the fun begins with the daily spinner wheels, where no deposit fun could lead to cash wins of up to £500! As with previous promotions, the wheels are activated from midday daily, one available for free, the other triggered on a deposit and spend of just £10. Only this time both come with a guaranteed win.
Winner Spinner: Win cash or bingo related offers with every daily spin – 100% free
Premium Winner Spinner: You can play the premium feature every day and every spin delivers a guaranteed only this time, a win up to £1,000! Just deposit and spend £10 to take a turn the next day from 2pm. Plus, each spin awards a stamp where you can play to earn extra prizes! Qualify for this wheel means two spins every day!
Plus, part of this month-long promotion sees the introduction of daily deals, something not seen before. From 12th January this specific offer will guarantee double the cash prizes in the Penny Land room, with tickets costing just 1p each! Games will commence between 7pm and 9pm. Log in daily to view that day's offer and how to particpate.
Then there's the big money weekend with £100K in wager-free cash guaranteed to be won! Join in with the fun in the Main Event bingo room on Friday and Saturday night from 6pm. Mecca Bingo have pumped the prizes up to £10,000 with 2 X £10,000 Full Houses, 8 X £2,000+ Full Houses and 30 X Full House prizes of £250 or more! Pre-buy is available should you be otherwise engaged on the night(s).
Other Mecca Bingo Promotions
#1 - Session Bingo: Enjoy back-to-back bingo games from just £2.50p in the club session bingo room! It's just like land-based bingo only without the faff of having to get dolled up and venturing out into the cold to play. Head to the special bingo room to play in up to 5 sessions every day. Win prizes of up to £1K between 9:30am and 11pm. Get 15 bingo games for a one-off low price of:
30am: £5 1 hour Sunshine session
1pm: £5 1 hour Lunchtime session
30pm: £2.50 30 minute Early Bird session
30pm: £5 1 hour Main session
10pm: £5 1 hour Late session
#2 - Live Games, Fun & Music: On Saturday 14th, Mecca Bingo are going live https://latestbingobonuses.com/news/new-live-bingo-variant-from-buzz-bingo-goes-live with a bingo games, music, fun and big cash prizes! Head to the club session room from 8:30pm to be in with a chance to win a share of £2K plus other amazing prizes! Tickets are priced at £10 and can be purchased in advance. Worth noting that during the show you can enter the code SATURDAY into the chat for a chance to be called live on air to win additional prizes!
#3 - Slots Prize Draw: Will you be among the 10,156 players to win a share of £5K? Bet £10 on any of the qualifying games to get an entry into the draw. Play double entry games to get 2 draw tickets for the price of 1! Eligible games for 1 prize draw entry are any Eyecon Progressive Jackpot slot. Eligible games for double prize draw entries are Fluffy Favourites Mix'n'Win JP, Hot Off The Press JP, Fruity Burst 2 JP and Fluffy Favourites Remastered JP. Take a look at what you could win:
1 x £5K
15 £1K
40 x £500
20 x £100
400 x £50
2,500 x £20
7,000 x £10
#4 - New Burst Surprises: Play in the unique Burst bingo room now from just 10p a ticket! These equal chance to win bingo games come with 1TG prizes too between 8pm and 11pm every evening. How to play: Select the value of your ticket from 10p to £2. Everyone gets the one ticket with 10 numbered balloons, each one with a cute animal or critter attached. When a matching number is called, balloons pop to free the animal. Release all ten animals before anyone else to win the stated prize.
#5 - Nifty Fifty: Eery weeknight you'll have 20 chances to win a £50 Full House from just 1p in the Penny Lane room. Play for 3 whole hours from 7pm. Plus there's a big £15k cash linked game on Friday and Saturday at 10pm with a £10k Full House!
#6 - The Big Link Up: This is your chance to win one of 6 x £1000+ full house prizes daily, 2 x £10,000 full house prizes on Friday and Saturday at 10pm in the new pumped up bingo games. Big Linked games play at 10am, 12pm, 6pm, 7pm, 8pm, 9pm, 10pm, 10:30pm and midnight in the Main Event, Two Little Ducks and Gold bingo rooms (some selected games also play in Penny Lane and Lucky for Some rooms too). Play from 10p to 25p with £10K full houses scheduled for 10pm every Friday and Saturday night.
#7 - £5K Free Bingo: There's £715 in free cash won every day in the Mecca Bingo free bingo games. That's £5K in wager-free cash prizes between 8am and 10pm! Head to Lucky for Some room and play for free every other game, all day. Plus, of you want to win bigger prizes (up to £250), play for 1p a ticket in the megalink specials.
#8 - Premier Jackpots: Any full house win in qualifying rooms could result in the lucky full house winner scooping additional prizes of up to £70K! That's right LBB'ers, the premier jackpots can kick-in without warning, triggering one of 5 jackpots! Here's what you could win in qualifying rooms:
Premiere Bronze Jackpot is won on average every 2 hours with a fixed prize of £10.
Premiere Silver Jackpot is won on average twice a day. Prize is fixed at £50.
Premiere Gold Jackpot is won on average once a day with a total prize fund of £100.
Premiere Platinum Jackpot is won on average twice a month and this is a progressive Jackpot starting at £5,000. Previous winners have won over £10,000 from this jackpot alone!
Premiere Diamond Jackpot is won on average once each month. This is the biggest progressive Jackpot of them all as it starts at £10,000 and can grow to over £70,000!
Promotions & Bonuses
Back to articles
Your feedback
Please enter your comment.
Your comment is added.
Bubles12
01/13/23, 09:01:37 AM
So many promotions! Last time the free wheel didn't guarantee a win. No draws at the end either which is good. Good luck everyone.