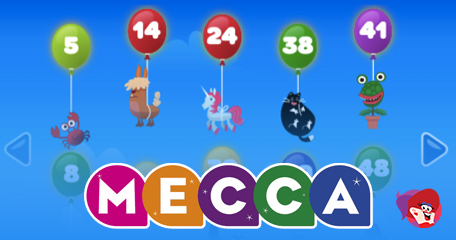 Bingo – it's a funny thing, whether you're playing traditional 90-ball bingo or trying your luck with 5-line bingo games, they all have one thing in common – numbers! Daubing your tickets game after game, day after day and week after week can get a little boring. Come on, let's be honest, who actually sits there and enjoys watching your numbers not coming out? Very few I'd imagine, but Mecca wants to spice up your gaming experience with a few exclusive bingo games.
Burst is a popular bingo game with a difference and unlike usual games of bingo, this one offers players the same chance of winning. Every player is awarded one ticket at their chosen prize; the larger your stake for that ticket, the more you can win.
Pop Along:
There are five tickets to choose from and each of these houses ten numbers from 1 to 50 and to keep things fun, Mecca Bingo has placed the numbers onto balloons which are flying high with cute animals holding onto dear life beneath. When one of your numbers is called, the balloon will pop (hence the name Burst) and release the animal into the world below. Do all this with ten balloons before anyone else and you'll win the full house prize.
The amount you can win per game will be based on the number of players in the game and the value of your ticket. Here's a typical example of off-peak times prizes:
25p per game: £5
50p per game: £10
£1 per game: £18
£2 per game: £36
£3 per game: £55
Remember, these are prizes based on just 30-odd players in each bingo game – the more players, the higher the prizes.
Running alongside the usual full house prize are two jackpots; call house in a set number of calls to win even more cash! The great thing about these games is that when the jackpot(s) is won, everyone who had tickets into that game will receive an equal share of the prize fund and currently, the jackpot for 16 calls is almost £18,000! There is a smaller jackpot of almost £1000 for a house within 19 numbers.
No daubing involved with Burst; you simply watch as the numbers are called and hope that your balloons are popped before any other player. If you'd rather not watch the animals swinging in the breeze, you can choose to play with the simplified ticket mode on; this will place all your numbers onto a virtual ticket without the cute distractions.
Try Burst today with a superb welcome offer; new customers who deposit £10 will receive £30 to play with! Once you make a deposit, you'll qualify for the daily rewards wheel where there are bonus spins, free bingo tickets, real money rewards and much more waiting to be claimed.
Bingo Games
Back to articles
Your feedback
Please enter your comment.
Your comment is added.