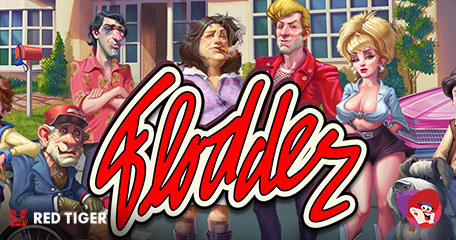 Love Them or Loathe Them, The Flodders Are Back!
Follow the antics of one of the Netherlands most dysfunctional families in Flodder, the latest slot release by Red Tiger. Based on the 1986 Dutch comedy of the same name, players will witness the all the laughs and mayhem once again as this anti-social family is uprooted from a crime-ridden, council estate to an upper class neighbourhood. Only it doesn't all go to plan!
Packed with absurd humour and politically incorrect satire, Flodder was an instant hit! Discovering their home is built on a toxic waste dump, the council is forced to rehome the troublesome family. Believing a touch of class is all it would take to turn the lives of this appalling family behind, social worker Sjakie places them in an upper class area however, it doesn't take long for the residents to call for their removal.
Amidst all the arguing and rich folk wanting the poor folk to up and leave, the mother, Ma Flodder, discovers she has inherited life-changing cash from a family member who was tragically struck by a train. As soon as the cash lands in the bank she buys the home where they currently live – the posh area of town and this kicks things off again!
Really Wild Release
James Jones, Head of Business Development at Evolution said: "It's been an amazing ride, working with the Flodder brand. This new slot game celebrates all the eccentricities these characters represent, and the team has created a graphically hypnotic game that brings all these outrageous personalities to life in a brand-new way. We hope that the long-standing fans of the movie are going to love this new representation, and that it will find its way into the hearts of a whole new generation. When the Flodders roll into town, you know you're in for some enjoyable antics – and players are not going to want to miss it."
Grandpa Flodder may be in a wheelchair but he's fast! Sometimes he will zoom across the screen, waving his stick and leaving random wilds in his wake. Sjakie makes an appearance in the bonus spins feature. Spin in 3 scatter icons and get 10 bonus spins and 3 picks, with each additional scatter symbol awarding 1 more pick. More free games, win multipliers, wild reels, wild Johnnie and /or wild Ma Flodder are among the modifiers in the bonus spins round.
Dick Maas, Director, Producer, Owner of the Flodder brand said: "I am proud to be at the source of the first slot game based on a Dutch film. Red Tiger and Evolution did a fantastic job of incorporating the action, humour and energy from the Flodder movies and TV seriesinto the game. It has become a game with recognizable characters, great visuals and stunning animations, which all Flodder fans will enjoy very much."
Source: "Flodder Has Finally Arrived on The Slot Scene – And Its Characters Are Unforgettable". Red Tiger. June 9, 2022.
Bingo Games
Back to articles
Your feedback
Please enter your comment.
Your comment is added.
lollipops321 06/14/22, 04:06:24 PM
I love a good comedy! I can't say I've heard of the show but the game sounds like heaps of fun.