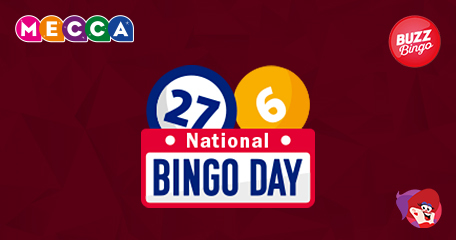 A National Bingo Celebration is Coming!
Bingo is making a comeback and to celebrate, a cross-industry collaboration will get underway in one big national bingo party. You could say Mecca Bingo and Buzz Bingo are somewhat rivals, in fact they are very much rivals both online and offline, and we never thought we would see the day that these two team-up for full on bingo fun!
Championed by the Bingo Association, a day to celebrate the love of bingo will commence on Sunday June 27th, and you can expect your local bingo hall to be hosting a one-off event packed with cash and surprises! In a bid to help licensed land-based bingo halls recover after long periods of closures, all Mecca and Buzz clubs in the UK are being invited to register their interest in the event.
"The Bingo Association and the National Bingo Game are delighted to be taking part in National Bingo Day on June 27th, working alongside operators from land-based clubs and online to bring everyone together to celebrate the great game of bingo that we all love," said Miles Baron, chief executive of the Bingo Association.
Bringing Bingo Back
Naturally, there are limits on the number of people who can attend each club, so it's important to contact your club in advance for details on how you can attend this big bingo bonanza. From now until the big day, you can expect to find this event plastered on your screens and even on social media and we suspect it will be a sell-out.
Peter Brigden, CRO of Buzz Bingo added: "What better way to celebrate the return of bingo to our towns than with a national day to recognise it. It's time to get the nation going bingo crazy again – and I really hope to see the whole sector embrace it – and go big."
The National Bingo Game offers players the chance to win up to £50K for just £1 – and despite being a linked-up game, the prizes are available in each club. The 50-ball bingo game guarantees a full house prize in each club as well as a three-tiered jackpot system:
Call house in 24 numbers or less to win £100
Call house in 20 numbers or less to win £1,000
Call house in 16 numbers or less to win £50,000!
The jackpot prizes are in addition to the full house prize and to date, there have been more than 29,000 winners of that huge pot of cash!
Catherine Warrilow, head of PR and content at Mecca Bingo, concluded with: "We're so excited that National Bingo Day has officially arrived in the UK. We're proud to be a part of the campaign and it's THE year for bingo to be the evening out at the top of everyone's list. This special day in June will be a real lynchpin for that – for us, and all operators – it's the perfect time."
Source: Menmuir, Ted. "National Bingo Day launched to aid critical venue recovery". SBC News. March 11, 2021.
Bingo Society News
Back to articles
Your feedback
Please enter your comment.
Your comment is added.
Member's Feedback (1)
bridgetjones
03/15/21, 09:03:57 PM
I'm looking forward to this, but I suspect the bingo halls will be packed, so if you're required to book a table, you should do so as quickly as possible!