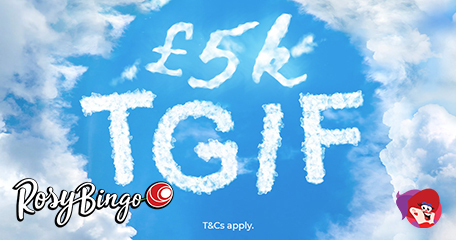 Plenty of Fun Guaranteed this Summer!
You may have noticed the weather heating up recently and it's only set to get warmer, but so are the prizes over at Rosy Bingo! From a shopping spree to a share of a massive £5K, and a win a BBQ game to a weekly jackpot special, there is non-stop fun guaranteed, but only for registered players. Longing to win big cash with no strings attached? Then feast your eyes upon the £5K TGIF promo, where each weekend this June, five lovely grand will be won in the special games room.
Sounds impressive already, but when you learn tickets only cost 30p each, it makes it all the more exciting! There are guaranteed games scheduled to take place on the 4th, 11th, 18th and 25th of the month at 9:30pm, £1K for the one-line prize, £1.5K for the two-lines and a full house of £2.5K! Tickets can be bought in advance too, so if you've already made plans or have a memory like sieve (like me!), you can buy ahead and not have to worry about missing out!
Weekend Mayhem:
Weekends are for celebrating at Rosy Bingo, especially on Sundays where there will be a thrilling cat and mouse chase for that guaranteed £500 cash jackpot. There will be four 'WIN £500' events throughout June each with one jackpot prize. Make sure you have tickets in play between 9pm and 10pm on a Sunday to be in with a chance of winning. If the jackpot hasn't been won, the ball count keeps on increasing until it is won!
Now for the physical prizes! There's nothing better than winning, especially if that prize comes in the form of vouchers or goods you actually need, and Rosy Bingo are hoping you need to treat yourself this summer, because they have four super shopping sprees and top-of-the-range BBQ's to be won this June! Every Friday in the Broadway room between 9pm and 10pm, £150 in shopping vouchers will be won. Styled on the previous jackpot format, these games guarantee to see an increase in the ball count until the prize is won. So, if it hasn't been won by the last game each week, it's guaranteed to be won in the last game at 9.52pm!
Every Saturday this month, a £400 gas BBQ will also be won, so get your shopping list ready in case you just happen to win! Don't forget the sausages! This is another ball increase special with guaranteed winners every week, but unless you're in, you can't win! New players are welcomed with a duo of offers on just a £10 deposit - £30 in bingo bonuses and 67 bonus spins on fun-filled slots! Wagering on bingo related bonuses is a very respectable 3x, another reason why we love Rosy Bingo!
Bingo Promotions & Bonuses
Back to articles
Your feedback
Please enter your comment.
Your comment is added.
Member's Feedback (1)
TinTinn
06/07/21, 06:06:40 AM
Great to see so many prize draws and prizes on offer this month! A few months ago there was nothing!