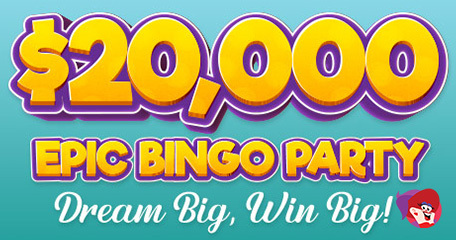 Win Big Cash in Once-A-Month Bingo Promotion
Once-a-month, every month, Cyber Bingo host the craziest bingo party you can ever imagine, paying guaranteed real money prizes with superb offers on cards to save you some cash. It's a night to remember and one not to forget that is why there is a pre-buy feature at your disposal. Whether you have a memory like a sieve or have plans on the bingo party night, you can still take part by securing your cards in advance.
In total, there will be 11 bingo games; 10 warm-up games with guaranteed prizes followed by the big one, each comes with a promotional offer of buy 3 cards get 2 free. For example, if you were to buy 15 cards, you'd get 10 cards free and those 10 cards could be the difference in you winning or losing! The cards for the warm-up games can be bought for €1.82 each and the cards for the main event will be priced at €4.55 each, with a maximum limit of 120 cards per player in place. What can you win? A share of $18,200 in cash!
Big Offers and Big Cash Prizes
Top of the hour and mid-hour specials will commence at 12am (CEST), each paying $910 in cash. That's a total of $9,100 alone! When that tenth guaranteed game has been won, the winner of the next full house will win the value of all ten previous full house prizes put together…
…that's $9,100! Make sure you've got tickets into the bingo game to be in with a chance of winning. The last big winner wasn't even in the bingo room, hell, she wasn't even in the house when she won the big $9,100 prize. Will you be the lucky one walking away with that cash prize this month?
The bingo event will take place in the Cyber Bingo Tourney Bingo Room on the last Saturday of the month at 12:00AM CEST with 10 warm-up games, followed by the main event game at 5:00AM CEST. Not a member yet? Our readers qualify for an exclusive offer where they can play for free with no risk to their own cash! Sign up and get a $50 trial bonus to test-drive all that Cyber Bingo has to offer, before claiming mega bonuses on your first five deposits!
1st Deposit Offer: 500% Bonus to Play All Games
2nd Deposit Offer: 500% Bonus to Play All Games
3rd Deposit Offer: 500% Bonus to Play All Games
4th Deposit Offer: 500% Bonus to Play All Games
5th Deposit Offer: 500% Bonus to Play All Games
Popular games at Cyber Bingo are not just the bingo rooms but slot games too and by playing casino games not only do you have the chance to win with every spin of the reels, but you have the chance to win by taking part in fun-filled tournaments too. Every Wednesday and Thursday this month you could be one of 20 players to win cash and bonuses. The player in position one gets $400 in cash with the remaining 19 players landing a share of $1K!
Bingo Promotions & Bonuses
Back to articles
Your feedback
Please enter your comment.
Your comment is added.
lollipops321 08/16/22, 06:08:53 AM
There's free offers in the community tab, I always check here before making a deposit. Plus, live chat can pop-up with extras too so look out for that.