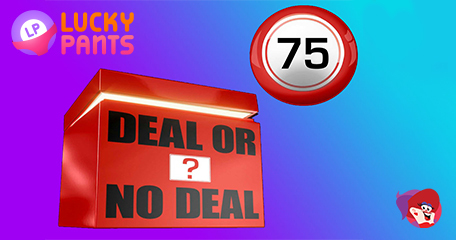 Bingo Isn't Just About the Numbers!
The bingo community is growing hungrier for more excitement and more ways to win, and it's resulting in many a bingo brand struggling to keep up. Iceland Bingo had to shut up shop earlier this year and has since revealed the bingo community was behind the closure, citing a hunger for bigger and better prizes as the main reason for closing their doors for good. But it's not all doom and gloom! They were able to rebrand as Prize Land Bingo and now give the customer what they long for – more games, more prizes and a weekly game where gadgets, TV's and top tech can be won!
Online bingo isn't just a place to play traditional bingo games or slots, it's a virtual gaming destination where bingo games of all types can be enjoyed, plus bingo games with no numbers! There are even bingo variants where there are jackpots, some with jackpots split between all players and others with bonus games for more immersive fun and additional winnings! Stay with us as we reveal the special bingo game types, how to play, how to win and more importantly, where to play.
Squaring Up to Big Fun
Deal or No Deal (DOND) bingo is more popular than the television gameshow itself, with bingo dabbing and bonus game round fun guaranteed in every game. Throw in some audio of Noel Edmonds, a ringing telephone, identical sealed boxes and a jackpot and it's fun before you even win! DOND 75 delivers six times the entertainment with five prizes per game plus a fun-filled bonus game that I like to call the banker's bonus. Great prizes are available from the 1 line to the five lines, but the biggest thrills and cash come with that full house prize.
The moment the bingo game gets underway, boxes will be eliminated. Call the full house and not only will you win the stated prize, but you will be presented with two boxes: your box and the one remaining box. The phone will ring, and Noel will give you an offer from the banker. The community will vote on what they think you should do, but at the end of the day, it's down to you!
Bursting with Fun
It's cute, it's cuddly and it's one for the animal lovers out there – Burst, the only bingo game in existence to offer cash prizes for popping balloons! What is it? It's a 50-ball, speed bingo type game featuring ten animals clutching numbered balloons. The amount you can win will depend on your ticket price, with tickets ranging from 25p to £3 each. Everyone has the same chance to win regardless of how much they pay for their ticket. The aim of the game is to free your animals before anyone else and you do this by popping the numbered balloons. The quicker you do this, the more chance you have of winning a jackpot!
In similar style to Burst you have Emoji Bingo, with emojis instead of numbers. Again, being an even stevens style of game, everyone has the same chance of winning. Ten emojis stand between you and a full house prize or possibly even a jackpot…will the devil deliver a devilishly good prize to you, or will the cocktail bring celebrations? There's only one way to find out!
Slot Themed Bingo
To say Playtech's Age of the Gods franchise is popular is an understatement. The great Gods can summon mighty prizes as well as progressive jackpots via a series of slot machines, and now bingo! Not only can you walk with the greatest beings through the Age of The Gods Bingo room, but you have the chance to win a share of a jackpot via a heavenly bonus round! Out of this world fun is granted to the full house winner in this 90-ball bingo game, only it isn't winner takes all, it is winner splits their prize with the community or community takes all instead!
Another firm favourite in the online casino sector is Rainbow Riches, featuring a jolly leprechaun and his series of bonus features. No need to throw a penny into the wishing well to summon the luck of the Irish, simply purchase a 4-leaf clover bingo ticket and sit back and wait for the leprechaun to hand deliver your wins! Styled on a 40-ball bingo game, Rainbow Riches Bingo comes complete with a bronze, silver and gold pot of cash as well as one-line, full house and a wishing well bonus. A wheel identical to that from the slot release is spun to reveal a number. If you have this number, it will be marked off your ticket. Four numbers on one clover awards the line prize while 8 numbers on two clovers awards the full house.
Every spin of that wheel could result in a rainbow clover appearing. Each rainbow icon moves the leprechaun one step up the road to riches. Ten steps award the bronze pot, 25 awards the silver and 50 awards the gold. Everyone with tickets into the game when a pot is reached will receive a share of the corresponding prize pool. Each player is also granted a lucky number. When you gather 40 of those, you will receive a £5 bingo bonus from the wishing well.
All of these special bingo games can be played at Lucky Pants Bingo, Kitty Bingo and Mecca Bingo. Where you decide to play is up to you!
Bingo Promotions & Bonuses
Back to articles
Your feedback
Please enter your comment.
Your comment is added.
TinTinn
06/30/21, 08:06:46 AM
Not tried age of gods bingo before! I thought it was just a normal game of bingo! Sounds like fun!