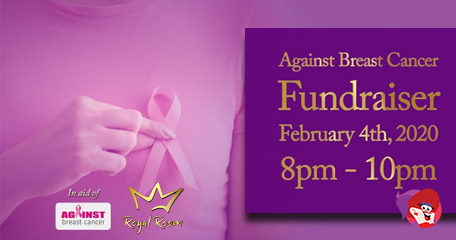 Did you know that Pink Ribbon Bingo was set up all those years ago just to raise funds for charity? In 1997, the first online bingo sites started to take-off and one of those was the pretty in pink establishment.
Over the years, the community has raised thousands and thousands of pounds for their partner charity – Against Breast Cancer. All money raised is generated by profit and special fundraising events, which means players can still win some pretty amazing cash prizes just for supporting charity….
…and one of those events is about to take place. February 4th is Word Cancer Day and as the bingo community at Pink Ribbon Bingo is being asked once again to help the fight against cancer. Last year, the bingo special was a major success with more than £10K being raised – this year however, they want to smash that sum.
£20K for 2020?
This is the first fundraising event for 2020 and they want to raise at least £20K – can you help? Tickets will set you back just 1p each and there is two hours of bingo dabbing fun scheduled to take place. Head to the Royal Room from 8pm to try to win yourself some great prizes. Where ese can you play to win and help cancer at the same time?
Every penny spent in the room will go directly to the charity and Pink Ribbon will donate £200 to the cause. That's this Thursday from 8pm to 10pm. Make sure you clear your diary.
World Cancer Day
I you've never heard of the annual event before, you're not alone. My mother had a double mastectomy due to breast cancer – and I didn't even know about it. "World Cancer Day is led by the UICC, the Union for International Cancer Control. Cancer Research UKis one of its thousand members from across 162 countries, and we also sit on the board. World Cancer Day is the one singular initiative under which the entire world can unite together in the fight against the global cancer epidemic. No single person, organisation or country is going to beat cancer on its own. We must all work together to make faster progress on our goal of 3 in 4 people surviving cancer by 2034" – Cancer Research.
One in two of us will get cancer at some point in our lifetime, but do you know what the symptoms are? A lump in the breast is the most common symptom, but there are others to look for. It's important to see your GP as soon as you notice anything that is unusual for you.
Possible signs and symptoms according to MacMillan include:


A lump in the breast


Thickening of the skin or tissue of the breast, or dimpling of the skin of the breast


A lump or swelling in either armpit


A change in the shape or size of the breast, such as swelling in all or part of the breast


A nipple turning in (inverted nipple)


A rash (like eczema) on the nipple


Discharge or bleeding from the nipple


Pain or discomfort in the breast that does not go away, but this is rare.


Get to know your breasts – it will help you identify what's abnormal.
Bingo Society News
Promotions & Bonuses
Back to articles
Your feedback
Please enter your comment.
Your comment is added.
Member's Feedback (1)
Bubles12
01/30/20, 02:01:44 PM
I play at Pink Ribbon Bingo regularly because of the donations to charity, but I will especially be playing on WCD to help support those who need it.